GUNS N' ROSES' "NOT IN THIS LIFETIME" TOUR DATES TO CONTINUE IN 2017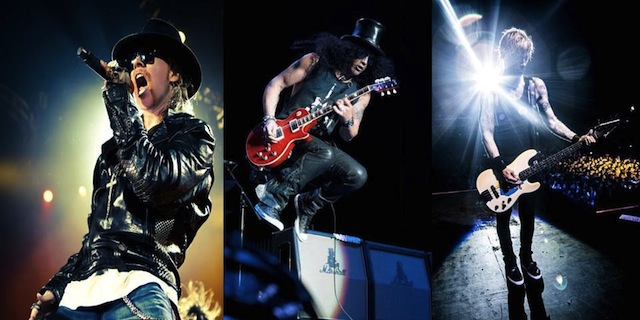 Guns N' Roses have released a short video suggesting further dates could be added to their 2017 Not In This Lifetime tour.
The reactivated lineup featuring Axl Rose, Duff McKagan and Slash are already due to play shows in Japan and Australia throughout January and February. However, along with the video, journalist Mitch Lafon has posted a picture of a Guns N' Roses billboard in Montreal which reads, "Welcome To The Jungle #GnFnR2017."
The band didn't play Montreal on their initial run of dates earlier this year.
The new video states that, "the machine is back at it in 2017" and features concert footage backed by Appetite For Destruction track Mr Brownstone.
In July, production manager Dale "Opie" Skjerseth reported the band had already booked shows "far into" 2017.
He added, "I've been told there's no end date. I've seen plenty of dates going far into next year. Everybody's working together to keep a common goal – keep the machine going."
Earlier this month it was revealed that the Not In This Lifetime tour topped Pollstar's global concert income chart, with Guns N' Roses netting $5.5 million per show.
That put them above Bruce Springsteen, Beyonce, Adele and Coldplay per show – but their average ticket price of $117 was also the highest in the top 20 list.
Guns N' Roses have just wrapped up dates in South America. Their next show will be at the Osaka Kyocera Dome, Japan, on January 21st.
In related news, the lawsuit between Axl Rose and former keyboardist Chris Pitman has been settled in a confidential deal.
According to TMZ, although Pitman had demanded over $163,000 to cover an unpaid debt, he accepted "much less" to end the dispute.
Pitman contributed keys, bass, percussion and backing vocals to the band from 1998, until his departure earlier this year, soon before the reunion with classic-era members Slash and Duff McKagan was confirmed.
The multi-instrumentalist apologized for having called the revamped lineup a "nostalgia tour" and a "money grab." But despite the apology, he went on to call them an "oldies band," adding, "They just want to repeat that 30-year-old music over and over."
He'd filed suit against Rose after claiming he'd been given a promissory note for $125,000 in unpaid wages, which had been due for settlement in 2012. His total demand included interest accrued since that time.
additional source: Classic Rock via teasrock.com