GUITARISTS BUMBLEFOOT AND CHRIS CAFFERY, SINGERS MARK TORNILLO AND BOBBY BLITZ AND OTHERS TO PARTICIPATE IN "ROCK AGAINST DYSTROPHY" ON AUGUST 21ST IN NEW JERSEY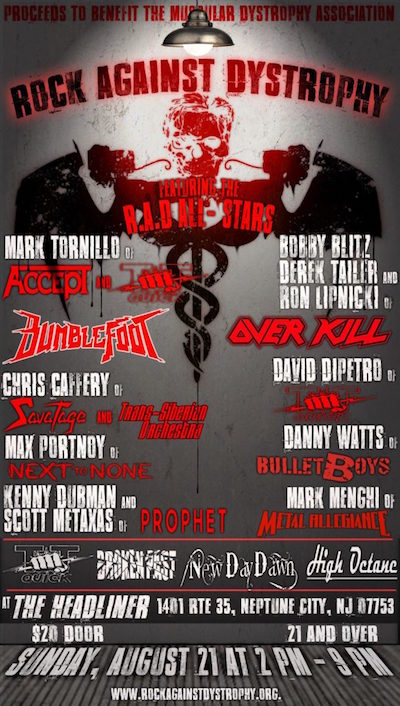 On Sunday, August 21st 2016 the Rock Against Dystrophy All Star Edition 2016 benefit concert will be at The Headliner in Neptune, New Jersey. The show will have TattooTony return to MC the event. The benefit will feature performances by High Octane, Broken Past, New Day Dawn, a special set from New Jersey's metal legends T.T. Quick and will wrap up with a performance from the RAD All Stars.
Returning to lead the RAD All Stars is Mark Tornillo (T.T. Quick/Accept) and Bobby Blitz (Overkill) and joining them are Derek Tailor and Ron Lipnicki (Overkill), Chris Caffery (Savatage/Trans Siberian Orchestra), Mark Menghi (Metal Allegiance), David DiPetro (T.T. Quick), Max Portnoy (Next To None), Danny Watts (BulletBoys), Kenny Dubman and Scott Metaxas (Prophet).
As if all those individuals weren't enough, things are kicked up a notch literally as Bumblefoot is joining the RAD All Stars. Still creating tons of talk with his latest album Little Brother Is Watching and stepping into Metal Allegiance to shred like no other, he is taking the time to give to fight against Muscular Dystrophy the extra kick only he can bring.
Tickets can be bought now at radallstars2016.brownpapertickets.com.
In 2009 brothers and Internet radio DJs Turbo and Jay Scorpion (both of whom have Spinal Muscular Atrophy) decided to take their love of rock and metal music, support from the rock and metal community, and desire to find a cure for Muscular Dystrophy and turned it into Rock Against Dystrophy. The purpose of Rock Against Dystrophy is raise money and awareness about Muscular Dystrophy by holding benefit concerts featuring local area rock and metal bands and the occasional rock and metal star in the New York and New Jersey area with proceeds going to benefit the Muscular Dystrophy Association. If you'd like to donate to Rock Against Dystrophy you can visit name.