GUITARIST ULI JON ROTH ON LISTENING TO NEW MUSIC, "I STOPPED LISTENING MANY, MANY YEAR AGO"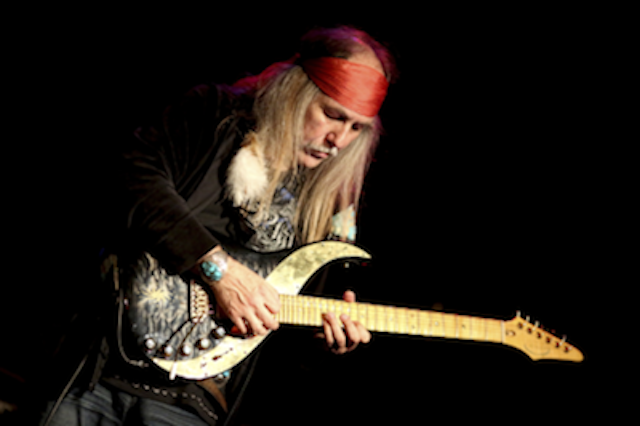 Ruben Mosqueda of KNAC.com spoke with guitarist Uli Jon Roth, excerpts from the interview appear below.
KNAC.com: Would it be accurate to say that when you toured behind the Scorpions Revisitedalbum in North America, that it generated more interest in your music and your work with Scorpions?
Roth: Absolutely, we're doing longer tours, playing bigger venues, I think it's a nice development, because I love playing North America. We have come to North America every year except for last year, because of our Visa issues.
KNAC.com: You released Scorpions Revisited in 2015, which is nod to your history and your work with Scorpions. You treated the fans to not only one disc, but two discs of reinterpreted Scorpions classics. How did you select which songs would make the cut for that release?
Roth: Oh yes, back to the good stuff [laughs]. You know, it wasn't all that difficult for me to decide, I just picked up all the Scorpions records and started to look through the sleeves. As I looked through the albums, the song titles just said, "Hey, I'm yours" and that's what wound up on the record. So, as I went through the albums I drew up a list, there were certain songs that I had even forgotten about. I picked the songs that I felt would be the most gratifying for me to record, I wanted to bring them back to life and maybe even make them better than the way we used to do them in Scorpions
KNAC.com: Uli, Steamrock Fever didn't make the Scorpions Revisited album, was there a reason for that?
Roth: [pause] Yeah, you know that is the one that I didn't want to do [laughs]. It's a very commercial song, I never liked the lyrics and I feel that it's too "poppy" for my taste. I'm just not too keen on that one. I don't think you could have gotten me to include that on Scorpions Revisited. I know there are quite a few people out there that feel like you do and they love that song, don't get me wrong, it's a cool piece, but it's just not for me.

KNAC.com: Did you get any feedback from your former bandmates on their thoughts on Scorpions Revisited?
Roth: Yeah, [Scorpions singer] Klaus [Meine] thought that it was excellent. [guitarist] Rudolph [Schenker] was very happy with what we did recently with the Scorpions material.
KNAC.com: If you're driving and one of your songs comes on the radio, do you listen to it?
Roth: If I'm driving and a song comes on, I would probably listen to it, sure. I don't listen to my back catalog at all. Once I've done the album, it's out of my system. I liken it to giving birth, you have your children and they move on and live their own lives. They're not yours anymore, they belong to the audience. Like I said earlier, there are certain things that I will go back and listen to if I have to. The Metamorphosis album is one that I recorded in 2003 that is a guitar concerto based on Vivaldi's Four Seasons. We're doing that for our VIPs on this tour, so I had to take time to listen to that again, as we prepared for this tour. I had to relearn it. In my opinion, that is one of the best things that I have done to date. Let me give you an idea; I have never heard the entire Tokyo Tapes album all the way through.
KNAC.com: Do you seek out new music? Does discovering new artists interest you?
Roth: I don't seek it out. I discover new music usually while on the road, if it comes on the radio or if I heard a band, but I don't seek out new music. Now when I get home, it's silence [laughs]. I stopped listening, many, many years ago. There's two types of artists, those that are always listening to music, they're in tune with what is going on musically, then there's people like myself, who don't have the desire to listen to music. I love music…a lot, but playing it is enough for me, I don't need to hear something and have that become an influence and then start copying it. I learned my craft by copying other people when I was a kid, I copied Jimi [Hendrix], Fryderyk [Chopin] and Beethoven. Then there came a point where I found my own root and way of discovery and it became much more exciting for me.
KNAC.com: You have this North American tour which [began] on March 20th, in Hollywood, California and runs through May 10th. At what point do you begin to think about new music?
Roth: I have written an entire studio album's worth of material at least. I think it might be more like 1½ records. My problem is at this time to find the time to get a chunk of time to be able to record it. I'm very slow in the studio, I don't believe in rushing through the recording process. It's always been a problem for me in the past. [laughs] After this tour, I do think that I have to look at the rest of the year and set aside a chunk of time to get that album recorded. There's so many things that I have, that I have never recorded over the years, maybe that's good or bad, I don't know? [laughs] I know I should be putting out more music, but it takes me a long time to get it where I'm satisfied with it. I will say that we did record our 30th Anniversary Japanese tour so there will be DVD and we have Rudolf Schenker as our special guest, as well as Phil X from Bon Jovi, what a great player and singer. I also want to record an acoustic album, it's just finding the time! [laughs].
Read more at KNAC.com.
See Roth's remaining tour dates below, and to read more about this special 50th Anniversary tour, please click here.
March:
24 in Ventura, CA at the Ventura Theater
26 in Redding, CA at The Dip   
27 in Santa Cruz, CA at Moe's Alley
28 in Oakland, CA at The Parish
29 in Sacramento, CA at Holy Diver
30 in Portland, OR at Bossanova 
31 in Seattle, WA at Club El Corazon

April:
1 in Vancouver, BC at Venue 
3 in Calgary, AB at Country Line Saloon
4 in Edmonton, AB at Starlite Room
5 in Regina, SK at The Exchange
6 in Winnipeg, MB at The Park Theatre
7 in Fridley, MN at Route 47 Pub
10 in Milwaukee, WI at Shank Hall 
11 in Edwardsville, IL at Wildey Theatre
12 in Joliet, IL at The Forge 
13 in St. Charles, IL at Arcada Theater
14 in Detroit, MI at Token Lounge
15 in Toronto, ON at Rockpile
16 in Montreal, QU at Piranha
17 in Quebec, QU at L' Anti
18 in Ottawa, ON at Brass Monkey
19 in Pawling, NY at Daryl's House
20 in Derry, NH at Tupelo Music Hall
21 in Hartford, CT at Infinity Music Hall
23 in New York, NY at the Gramercy Theater
24 in Asbury Park, NJ at Wonderbar
25 in Sellersville, PA at the Sellersville Theater
26 in Syracuse, NY at Sharkey's
27 in Cleveland, OH at Agora Ballroom
29 in Pittsburgh, PA at Jergels
May:
1 in Plymouth, MA at Spire Center for the Performing Arts
3 in Newton, NJ at the Newton Theatre
4 in Louisville, KY at the Diamond Pub Concert Hall
5 in Nashville, TN at The High Watt
6 in Atlanta, GA at City Winery
9 in Dallas, TX at Trees
10 in San Antonio, TX at Rockbox
For further information on Uli Jon Roth, please visit:

https://www.ulijonroth.com
http://www.sky-guitars.com
https://www.facebook.com/Uli-Jon-Roth
https://twitter.com/UliJonRoth1