GUITARIST RICHIE SAMBORA DISCUSSES BON JOVI'S ROCK HALL INDUCTION AND FORMER BANDMATE ALEC JON SUCH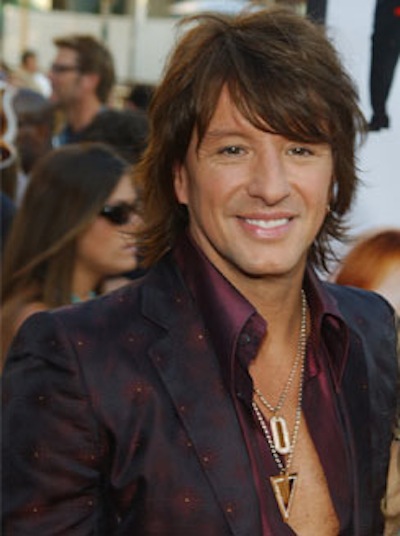 Andy Greene of Rolling Stone spoke with former Bon Jovi guitarist Richie Sambora about the band being inducted into the Rock N' Roll Hall of Fame. Highlights from the interview appear below.
Rolling Stone: How did you hear you were in?
Richie Sambora: This has been in the wind for a while. And then the fans started ponying up like crazy. That's what we do this business for anyway. I've said this often: You can put on a show and if the fans don't show up, it's not a show, is it? The fans are just as important as we are, really. It's nice to know that you wrote some songs that really connect with people that they can take with them…in this digital age you can reconnect with that and younger people can connect with these artists that are legacy artists. I'm not calling myself that yet, though!
Rolling Stone: What was your reaction when you heard it was definite?
Richie Sambora: Just gratitude, I guess. And going, "Hey, I'm in the queue with Bob Dylan, Mick and Keith and Clapton, all my heroes and all the guys I grew up trying to emulate." They are my heroes and my teachers. To be in that line is kind of surreal. I don't know if I believe it yet. It's that kind of an honor. It's almost not the institution itself; it's the pedigree of how people got there. To be a part of that whole movement and whole energy as things move forward is just tremendous. I have a lot of thanks for that.
Rolling Stone: Why do you think it took so long?
Richie Sambora: I don't know. I wasn't really paying attention. Honestly, I wasn't obsessed with it or anything like that. I didn't know when it was going to happen. I said, "Hopefully I'll be alive." A lot of people don't get in until they pass. The Songwriters Hall of Fame means a lot to me. I believe it's the foundation of our business, writing songs that connect with humanity and people all over. We happen to do that well. I ended up inducting Willie Dixon into the Songwriters Hall of Fame a few years back and he'd been dead for 40 years. He wrote all those amazing songs and I hope to be around to experience and enjoy the accolades or whatever you want to call them.
Rolling Stone: I think a lot of old-school rock critics didn't like the band and that kept you guys out.
Richie Sambora: Once again, my task was to do the best I could with the situation I was in. Look, I'm way happier doing what I'm doing now. Being in a band isn't the easiest thing to do in the world, especially when you're out there for 18-and-a-half months at a clip and life changes when you come back home. People are different. People get divorced. Life's tragedies happen to everybody. And life's joys also. You're out there performing as an entertainer. I always saw myself as a songwriting, entertaining motherf–ker…
Rolling Stone: Do you think the band is going to reunite and perform at the ceremony?
Richie Sambora: I would imagine so. Nobody has called me yet or anything like that, but I would imagine that would be the protocol. Don't you? I would think so. Of course, I'd be obliged.
Rolling Stone: Do you think Alec John Such will show up?
Richie Sambora: I hope so! Yeah, man. I hope so. He was my roommate, man. He was my guy. We lost contact with him a little while ago. He was always a ghost, man. He was always one of those cats that was a mystery. That was his trip and he held that mystique very, very well. He was the Keith Richards of our band. He's a cool, straight-up individual and I hope we get ahold of him somehow.
Rolling Stone: When was the last time you spoke to him?
Richie Sambora: It was a long time ago. We were playing a show and he showed up and came onstage and jam.
Rolling Stone: Do you think that Hugh McDonald should be inducted also?
Richie Sambora: Yeah. He's an essential part of this band. He's amazing and a dear, dear friend of mine. I met Hugh long before I met Jon. I was doing sessions and gigs and we'd just kind of run into each there and we became friends back then. He's essential, absolutely.
Rolling Stone: What do you miss most about being in Bon Jovi?
Richie Sambora: I'm not really missing anything, to be honest with you. Listen, we did 31 years together and we worked very, very hard. I guess I miss the shows. I always say this to everyone: Making the music is the great part, the fun part, the part where you're trying to connect with people. It's the travel you get paid for, the 22 hours a day where you ain't onstage. That's what you get paid for. You miss a lot of life when you're on the road for most of your life. [Laughs] I just decided, "I gotta get back to my family. I gotta get back to being an individual."
Rolling Stone: When is the last time you spoke to Jon?
Richie Sambora: It's been a couple of years. There's been some texts back and forth. There ain't no malice or anything like that. It wasn't moving anywhere. 31 years is 31 years. That's a long time and being in a huge organization like Bon Jovi, it's all-consuming. You really don't have a chance to do anything else but that. That's where you are and that's it. It's some stone-cold stuff right there. That's it. You gotta move and roll with the punches, be flexible with the business, be flexible with the band; you gotta be flexible with your employees. It's a big job.
Rolling Stone: I think the fans are going to be thrilled to see you back onstage with the band after all this time.
Richie Sambora: I hope so. But you know what?…It's what you throw down every day and your sincerity is what matters. Anytime anyone comes to see me play now they can count on that. I am going to bring all the love and passion of why I started to make music in this life to that moment…
Read more at Rolling Stone.
source: rollingstone.com