GUITARIST RICHIE KOTZEN DISCUSSES THE WINERY DOGS, DARK LYRICS AND THE ROLLING STONES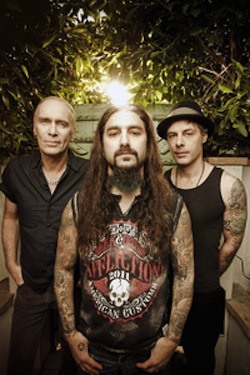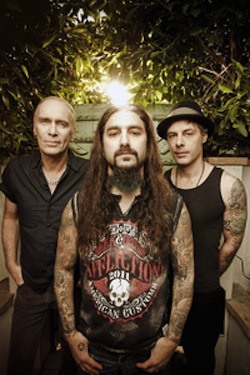 Bob Ruggiero of the Houston Press reports:
Though he's maintained a dizzying schedule as a solo artist, spent time as a member of Poison and Mr. Big, and collaborated with dozens of other musicians from heavy metal to jazz, Richie Kotzen is currently in the dog house. But at least there's good stuff to drink in there.
Kotzen – along with bassist Billy Sheehan (David Lee Roth, Steve Vai, Mr. Big), and drummer Mike Portnoy (Dream Theater, Adrenaline Mob) – formed the Winery Dogs.
"What has made it work so well is that we had a very relaxed attitude when we met. And we were only going to pursue something if we liked it," Kotzen says. "Billy and Mike have very unique sounds. It is a band, but no one has lost their identity. If you are familiar with our playing styles, this band isn't too much of a departure."
The group came out when Kotzen's friend, DJ and host of VH-1's That Metal Show Eddie Trunk called and up and told him that Sheehan and Portnoy were looking to put together a power trio, and the singer/guitarist slot was open.
After a couple of initial jamming and writing sessions, the three seemed to click, and their debut, The Winery Dogs, came out last year (a recently re-released special edition includes a bonus live disc from a gig in Japan).
Still, one look at the lyric sheet can't help but make the listener wonder if…um…everything is ok.
Uh, Richie, how are you…really?
"It wasn't until I put the razor blades down and stopped cutting myself that I realized how dark the lyrics were," he offers. "I'm kidding!"
He continues: "The songs people write have to do with what's happening in a certain period of time. If you just won the lottery, you'll write happy songs. If you're going through a breakup, there will be a cloud over your head," he offers.
"But this has been a good year! So maybe the next record will be about cherry blossoms and sundaes."
"When this band was announced, some people thought it would just be an album of nonsense shredding with no songs, but we proved them wrong!" Kotzen laughs. "This record has done amazingly well. And here it is a year after it came out, and we're still adding tour dates."
Kotzen is also smartly directing fans who have just discovered him via the group to his lengthy solo career. He's been working on The Essential Richie Kotzen, a two CD set that will feature previous material, re-recordings, and demos, which will also come with a DVD of previous music videos.
He's also finishing up a new solo record, which he'll support with a world tour after the current Winery Dogs jaunt ends. Then early next year, the Dogs will reconvene to plot out their sophomore release.
As to his favorite grape drink and canine breed aluded to in the band's name, Kotzen says he likes to drink Amarone and Shiraz wines and is partial to German shepherds for dogs.
Finally, perhaps as a testament to his popularity in the Land of the Rising Sun, Kotzen has fond memories of being picked to open dates for the Rolling Stones on their 2006 A Bigger Bang tour there. And he did have one brief, but memorable, encounter with the rock legends.
"They brought me back to Ron Wood's dressing room because he wanted to see me. And he put his hand on my throat and said 'your voice!'" Kotzen remembers. "Then he turned to Mick [Jagger] and said 'Have you heard him? He sounds like a cross between Rod Stewart and [Stones backing vocalist] Bernard Fowler!' That was like, a special thing for me!"
Read more at the Houston Press.
source: houstonpress.com