GUITARIST NICK BOWCOTT WRITES AN ARTICLE HONORING THE LEGENDARY RANDY RHOADS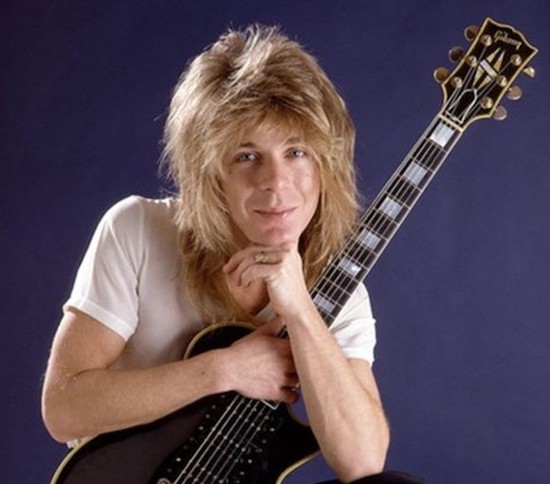 Former Grim Reaper guitarist, Nick Bowcott, has written an article about the iconic Randy Rhoads for Sweetwater, portions of the column appear below.
On Friday, March 19th, 1982, the world lost one of the greatest hard-rock/heavy-metal guitarists of all time — Randy Rhoads. He was only 25 years old.
Even though he only recorded two studio albums with Ozzy Osbourne — 1980's Blizzard of Ozz and 1981's Diary of a Madman — the massively influential impact Randy's remarkable playing had on metal guitar still resonates strongly to this very day — a staggering 38 years since his tragic and untimely death…
…On Monday, October 13th, 1980, at Malvern Winter Gardens, I was fortunate enough to witness Randy play on Ozzy's first UK tour. To say that I was blown away by what I saw that night would be a massive understatement! His playing, tone, and stage presence were all incredible — I knew I was watching a man destined to become a legend. 
The opening band on the whole European leg of that tour was…Budgie. Shortly thereafter, I became friends with the band's guitarist, "Big" John (JT) Thomas (now sadly deceased — RIP, mate). As an added bonus, while John (JT) and Randy became close friends on that tour, I learned a lot about Mr. Rhoads both as a musician and as a man…
…John always told me that if I ever happened to run into Randy, I should tell him I was "a friend of JT's" because "Randy is a such a smashing bloke." As good fortune would have it, that happened in late 1981.
On Saturday, November 28th, 1981, my band — a relatively fledgling Grim Reaper — achieved a major milestone by headlining one of England's most prestigious club venues, The Granary in Bristol. Everyone — from Motörhead to Iron Maiden to Thin Lizzy — had played there, so it was a really big deal for us. Needless to say, we blew every penny we were paid on the best sound and lighting rigs we could afford. What on Earth does this have to do with meeting Randy Rhoads? Read on.
The lighting came from leading UK company LSD (Light, Sound & Design), and my friends on their crew told me that the rig we were using was a (very!) small part of Ozzy Osbourne's rig for his UK Diary of a Madman Tour that started the very next day, "just down the road." Knowing I was a huge fan, they asked me if I'd like to tag along. Of course, I said "yes" and crashed on a friend's couch that night… duh!!
The next day, I not only saw the show, but I also got to watch the band soundcheck! They played Diary of a Madman sans Ozzy, and it was simply stunning. Then, Randy and his tour manager walked offstage and toward the mixing/lighting board where I was watching. I took a deep breath and made my move.
"Sorry to bother you, Mr. Rhoads," I said timidly to the tiny man who was (and still is) one of my biggest heroes. "I'm a friend of JT's and he said I should say 'Hi' if I ever met you."
"Nice to meet you," smiled Randy as he shook my hand. "If you're a friend of John's, then you're probably a guitarist, too."
I nodded and, for the next five minutes or so, the diminutive legend bombarded me with questions about what gear I used and why before he was whisked off to do an interview he was already late for. He went deep, too — from pickups, picks, string gauges, and action to amps and speakers. And when it came to my pedals, he was really interested in the order they were in and why.
It wasn't until I was heading home on the last train back to Birmingham that the truth really hit me — I met Randy freaking Rhoads and discussed gear with him, but I didn't get to ask him even one darned question. I'd just answered all of his!
"That's typical Randy," JT laughed when I told him about my chance encounter with his friend. "He loves picking other guitarists' brains. I bet he talked your ears off!"
"Besides being a great player, Randy was the nicest human being you could ever wish to meet and would give anyone the time of day," John added. "He was also a very caring individual who loved his mother dearly. I know this is going to sound corny, but he touched my life — he touched my heart. He definitely left his mark on everyone who heard him, too; you can hear his influence all over the place."
Since that unforgettable meeting in 1981, I've had the incredible honor of working closely on both the Marshall 1959RR Randy Rhoads Signature head and the Jackson Custom Shop Randy Rhoads Relic Concorde Tribute with Randy's incredible family — his dear mother Delores (RIP) and his loving siblings, Kathy and Kelle. I've also had the honor of playing at one of the always-remarkable Randy Rhoads Remembered concerts and of speaking on behalf of Jim Marshall when Randy was inducted into the Hollywood RockWalk in 2004. As amazing as those four experiences were though, they can't top being quizzed about my gear by Randy in person!
Read more at Sweetwater.
[
Dana's note: Thank you, to Rattlhead, for passing this along. I will forever be jealous of Mr. Rattlehead, because he had the great fortune of seeing Rhoads play live
.]