GUITARIST K.K. DOWNING SAYS HIS FORMER JUDAS PRIEST BANDMATES ARE NOT INTERESTED IN INCLUDING HIM FOR THE BAND'S FORTHCOMING 50TH ANNIVERSARY TOUR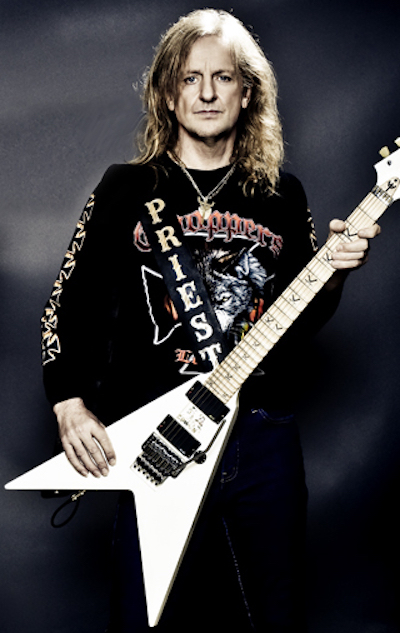 According to former Judas Priest guitarist, and founding member, K.K Downing, his former bandmates have no interest in including him on the band's forthcoming 50th anniversary tour.
K.K writes (via his official website):
"First of all, I want to once again express my huge appreciation to all fans worldwide for the overwhelmingly positive response to my Bloodstock appearance in August and the Wolverhampton gig in early November. I am truly humbled and grateful.
I am also taken aback with the compelling fan outcry for me to participate in the Judas Priest 50th anniversary celebrations next year. Consequently, I felt the right thing to do was to reach out to my former band-mates to gather their thoughts on this, and their response is they are not receptive to my participation in the band and they do not intend to include me in the 50th anniversary celebrations.
However, the great news for the fans is that I will be continuing to forge ahead, I am looking very much forward to seeing you all on the road in 2020. Together we will take on the world"
Downing left the band in 2011 amid claims of conflict, shoddy management and declining quality of performance. He was replaced by guitarist Richie Faulkner.
Last year, he revealed that he sent two resignation letters to his former bandmates when he decided to depart from the group.. The first was described as "a graceful exit note, implying a smooth retirement from music," while the second was "angrier, laying out all of his frustrations with specific parties."
Downing later stated that he believed the second letter was "a key reason" he wasn't invited to rejoin Priest after guitarist Glenn Tipton's decision to retire from touring, due to an ongoing battle with Parkinson's disease.
Last month, it was announced that Judas Priest is among the nominees for the Rock And Roll Hall Of Fame's class of 2020.
Downing; Tipton; drummers Dave Holland, Les Binks and Scott Travis; singer Rob Halford; and bassist Ian Hill are all on the ballot for nomination.