GUITARIST K.K. DOWNING DISCUSSES HIS AUTOBIOGRAPHY, AND WHY HE LEFT JUST PRIEST, SAYING "I LIKE TO THINK THAT DEMOCRACY IS ALWAYS THE BEST POLICY AND THERE WASN'T ENOUGH OF IT"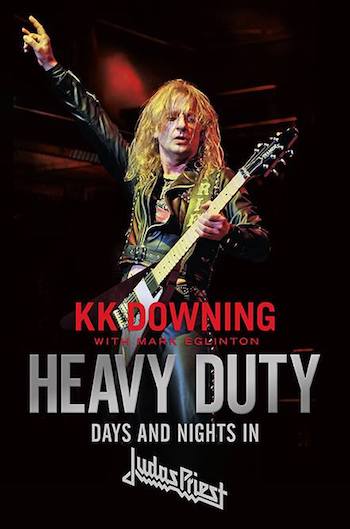 Greg Prato for Vintagerock.com spoke with former Judas Priest guitarist K.K. Downing about his autobiography, Heavy Duty: Days And Nights In Judas Priest. his favorite Priest album, and other topics. The interview appears in its entirety below.
Vintagerock.com: What made you decide to write your autobiography now?
K.K. Downing: Lots and lots of people were asking me, and eventually, I succumbed to the idea. I thought, "Maybe I should," as time went on a bit more. I thought it might be a pretty good thing for myself and the fans. I have no great illusions of grandeur — Mark Eglinton had done Rex Brown's book and some other stuff. So I thought, "Maybe I should. It seems like a lot of other people are doing it — Tony Iommi and Bruce Dickinson and everybody." So, I thought I'd have a go.
Vintagerock.com: Would you say that out of all the Judas Priest books that have been written over the years, this is the closest to the actual story?
K.K. Downing: It's absolutely from the heart. It is what it is. That's the way it was. And that's completely through my eyes and from the horse's mouth you have it.
Vintagerock.com: Were there any parts that you were on the fence about including?
K.K. Downing: If you were to really write a life story, I guess the book would take a year to read or something. So, it was a question of what I left out, really. But I touched on most things — albeit, quite briefly. But I thought that everything that I included, some of it was fun, some of it was informative, some of it just needed to go in there, I guess.
Vintagerock.com: You had some interesting things to say about when Iron Maiden toured with Judas Priest in the early 80s.
K.K. Downing: Oh yeah, yeah. (Laughs) Like I concluded with that, I guess if we all saw each other in a bar now, we'd probably all get pissed together and end up as good mates. But at the time, it was really annoying. I'm a bit of a perfectionist, and it was all part of rock n' roll, and I think it was kind of good in one way — up-and-coming bands wanting to overthrow the bigger bands and try and compete with them. If you don't try, you don't know how far you can get, I guess. But yeah, I thought I'd include that, so the people would have a bit of an insight into what goes on, sometimes.
Vintagerock.com: Did writing the book provide a sense of closure concerning your time in Judas Priest?
K.K. Downing: Yeah, I think so. I guess it's the same with any long term relationship — whether it's a husband or wife, or father or son or whatever — you spend enough time together, and idiosyncrasies show up. I guess there was no particular right or wrong — some people have more tolerance than others, and it takes a bloody miracle really to stay together for 40 years. Someone has to give. And it has to be give and take. But inevitably, it becomes a bit of an imbalance, and I like to think that democracy is always the best policy. And there wasn't enough of it there, I don't think.
But it kind of happened — Rob and Glenn went off and did their lengthy solo careers, and that became a bit disruptive. I didn't even mention that in the book. But Rob actually released two albums and did his own tour in the exact year before I left. And then when they said, "K.K., we want you to start writing for a five-track EP," I went, "F–king no way in hell! Rob has just released two albums in the last year, and we are only releasing an EP? Something is not right." Enough was enough really, and I bailed out there. And like I said in the book, I tried to put it as diplomatically as I could. But in a nutshell, enough was enough, really. And that was it.
Vintagerock.com: Which Priest album are you most proud of, and why?
K.K. Downing: Now that's a difficult question. I read an interview — I don't know whose quote this is — but they said, "They're all my children, I can't denounce any of my children." And I kind of feel that way about the albums – they were part of my life…or our life, as well, at the time. So, they're all pretty special. But I suppose the key albums which stick out would be Sad Wings [Of Destiny], certainly British Steel, certainly Painkiller. Those are the ones that probably are the most important for the fans throughout the decades.
Vintagerock.com: Personally, I would say my two favorites are Sin After Sin and Screaming For Vengeance.
K.K. Downing: It's hard to leave albums out, isn't it? Screaming For Vengeance was our most successful album, so I don't know why I didn't include that, really. As it was a very important album for us. But you mention Sin After Sin, that's personally probably one of my favorites, too.
Vintagerock.com: Something else that struck me by reading your book — the amount of now-classic heavy metal albums that were released during the early 80s, including recordings by Priest, Maiden, Black Sabbath with Dio, and others.
K.K. Downing: What a period that was, 1980 – 1983. Not just for Priest, but a lot of bands. A great time in music that was, the 80s years — for so many bands, and rock and metal, itself.
Vintagerock.com: Are you currently on good terms with the members of Judas Priest?
K.K. Downing: I can't say it's overly sweet at the moment. Nothing lasts forever. I started in the late 60s, so certainly guys from that time, we're not going to be around forever. Obviously, we're losing a lot of good friends along the way. It is the way it is. For my own part, there is always a better way, and I always believe that democracy is the epitome of the way forward for everyone. That's all that needs to happen. But, it's a case of someone always wants a bigger share of the pie or whatever it is. It is what it is. I'm busy — I've relocated home, and I haven't even started putting my music room back together yet, but I'm going to do it, because the scorching summer is gone now I think, and we've got plenty of rain now. So, I will have plenty of time to put that together and get up there.
Vintagerock.com: Would you consider playing with Priest again at some point?
K.K. Downing: There was an opportunity not long back, and that was passed on. So, another year goes by. I'm going to be 67 this October. At the moment, I'm in good healthy shape and fit. I really don't know, I guess. Before, I wasn't asked, but if I would have been asked, it probably would have been depending on how I was asked, really, and how it was going to be going forward. And that would still be the same in the future. At the moment, I understand that guys are out there and just started a leg with Deep Purple in the States, and they're doing well — they have achieved some good things with a new record. I can't really foresee that there would be another opening, so I guess it would be all too late. But if something did happen, I would have to see how the land lays at that particular point.
Vintagerock.com: What about future plans concerning music? Would you like to do a solo album or form a new band, at some point?
K.K. Downing: Well, I think I'll do something, but exactly what, I don't know until I put my music room together, and start playing again more frequently through this winter. I'll see what happens when I come out the other end in spring. But I certainly will be doing some playing this winter, for sure.
source: vintagerock.com