GHOST TO PLAY SHOW IN MILWAUKEE ON OCTOBER 31ST TO HONOR FALLEN FAN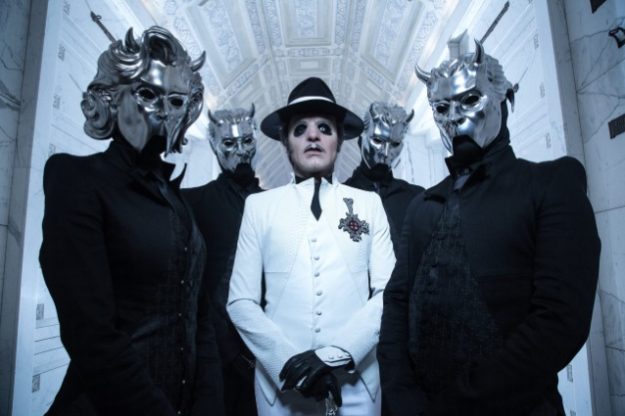 Ghost will return to Milwaukee on Halloween to honor its fan who passed away this past spring after attending one of the band's shows, reports blabbermouth.net.
The Swedish metal act's sold-out concert at the Riverside Theater on May 31st came to an abrupt and tragic end when fan Jeff Fortune collapsed at the venue, and died that evening.
For the October 31st show, a special shirt, featuring an illustration of frontman Cardinal Copia and Fortune wearing Michael Myers costumes from Halloween, will be sold at the Riverside Theater, with all proceeds being donated to Fortune's family.
The following e-mail was sent out by the Pabst Theater Group to the ticket holders to the May date:
"Dear GhostT fans,
Ghost will return to the Riverside Theater on October 31st to complete its concert that was cut short earlier this year. The May 31st show was canceled at the close of Act I due to the tragic collapse and subsequent death of Ghost fan Jeff Fortune. Dedicating the October 31st performance to Mr. Fortune and his family and friends, Ghost will perform the hour-long Act II for ticket holders who attended the original date.
Doors open at 7:00 p.m. with Ghost taking the stage at 8:00 p.m. The show will start a bit early so you may enjoy the previously missed Act II of Ghost's concert and still have plenty of time to go trick-or-treat or party afterwards.
Exclusively for this performance, Ghost has created a special T-shirt that features the likenesses of Cardinal Copia and Jeffrey Fortune clad in Michael Myers costumes. The T-shirt will be available at the venue's merch tables, with all proceeds going to Mr. Fortune's family.
We would like to invite you to attend this very special Ghost performance at the Riverside Theater on October 31st.
This performance is for attendees of the May 31st show only. If you would like to attend, you will receive the same ticket location you had for the earlier Ghost performance at no charge. To save your spot, the original ticket buyer must RSVP to the Riverside."
The deadline to RSVP is September 30th.
Ghost is continuing to tour in support of its new album, Prequelle, which was released in June.