GUITARIST JOE PERRY DISCUSSES HIS NEW BOOK, HIS FAVORITE AEROSMITH ALBUM AND HIS FAVORITE OPENING ACT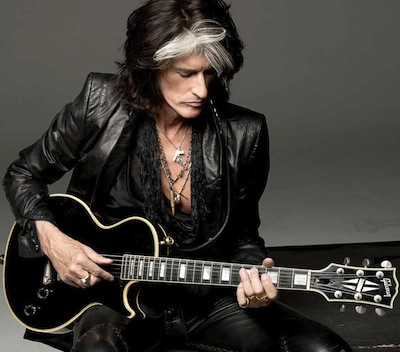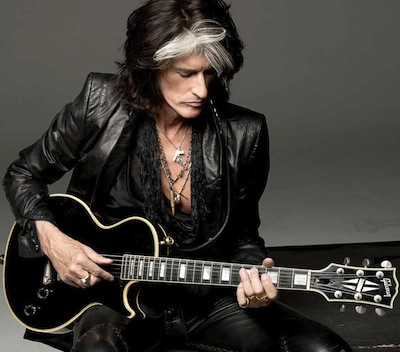 Justin Tedaldi of the Examiner spoke with Aerosmith guitarist Joe Perry. Excerpts from the interview appear below.
Examiner: You're the third member of Aerosmith to date to put out an autobiography. What are your thoughts about your book compared with the official 1997 Aerosmith oral history Walk This Way, as well as the other ones written by your bandmates, if you've read them?
Joe Perry: I did read them, and obviously [for Walk This Way], we all took part in that. It was kind of focused mostly on anecdotes that had been touched on in interviews, things like that. The thing about that particular book is that the writer [Stephen Davis] went around and asked us all about certain instances and certain events, and everybody's point of view. Everybody's got a different story about their perceptions of how things went down, so he wanted to get everybody's take on some of the different events, and again, it was a while ago, you know? A lot's gone on since then.
Also, that book was pretty jaded in the respect that our manager at the time [Tim Collins] had made a deal with the writer, and said, "If you want to talk to the guys in the band, I have to see the book first. I have to be able to see it before any of the guys see it," and we didn't know any of that. When we found that out, that added to a rather long list of what was growing of reasons why we ended up firing him, because he was taking control over things that he had no business taking control over. And the writer of the book figured, "If I'm going to have access to the band, maybe I should play ball here." Anyway, it was right at the end of the book, just before it was finished, that we fired him, and that's why the last chapter kind of gives a reason why we fired him, but really, the whole thing was kind of disjointed. We couldn't go back to rewrite the book. As we were re-reading the final thing, we were going, "Wait a second, how come this guy isn't in there? How come that story isn't in there? How come this isn't in there?" It was almost like the manager knew he was going to get fired, or knew he was losing control over the band, and it was kind of his swan song, so he wanted to come out of it looking like the messiah that saved the band and all that stuff.
There was some truth to that—in the beginning, he was really instrumental in helping the band come together and start on the road to success, but then he started to lose it, and he was a control freak and he started to get into our private lives. And a lot of that stuff was never talked about and never written about, and that was one of the things that I wanted to get across in the book. I spent a lot of time in [my] book talking about that, and what was going on behind the scenes during the Get a Grip years and the Nine Lives years, and that period where we were having such success, but also the struggle that was going on. By then we were middle-aged men with family and kids and lives outside of the band, and this guy was still trying to keep us in this kind of cocoon. It was really a hard time, so there's a lot of detail in the book about that.
Anyway, [Walk This Way] is what it is; I mean, it's kind of fluff to me. And then, [Aerosmith drummer] Joey [Kramer]'s book was almost like a self-help book, you know? He went through a nervous breakdown and wanted to talk about it, and that was his take. And of course, [Aerosmith vocalist] Steven [Tyler]'s book was just Steven's book. I don't know if you'd call it an autobiography, but it was kind of a window into the way the guy acts and thinks, you know? It is what it is. But I really wanted to explore my reasons for having stuck with it, and the work that it took to keep it together all these years; why I left [Aerosmith] for five years. It actually starts with a question: How I ended up here. I didn't grow up with music in my life, except for what was on the radio. I was kind of a slow starter when it comes to that—it certainly wasn't what I had planned; it certainly wasn't what my parents had planned.
That's the difference between the books. I just wanted to lay out some of the trials and tribulations that we all faced to keep the band together, and behind the scenes. It just never got talked about, you know? The early stories, obviously I talk about that…we couldn't leave any of that stuff out of there. But it kind shows a little bit more of the dynamic between the other guys in the band, but mostly Steven and I, and then of course we get into the later years. Really the front half of the band, or the side that people saw on stage or read in interviews, we talk about all the machinations, all the stuff that went on behind the scenes, and I wanted to get that out there. Again, to show people just how hard it is too keep a band together for this long, and that's what it's about.
Examiner: For the Aerosmith album Rocks, obviously the title of your book is derived from that. Is it your favorite Aerosmith album?
Joe Perry: Yeah. I think that as far as Aerosmith goes, it was one of the peaks of our learning how to be studio musicians and write new material in the studio. Up until then, we were just learning how to be recording artists, and there was a big difference between getting out and playing songs that you've played for months and years and just recording them in the studio, and it's another thing to go in with a couple of riffs and come out of there with an album like Rocks. The other thing is, that's one record that I know that I came up with the title, so it seemed appropriate to call the book that.
It seemed to make sense to call the book that, because it was definitely a, like I said, a high point in our creative lives, you know? We set the bar pretty high for ourselves for the next record, and it was kind of tough to follow it up. But we're still learning how to use the studio, and anyway, it was really an important record for us.
Examiner: [Regarding] the groups that opened for you, which one was the best that Aerosmith would open for?
Joe Perry: Oh, God. You know, it's probably the first time [with KISS] that really blew my mind the most. Back then, everybody really did their thing on stage, you know? You made records, sometimes somebody would do something in the press, but it really came down to how well you played on stage and what kind of performance you gave the audience, and how the audience liked you. As good as friends you might be offstage, it was always kind of a competitive thing. And we didn't know them very well, we didn't know them at all at that point. We just saw these guys with some makeup on, and they had some really rudimentary production—the drum riser went up in the air and things like that, but they were still wearing just tight jeans and leather jackets and little choreography and some explosives, but really basic stuff. And their first couple of records, you know, songs off those records, and they blew the audience away.
We went out there and got a nice, polite hand, and when they went out there, the audience went nuts. And we were still trying to make it and trying make an impression, and it was like, Jesus, what do we have to do now? Do we have to go out there wearing spacesuits? We considered ourselves serious players, you know? Really studied the blues and the whole thing, and these guys were going out there playing. They had good rock songs, great rock songs, but they also had this whole production thing that just developed into an amazing whole thing—they really broke some new ground. The first time we saw them, we saw the beginnings of that, and it was kind of frustrating. Anyway, that gig really stands out in my mind, because like I said, the audience went crazy for them, and I'm not even sure if they had been signed and their record was out at that point.
Examiner: Which group was your favorite that's opened for Aerosmith?
Jo Perry: AC/DC….Without a doubt. Guns N' Roses was really good, but they were kind of—I could see them as being more of an extension of the kind of style of rock and roll that we were doing, but AC/DC had taken it and boiled it down to the real basic, no-questions-asked hard rock, and when Bon Scott got out there and started singing, you believed every word he said. And they were a bunch of little guys from Australia who had this incredibly huge sound and you just knew that they were going to be at the top of the charts in a really short time. I used to go down and watch them play all the time. I mean, they were incredible. And I still thing they're one of the best bands in the world.
Read more at the Examiner.
Perry's autobiography, Rock: My Life In and Out of Aerosmith is being released today (October 7th). Perry is also launching a book tour beginning today at Barnes & Noble Union Square in Manhattan, hosted by our very own Eddie Trunk at 7PM. View the rest of Perry's book tour dates below.
10/8 Ridgewood, NJ Bookends @ 7:00PM
10/9 Boston, MA Brookline Booksmith at The Coolidge Theatre @ 6:00PM
10/10 Boston, MA Guitar Center on Boylston Street @ 6:00PM
10/11 Framingham, MA The Paper Store @ 2:00PM
10/13 Chicago, IL The Standard Club @ 11:30AM
10/13 Chicago, IL Guitar Center in Arlington Heights @ 3:00PM
10/14 Cleveland, OH The Rock & Roll Hall Of Fame @ 12:00PM
10/15 Los Angeles, CA Barnes & Noble at The Grove @ 7:00PM
10/16 San Francisco, CA Guitar Center on Van Ness Avenue @ 6:00PM
10/17 San Francisco, CA Book Passage at The San Francisco Ferry Building @ 6:00PM
10/18 Phoenix, AZ Changing Hands Bookstore @ 6:00PM
10/19 Phoenix, AZ Guitar Center in Scottsdale @ 2:00PM
10/20 Los Angeles, CA Book Soup @ 7:00PM