GUITARIST JAKE E. LEE SAYS HIS GUITAR PLAYING WAS NOT AS "UPFRONT AS I WOULD HAVE LIKED" ON OZZY'S "BARK AT THE MOON" ALBUM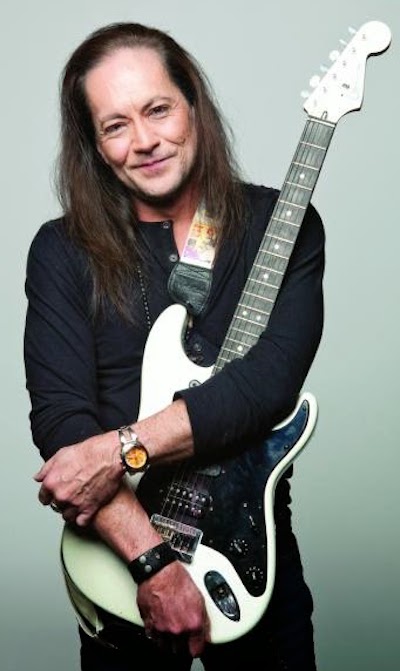 Chris Akin of The Classic Metal Show recently spoke with current former Ozzy Osbourne/Badlands and current Red Dragon Cartek guitarist Jake E. Lee. You can listen to the entire chat below. A few excerpts follow (as transcribed by Blabbermouth.net).
Discussing whether Red Dragon Cartels's new album, Patina, is comparable of Badlands:
Jake E. Lee: "I've been hearing the Badlands references and I can sort of see it. I don't know that these would be Badlands songs, but obviously since I'm the guitar player and did the majority of the writing in Badlands, there's going to be a similarity. But I think maybe what people are hearing is like you said, cohesion. This record is more cohesive. It's more organic. It sounds more like a band. The first record, the first R.D.C. record, was more of a piecemeal process. It was done bit by bit. I would record a guitar part, then Kevin [Churko, producer] would bring in a certain drummer to play to that part. The process was actually somewhat alien to me. I hadn't ever done anything that way before. It was interesting for me. But, at the end, that album is a little more disjointed. It sounds more like…it sounds like more me playing with different people, different singers, different bass players. It sounds more like that. That's not necessarily a bad thing, but I think on the new record, it does sound more like a band. Also, the way I wrote it. For the first record, like I said, it was bits and pieces that I would come up with in the studio or had been taking off my computer. Songs were written around that. This was done with a band, with me, the bass and the drums, in a room and I would come up with the ideas, then we'd work on it, come up with another part. So it was written more as a band. And, I think that comes through. I think maybe that is partially why people are referencing Badlands when they hear it. But, yeah, I think it's more of an honest record, for lack of a better word, than the first one."
On whether the "dirty" and "raw" sound on "Patina" is why there are so many Badlands comparisons of late:
Jake E. Lee: "Yeah, I think so. The guitar is more in your face than it was on the Ozzy records, which was my main complaint about the Ozzy records — how the guitar wasn't very… well, it wasn't as upfront as I would have liked it. In fact, I hated Bark At The Moon, I hated the mix the first time I heard it. To me, it felt like Ozzy wasn't sure that I was the guy and so he kind of had the guitar a little back further in the mix and he brought the keyboards up a little bit because he wasn't completely sure that I was capable of taking Randy's [Rhoads] place. That's what it felt like to me anyway when I heard the mix for the first time. I really did hate it for a long time. Now, 30-odd years later, it's grown on me. [Laughs] And, any other mix now would just sound weird and alien, so I wouldn't even go back and fix that. Yeah, maybe the guitar sound is more reminiscent of Badlands. And just the fact when I was in Ozzy and I was writing songs, I realized and was told that it had to be a very specific kind of a song. You know, it had to be heavy metal and whenever I did kind of push the boundaries a little bit and give a song to Ozzy where I was expanding a little, and he would tell me straight off, 'We're not a jazz band, we're not a blues band. This isn't Frank Zappa.' I don't know why he would say that, but he said, 'This is Ozzy Osbourne. I do Ozzy Osbourne songs.' So, there were strict parameters as far as what I could write. And, so when we first formed Badlands, it was like a whole new world opened up for me and I could kind of do whatever I wanted. So, with Badlands, it did open up more and yeah, blues, I've always loved blues and so there is a lot more of that based in Badlands. With the new Red Dragon Cartel album, it's kind of blues. It's not as bluesy as Badlands, but, yeah, I got to play around with it a little more. There's one or two songs where I do some jazz riffing. I'm not saying I'm a good jazz guitar player, but, it certainly fun to pretend like I am. [Laughs]"
Talking about what made him want to keep RDC going after an embarrassing debut live performance from singer Darren James Smith along with several vocalist changes afterward:
Jake E. Lee: "It was right from the get-go. The infamous Whisky show and the various [fill-in] singers toward the end of the tour, that didn't help things either, although I will say, [those other guys] were never [officially] the Red Dragon Cartel singer. Darren and I had a dispute or a disagreement that needed to be worked out, and during that time, I got other singers in. But they were never hired and fired. It wasn't quite as jerky as that. I had four singers available. I gave each of them ten days to come out on the road. It really made it interesting for me. It made it interesting, but yeah, that and I had bad management. Toward the end of it, it started making me think of the reasons why I bowed out in the first place. But I don't want to make him feel too good about himself. And a lot of it was Anthony [Esposito, bass]. He came in toward the end of the tour, replacing Greg Chaisson, who had gotten a cancer diagnosis, so he couldn't continue. I brought in Anthony and he's just so gung-ho about everything and such a really solid player and a solid guy. And, very supportive and just upbeat about shit that I give him a lot of the credit for making what could have been the end of a shitty tour into something that looked like a glimmer of hope."
Patina will be released on November 9th through Frontiers Music Srl. The follow-up to Red Dragon Cartel's eponymous 2014 debut marks the group's first release with drummer Phil Varone (Saigon Kick, Skid Row) and Esposito. The band's current lineup is rounded out by Smith.