GUITARIST GEORGE LYNCH SAYS THAT A DOKKEN AND LYNCH MOB TOUR IS BEING DISCUSSED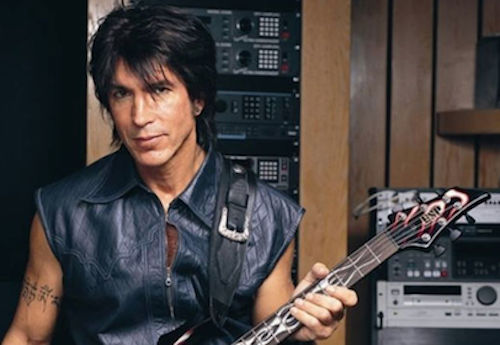 Guitarist George Lynch (Dokken, Lynch Mob, KXM) recently spoke with Derek "Mr. Shred" Thomas of "Talking Shred," excerpts follow (as transcribed by Blabbermouth.net).
Speaking about canceingl his appearance with Dokken at this year's M3 Rock Festival after contracting pneumonia:
Lynch: "We're going to make up for it big time. I'm not supposed to say anything, but next year, we're going to do something — but not what you think… We're going to do something, but it's going to be Dokken and Lynch Mob together going out, and then at the end of the night, me and Don [Dokken] are going to go out and do a few Dokken songs together."
On whether he's considered making an instrumental "shred" album:
Lynch: "Absolutely. I have some trepidation about it because of the glut of insane players who are making it hard for old guys like me to keep up. I look at all those Instagram guys, and my mind is just blown every day. It's so beautiful, because a lot of it is, they're not doing what they did in the late '80s/early '90s and just going hyperspeed shred. They do that too, but they're going back to bebop and jazz and Wes Montgomery stuff, Joe Pass stuff — just really heavy, playing over changes and doing really beautiful even traditional music. On top of that, the Tosin Abasi, multi-string, multi-tapping, two-handed, all that stuff too, and putting it all together and coming up with hybrid new stuff, which is fascinating… I've been trying to do the finger[picking] thing. I can't really do it. I do a fake finger thing, and that's just me trying to be Jeff Beck, because I think we all just want to be Jeff Beck."
Discussing his memories of playing on the Hear 'N Aid charity single, Stars:
Lynch: There was a line outside in the outdoor patio area going into the room, and it was almost like waiting at the DMV, except that every f–kin' guitar [player]… If you wanted to get rid of all your guitar competition, you just plant a bomb there. You would have been the only guy left, and would have won by default. Everybody was scared of Yngwie [Malmsteen], and rightly so. He was just emerging at the time, and that, I think, performance really cemented him into the history books. His place in the hierarchy was established after that pretty concretely. I noticed that when everybody went in, everybody was chasing Yngwie, so everybody was playing faster than they normally do, but uncomfortably so — kind of frenetic and nervously. I was doing it too, but it was hard to be yourself because this guy cast such a large shadow. It was a problem listening to the record for me and trying to differentiate the different players. It seemed like they all just kind of ran together, except for Yngwie."
Watch Lynch's full interview, below.