GUITARIST GEORGE LYNCH SAYS SUPER STROKE, FEATURING JEFF PILSON, MICK BROWN AND ROBERT MASON, IS "JUST INSANE"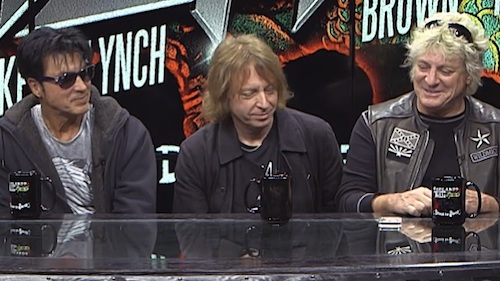 George Lynch has confirmed to SiriusXM's Eddie Trunk that three members of the classic Dokken lineup have reunited in a new project called Super Stroke (also featuring former Lynch Mob and current Warrant singer Robert Mason.
Lynch told Eddie (as per Blabbermouth.net), "I'm literally sitting here writing and recording with Jeff [Pilson] at Jeff's studio for that project."
"I've got to tell you, I'm probably in the bands with the worst names in the history of rock and roll," he joked. "You know, Sweet & Lynch, T&N, LP, Super Stroke, KXM — I mean, absolutely no imagination. I'm sorry. I have to apologize up and down. But I don't know about the idea of, like, 50- and 60-year-old dinosaur rockers being in a band called The Super Strokers, but they insisted on it. I lost the vote, so that's what it's called, I guess, at this point."
Describing the band's music as "just insane," George said that he and Jeff "are sitting here just out of our minds, having so much fun. It's kind of like all these different projects are really just one big giant project. We just keep trying to say the same thing over and over until we get it right."
"The Super Stroke thing, like the new Dokken track [that was recorded for the upcoming concert album and DVD], it just seems to be a culmination of all our decades of experience of what we've been trying to do forever, and we finally seem to be getting it together," he explained. "This stuff is just coming out so beautifully, and it's just so fun to play on and so fun to listen to. I just can't wait to get it out there in front of people."
Dokken's classic lineup reunited for a short Japanese tour in the fall of 2016. It marked the first time in twenty-one years that the classic lineup had hit the road.
A CD and DVD of Dokken's Japanese tour will tentatively arrive in April. It will feature footage from two of the Japanese shows — including Tokyo — plus the aforementioned brand new song, It's Just Another Day, for which Dokken filmed a video in January.