GUITARIST CRAIG GOLDY SAID THAT RITCHIE BLACKMORE HAD A "NO GUITAR SOLO" POLICY FOR OPENING BANDS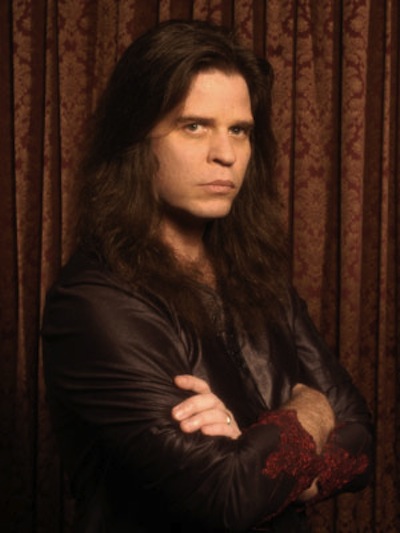 Guitarist Craig Goldy (Dio Disciples, Dio) recently reminisced with Rustyn Rose of Metalholic about opening for Deep Purple on their 1984 Perfect Strangers tour, while he was member of Giuffria.
He said (via blabbermouth.net), ""The first thing that started was, no guitar solo. At the time [Giuffria vocalist] David Isley was a really good team player. He would come sit on his knees and hold the guitar like a table. I would place the guitar on top of his hands flat and I'd play it like a piano and I would do all sorts of weird things that nobody had seen before at the time and the crowd went crazy. Ritchie didn't dig that. He got us on the tour because he heard Call Of The Heart. He thought we were a Journey band. He didn't like having a guitar competition. Little did he know, he got the biggest Ritchie Blackmore fan in the world opening for him. We had an emergency meeting and we got fired off the first night. They said, 'If Goldy doesn't do his solo, and you guys tone down your set just a little bit, you guys can stay on the tour.' All eyes on me, and I said, 'Sure, of course.' The problem was Gregg Giuffria kind of had an ego, Dave had an ego. Everybody in the band had kind of an ego, except for me. These guys, Deep Purple is royalty. You don't walk into a situation like that where it's hard rock history being made, the reformation of Deep Purple and start making demands. You're supposed to be grateful. When you treat guys like Blackmore and those people who are total gentleman with respect, you get respect back. But when you walk in the door with an attitude, like entitlement and demands, then you're going to get screwed with. That's what brought that on to us."
He continued, "When I met Ritchie Blackmore at end of the very last night, what are they going to do? Kick us off the tour? So I did the solo. We were walking down the hallway and Ritchie comes up to me and goes, 'You have to show me how to do that.' I went 'What?' I froze and I panicked. I spent so many years trying to learn his solos and he's asking me how to do something. I really quickly gave him a summary and ran and hid. Then I thought, 'You idiot.' I'm in my dressing room, 'You idiot. There's Ritchie Blackmore asking you.' So, I knocked on his private dressing room door — and that's one of the things Ronnie [James Dio] told me not to do. We sat together, me and Ronnie, and listened to the whole Giuffria record together, and he gave me his opinion, and he gave me the dos and do-nots when you tour with Deep Purple, and one of them was don't go in Ritchie's private dressing room. I knocked on the door and I felt compelled to say something to him. He opened the door and I said, 'I've idolized you for years,' and he kind of rolled his eyes, and I thought, 'Oh no.' But, apparently everybody had done that he toured with, that he said no guitar solos [to] a bunch of guys like [Dokken's] George Lynch said, 'I idolized you for years. F-you.' That's what he was expecting me to say. I said, 'I don't care who comes along with this that or the other thing, I think you're the best and you will always will be.' I said, 'No hard feelings,' and I reached my hand out and he shook my hand and said, 'Come on inside.' Next thing you know, I had an amazing time with an amazing man in his private dressing room. We're kicking the soccer ball to trying break one of his Strats and we're talking and he's trying to stump me with songs that I told him how hard it was for me to learn. He goes, 'You mean such and such title.' I actually had to tell him, 'No, that's not the title of the song. It's this title.' He's testing me; I actually had to tell him no. He knew the only way to get the truth out of me was for him to say the wrong title on purpose and for me to go, 'No. It's not that. It's this one.' He was a total gentleman and we had a blast because I gave him the proper respect that he deserved."
Listen to the audio, below.