GUITARIST BRUCE KULICK DISCUSSES THE ROCK N' ROLL HALL OF FAME AND WHAT HE THINKS ABOUT KISS CONTINUING WITHOUT GENE AND PAUL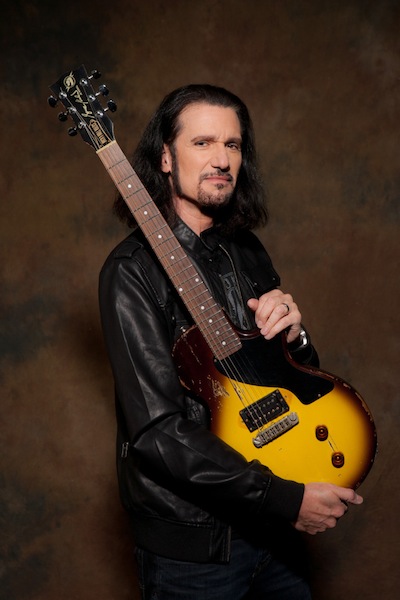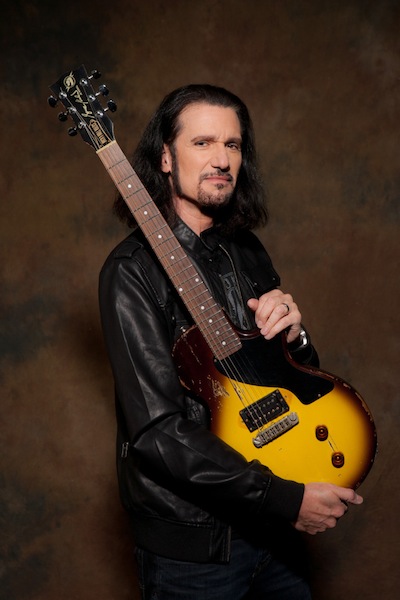 Alex Obert of Journey of Frontman spoke with former KISS guitarist Bruce Kulick. Highlights from the interview appear below.
Alex Obert: KISS had a huge year in 2014 with the band's induction into the Rock and Roll Hall of Fame, though there was much controversy surrounding who went in. Looking towards 2015, what are your thoughts on the recently announced inductees?
Bruce Kulick: I was real happy about Joan Jett. I gotta say, knowing how political it is, her doing the Nirvana thing, which was real important and ballsy, I was pretty impressed. I didn't actually stay that late because KISS had to film something really early the next morning, so I didn't actually see it, but he did watch the HBO special. Joan Jett did a great job. I wouldn't be surprised if they wound up voting for her because of that. I'm pretty impressed they picked Green Day, but they were always a critic's band. Rolling Stone really supported them big time. If you think about it, they even got a show on Broadway from the music that they wrote. They've got a lot of talent, I'm not surprised that they got in. Stevie Ray Vaughan getting in is awesome, it was a long time coming. Every night before Grand Funk goes on stage, some of the music is just house music, but we control what plays when people come in an hour before the show. And Stevie Ray Vaughan sets us up, but it's kind of interesting for Don Brewer to pick that because he was a little later than the start of Grand Funk's fame. But everybody knows that he was just a monster guitar player who died way too young. That one I really agree with.
Alex Obert: Who else do you think should be inducted?
Bruce Kulick: I don't study that stuff a lot, but I remember Deep Purple was being discussed for the year KISS went in. They definitely belong in there. Judas Priest should be in there. I definitely think they haven't really looked at certain hard rock and metal bands that should be in there. But I think they jumped the shark a long time ago anyway. Knowing from my experience, just being a part of the KISS family and seeing how they were treated and how it was dealt with and the politics behind it, the whole thing is a little nuts. And it is based more on Rolling Stone Magazine and that kind of group of editors and judge and jury. It's not necessarily the best representation, but obviously the biggest. And it is very cool for someone to be able to say that they're in the Rock and Roll Hall of Fame. But there's many, many people that should be there. Maybe they'll get around to it. I'm always wondering if they're just trying to sell tickets or really give it to people that deserve it.
Alex Obert: People are waiting for Eddie Trunk to start his own.
Bruce Kulick: (laughs) That's funny. I went to the Classic Rock Awards and that was really cool. I really love that magazine. They really do very, very cool in-depth articles on any band. So they finally did one here in California, all the other years were in England. That's where you will see Ozzy and Joe Perry. And they'll give awards. Is it as big as the Rock and Roll Hall of Fame? No way. But, to me, it's the best awards show that's related to the genre that I'm known for with KISS. You're not gonna see a rap artist there! (laughs).
Alex Obert: Do you agree with the idea of KISS continuing as a brand after Gene and Paul are gone?
Bruce Kulick: We're not there yet. (laughs) I know that Eric made some comments saying he wouldn't be into it. And I don't think he would be into it. I think it would be kind of weird because you'd have twenty, thirty years in the band and then be playing with guys that are cover guys. Bands like Judas Priest having Ripper Owens pop in for a while, he did a good job. Or Journey with the Philippine kid that can sing like Steve Perry. I think that that model works. I mean, look, Gene and Paul didn't wanna work with Ace, Peter was done, it's possible to insert somebody else to do that. So I don't even think what they're doing now is wrong at all. And honestly, I think it would be completely different if Gene and Paul were actually ready to step down. They're not ready to step down yet. But obviously KISS fans love the conjecture of "what if?" and "what do you think?" Everyone goes wild, the boards and everything. It's very askew in many directions. And I know Doc had said some things about it, then Gene says, "It's not true! Paul would come out and say something like that. Nothing like that is happening!" It's silly to talk about [it] while they're still very vital and hungry and relevant and out there. But I don't think just because Gene or Paul would say that they're retiring that Tommy and Eric would still hang around, even though they're little younger. Tommy's actually the youngest. I think it would be a whole different angle if something else would happen. That's just my opinion. I have no facts behind it. I think what they created is iconic. I wasn't part of that version of KISS, and yet, I'm a part of it. So there's a whole [a]nother era that I represent. And I know there's many fans that really love that too, it's not as identifiable, but certainly unique. Many great albums and songs and tours, that's what I concentrate on. But certainly, these guys could carry on the four iconic characters in many, many shapes. That's why merchandising is unbelievable. And now they're doing something with a Japanese artist, doing stuff like that. They were big with Hello Kitty. It's really incredible what they created. Truly incredible. It's timeless and it keeps attracting new generations. And then when they get really into it, the parent pops in and notices something like KISS Unplugged. Then they're mesmerized by it. And it's still KISS. With no crazy outfits. I can't believe how many of these young kids that might meet me at an event or something and they're just so enamored with me. I didn't wear any makeup or anything, but I did get to perform that music. I got to be presented in the manner of lead guitarist with KISS.
Alex Obert: What was your favorite year of KISS while in the band?
Bruce Kulick: That's a tough one to say. I mean, when I first joined, that was amazing. I toured really big before, but now I'm a featured guy on stage. Backing up Meat Loaf was a lot of fun in some ways because we were headlining arenas all around the world. Not right away, but within three or four months. But that was a different kind of show. And all of a sudden, five years later, I'm on stage as the lead guitarist for KISS. So the beginning was really exciting. It got a little routine, maybe in the middle, for me. But I did always give it a hundred percent. Some of the Crazy Nights times was very exciting because we got to do Monsters of Rock and really tour everywhere. And I remember Hot in the Shade had some really incredible highlights because of the long tour and great bills with bands like Winger and Slaughter, which was very, very important at that time. Album wise, Revenge was probably my favorite, even though each album had highlights. Doing Unplugged, even though it was my last real gig with the band, I'm still super, super proud of it. I believe it was thirty years just recently for Animalize. It's kind of funny, the more I look back at some of this stuff, I know there were other years where I look back and I go, "Oh my! I'm playing that too fast!" or "What the hell am I playing?" And now, I don't know why, maybe it's because I'm seeing it in a little different light, I'm really more and more proud of everything that we accomplished and everything that I did. I'm not looking at it so critically.
Read Bruce Kulick's entire interview with Journey of Frontman here.
source: journeyofafrontman.com