GUITAR WORLD PREMIERES EXODUS BONUS DVD TRAILER -"BLOOD IN, BLOOD OUT"+ BONUS DVD DUE OCTOBER 14TH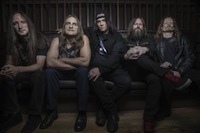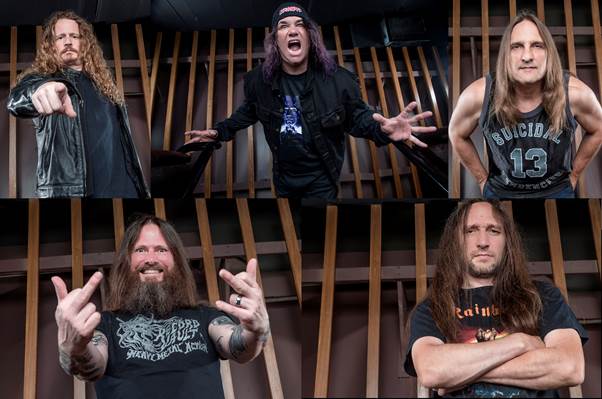 Watch the Making-Of Blood In, Blood Out Part 1 featuring guitarist & songwriter Gary Holt and Part 2 footage featuring Lee Altus, courtesy of Guitar World, below.
Fans who pre-order Blood In, Blood Out on iTunes will receive an instant Salt The Wound download. Click here to order your copy. A lyric video for Salt The Wound can be viewed here. Blood In, Blood Out will be officially released on October 14th.
Track listing for the deluxe digi-pak version of Blood In, Blood Out:
1 – Black 13 (featuring Dan the Automator)
2 – Blood In, Blood Out
3 – Collateral Damage
4 – Salt The Wound (featuring Kirk Hammett)
5 – Body Harvest
6 – BTK (featuring Chuck Billy)
7 – Wrapped In The Arms Of Rage
8 – My Last Nerve
9 – Numb
10 – Honor Killings
11 – Food For The Worms
Bonus DVD includes:
• Blood Upon The Goat making-of footage
• Behind-the-scenes tour footage
• Footage from Kirk Hammett's Fear FestEVIL After Party at this year's San Diego Comic-Con
The digital version of Blood In, Blood Out will include the digital bonus track Angel Of Death (Angel Witch cover).
The album's Japanese edition includes the Protect Not Dissect bonus track featuring Rat from The Varukers/Discharge.
Exodus will head out with fellow metal titans Slayer and Suicidal Tendencies on a U.S. tour this November sponsored by Scion. This "destined to be legendary" tour launches on November 11th with two shows at The Fox Theater in Oakland, California. The 26-show trek includes nine headlining off-dates with additional performances to be announced soon. Tickets are on sale now via the links on the official Exodus Facebook page.
Due to the overwhelmingly demand, Exodus VIP Experience packages are now available for the entire tour through SLOtix.com. Visit the site for tour package details.
All Exodus VIP Experience attendees will be included in a giveaway for either an autographed Gary Holt signature guitar or an Exodus guitar. At the end of the tour, Gary Holt will personally call the winner himself to announce that they've won!
Exodus in North America with Slayer & Suicidal Tendencies:
11/11 – The Fox Theater – Oakland, CA (2nd show added!)
11/12 – The Fox Theater – Oakland, CA
11/14 – The Forum – Inglewood, CA
11/15 – Comerica Theatre – Phoenix, AZ
11/17 – Coca Cola Bricktown Events Venter – Oklahoma City, OK
11/18 – ACL Live at the Moody Theater – Austin, TX
11/19 – Verizon Theatre at Grand Prairie – Grand Prairie (Dallas), TX
11/21 – Hard Rock Café/Hard Rock Live – Orlando, FL
11/22 – The Tabernacle – Atlanta, GA
11/23 – The Fillmore – Charlotte, NC (Exodus Only)
11/24 – Empire – North Springfield, VA (Exodus Only)
11/25 – Washington Avenue Armory – Albany, NY
11/26 – Sands Bethlehem Event Center – Bethlehem, PA
11/28 – The Palladium – Worcester, MA
11/29 – Wellmont Theatre – Montclair, NJ
11/30 – Tower Theater – Upper Darby (Philadelphia), PA
12/2 – Agora Theatre – Cleveland, OH
12/3 – Madison Theatre – Covington, KY (EXODUS ONLY)
12/4 – Egyptian Room at Old National Centre – Indianapolis, IN
12/5 – The Fillmore Detroit – Detroit, MI
12/6 – The Venue at Horseshoe Casino – Hammond, IN
12/7 – Aftershock – Merriam, KS (Exodus Only)
12/8 – Gothic Theatre – Denver, CO (Exodus Only)
12/9 – Pub Station – Billings, MT (Exodus Only
12/10 – The Hop – Spokane, WA (Exodus Only)
12/11 – Studio Seven – Seattle, WA (Exodus Only)
12/12 – Hawthorne Theater – Portland, OR (Exodus Only)
Additional shows will be announced soon.
Tickets are on sale now through links on the official Exodus Facebook page.