GRETA VAN FLEET GUITARIST JAKE KISZKA SAYS ROCK N' ROLL IS AN "ENDANGERED SPECIES"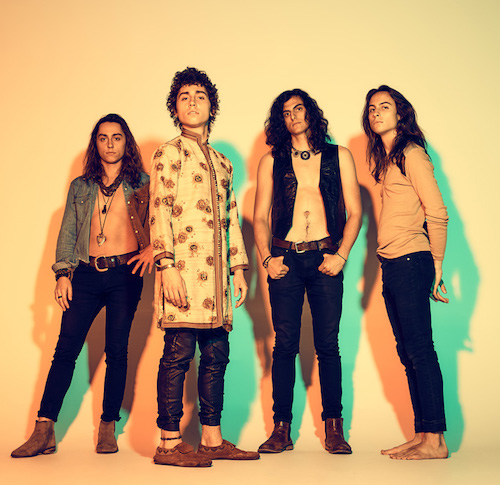 Greta Van Fleet may just have released their debut album, but the hype surrounding Anthem Of The Peaceful Army has been off the charts.
The Michigan outfit have also been bombarded with criticism due to Josh Kiszka's vocal similarities to Led Zeppelin frontman Robert Plant – but that hasn't stopped them forging ahead with their career, which is on a decidedly upwards trajectory.
Last week they said they had a chance to "bring authentic blues-rock back into the popular scene" and in a new interview, the band say that rock has found itself an "endangered species" simply because the genre refuses to chase trends.
Guitarist Jake Kiszka tells Rolling Stone, "That's the thing that destroys a lot of good art now-chasing trends. There's comfort in knowing that you'll make that money.
The record company will hire writers to make sure they see a return on their investment because – structurally, scientifically – the song will work. It's catchy. It's a mathematical fact that people will perceive it one way or another. That's why it's difficult in our world to cut through.
When you are doing something truthful, it's easy for someone to say, 'That sounds like this band from the 60s and 70s. It's the throwback sound.'
In that response is the answer: That is because music meant something during that period – a lot more than it does now. It was done by the artist for the artist. It was music for the people."
He adds, "But Rock' N' Roll has become a novelty. It doesn't have the essence of what it was – its greatness. People say it's dead now, but it's a minority. It's an endangered species. It's gonna take young guys like us in our generation to see that."
Greta Van Fleet also tell Rolling Stone that they're already working on what will be their second album, which could see the light of day as soon as 2019.
Greta Van Fleet will travel to Europe for live shows later this month and into November and have a tour planned for 2019, when they'll visit Australia, New Zealand, Europe, the UK and North America.
additional source: Classic Rock via loadersound.com