GREAT WHITE CELEBRATES THE BAND'S 30TH ANNIVERSARY WITH A NEW LIVE ALBUM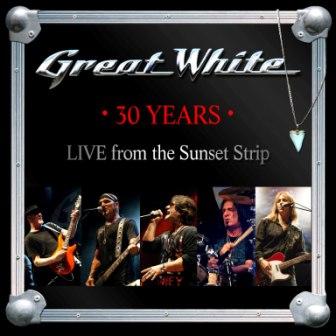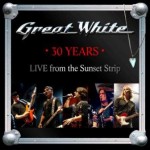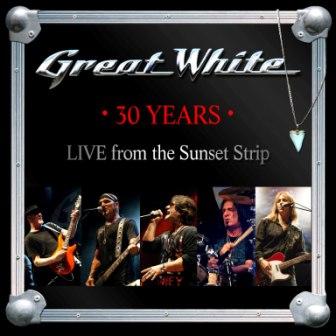 Frontiers Records is pleased to announce the release of Great White's celebrative live album 30 Years-Live From the Sunset Strip on February 22nd in Europe and February 26th in North America.
To mark its 30th Anniversary live on March 22nd, 2012, Great White celebrated the only logical way-on stage. In a nod to its early days, Great White returned to the infamous Sunset Strip, where a storied past of music's biggest fans are fused into the walls of the Key Club. Great White delivered its entire repertoire to a packed house, pining for the band's raw energy and cheering its illustrious history track after track.
The Southern California blues hard rock band debuted with a Don Dokken/Michael Wagener produced EP in 1983 and later on were signed by EMI for 1984's self-titled debut album. Since then Great White has achieved worldwide success, encompassing sales of over six million records. They received a Grammy nomination for Best Hard Rock Performance for the song Once Bitten, Twice Shy and earned a double platinum certification for the album …Twice Shy.
It's the soulful, blues-based signature sound that turned songs like Face The Day, Rock Me and Save Your Love into international hits. The late 80's were boom years for the band, marked by non-stop touring with some of the biggest bands of the era including stints in Europe and Japan. Great Whte recorded two more albums for Capitol: Hooked, which was certified gold and Psycho City.
With a line up featuring Co- Founder Mark Kendall, Audie Desbrow, Michael Lardie Scott Snyder and new singer Terry Ilous (former XYZ), a natural frontman blessed with bluesy-heritage rock tone, Ilous fits the band like a glove. Great White's biting guitar riffs, contagious rhythm section and newfound energy is ready to honor its past and create the next chapter. 30th Anniversary Live is just one night – but the music is timeless.
30 Years – Live From the Sunset Strip tracklisting includes:
Desert Moon
Lady Red Light
Face The Day
House Of Broken Love
Save Your Love
Mista Bone
The Big Goodbye
Back To The Rhythm
Rock Me
Can't Shake It
Once Bitten Twice Shy
Great White is:
Terry Ilous – vocals
Mark Kendall – lead guitar
Michael Lardie – guitar, keyboards
Scott Snyder – bass
Audie Desbrow – drums
For more information, visit www.greatwhiterocks.com.