GLENN HUGHES SOLO ALBUM TENTATIVELY DUE IN MAY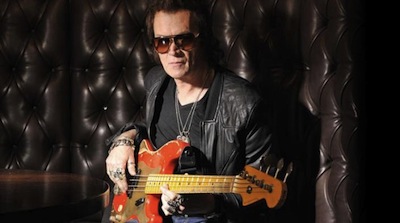 Glenn Hughes has completed work on a new album, tentatively scheduled for release in May.
The bassist has credited Julian Lennon with helping put together his first band since the disbanding Black Country Communion in 2012.
Hughes hasn't released much information about his new project yet, but he's confirmed one track will feature a duet between him and Lennon.
He reports, "Jules is the one who helped me put our new band together. He and I are singing together on the album. Trust me: he's the real dang deal."
In a question-and-answer session on Twitter recently, former Deep Purple and Black Sabbath man Hughes told fans, "Black Country Communion is gone for ever. It will live for ever in my heart, but I have now moved on."
Confirming that he changed management after a period in which he tried to buy the BCC title from Joe Bonamassa and failed, he added, "This past year has been one of transition into a new band. My band will take up most of the year starting in April – I will tell you more soon. My manager will take the phones away if I say any more!"
source: classicrockmagazine.com