GLENN HUGHES SAYS AN UNAMED MEMBER OF DEEP PURPLE KEPT BOTH HE, AND DAVID COVERDALE, FROM PERFORMING AT THE ROCK HALL INDUCTION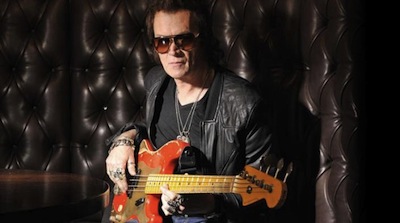 Former Deep Purple member Glenn Hughes says an unnamed member of the current lineup prevented him, and David Coverdale, from being part of the group's Rock and Roll Hall of Fame induction performance.
Hughes recently told Metal Rules, saying, "I'm not going to name names, as there is a member who didn't feel it was appropriate that we should sing. So, David and I braved it together as we were arm and arm all the way through. But, I knew by the end of the night it would not happen."
Pointing out that the duo ended up onstage anyway thanks to an invitation from Cheap Trick, Hughes insisted there were no hard feelings. "Am I upset about not singing with Deep Purple? Not at all. Everybody knows that David and I can sing. Everybody knows that we were in the band. All that mattered to me was accepting the award on behalf of Deep Purple and the fans."
Hughes went on to address the elephant in the room regarding Deep Purple's induction: the absence of former guitarist Ritchie Blackmore, who's long been on less than friendly terms with some of his former bandmates. Saying Blackmore never had any intention of making an appearance, Hughes added that his refusal to attend didn't have anything to do with bad blood — he just wasn't interested in showing up.
"Nobody stopped him, and you can't stop an artist from getting inducted unless the chairman of the Hall of Fame bans you. The chairman of the Hall of Fame reached out to Ritchie with both hands, and Ritchie gracefully declined," said Hughes. "He didn't say anything bad. He just said, 'Thank you. I'm not going to attend.' People need to know it was gracefully done."
additional source: ultimateclassicrock.com