GHOST FRONTMAN TOBIAS FORGE SAYS HE IS WORKING ON A FILM ABOUT THE BAND AND HE WANTS THEIR NEXT ALBUM TO BE "HEAVIER"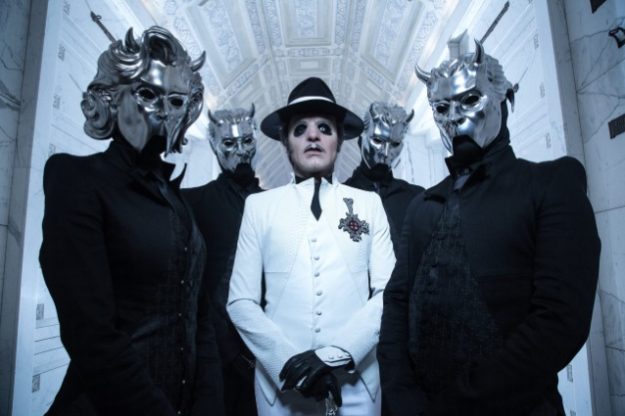 Steve Appleford of Revolver reports:
…In the eleven months since the beatific release of Ghost's epic fourth album, Prequelle, much has happened in the world of this wildly theatrical metal act from Sweden. The first of these events was the reveal of Tobias Forge as the living, breathing mastermind behind the masks and papal vestments. Though he's never explicitly stated as such, it's widely understood that it's been Forge all along behind the mic, disguised in corpse paint and/or latex masks, first as a series of consecutive demonic popes called Papa Emeritus (Nos. I-III), before reemerging in 2018 as the grimly debonair Cardi Copia.
Prequelle was a medieval concept album that became a hit, spreading the word of Ghost to a growing congregation, in the U.S. reaching No. 3 on the Billboard album chart, and the Top 10 across most of Europe. An American tour filled theaters and last year delivered Ghost to select arenas in Los Angeles, New York and Montreal. It was all a preamble to Ghost's upcoming Ultimate Tour Named Death, a true arena tour of North America, where the band will deliver a fully realized, theatrical rock show of stained glass and fireballs this fall, beginning September 13th in Bakersfield. (Ghost is also openingfor Metallica this summer on a "WorldWired" European stadium tour.)…
…As a lifelong devotee of Queen and KISS, Forge is a true believer in the power of rock's epic sweep. Taking Ghost to its fullest potential as operatic spectacle is the ultimate fantasy-come-true for Forge, who birthed the band with few expectations a decade ago with a trio of satanic metal tracks…
…Forge is also close to realizing his ambition to create the first feature-length Ghost movie. If all goes well, the film will be shot before the end of the year.
"If it wasn't for the fact that I ended up finally being a musician, the one thing I really, really want to do in my life is cinema," Forge says. "Any chance I can have to do that, I'm definitely grabbing it…"
…He's confident that the story of the film has now been figured out, and would partly take place around a live concert. Figuring out the location, budget, etc. will make all the difference…
…Beyond the film and the final leg of this tour, Forge is contemplating what comes next when he returns to the studio in 2020 to begin work on a new Ghost album. He's leaning toward a harder, riffier sound this time. He'll start in January and finish that summer.
"I want to make a different record from Prequelle. I want it to feel different," says Forge, being careful with his words to avoid misleading fans. "If I dare to say heavier, people think that it's going to be Mercyful Fate all the way … but I definitely have a darker, heavier record in mind."
Prequelle, he says now, was "a little ballad heavy." The next one will lean more in the imposing direction of 2015's Meliora without repeating the same ideas. He's worked to make each album different, starting with 2010's gloomy, metallic debut, Opus Eponymous…
…"I have always pushed myself to write the songs that we don't have instead of going back — it maybe would've been a smart move to just try to replicate Opus," he explains. "I can regurgitate. I grew up with metal. It's in my DNA, so I can formulate death-metal lyrics easily. But I try not to repeat myself on that."
"I like to make the Metallica comparison — where Kill 'Em All is a little bit more crude, on Ride the Lightning they started writing about more real things. It had more depth," he adds. "I'm not going change everything…but I believe that if you have people's attention, you have responsibility to weigh with your words a little. Sometimes that is hard. I find that harder than the musical challenges."
Read more at Revolver.