GHOST "A PALE TOUR NAMED DEATH" HAS HIT THE ROAD IN NORTH AMERICA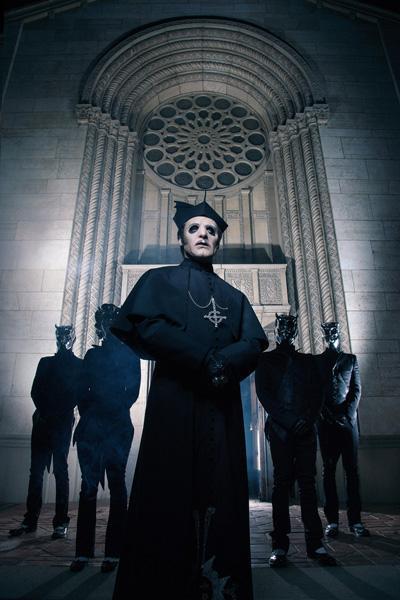 Grammy-winning Swedish rock/pop band Ghost hit the North American road last week (10/25) at Freakers Ball in Grand Prairie, Texas with its A Pale Tour Named Death, a 40-date headline trek. The tour will include two arena shows: November 16th at the Los Angeles Forum, and December 15th at New York's Barclays Center.
Ghost is well-known for its "an evening with" stage shows that are presented in two acts with an intermission. For A Pale Tour Named Death, frontman Cardinal Copia and the now expanded band – seven Ghouls and Ghoulettes – are presenting a two-hour program on a striking stage set performing some of the band's most popular songs from Ghost's albums and EPs catalogue. The set list includes Square Hammer, Cirice, Ashes He Is and em>Year Zero. The band is also preforming its new single,Dance Macabre (see video below), currently #14 at Active Rock Radio; the companion video, is a romantic and erotic look at a defining encounter in Ghost's past.
Remaining dates on Ghost's A Pale Tour Named Death are as follows:
October:
29 Palace Theatre, Louisville, KY
30 Murat Theatre, Indianapolis, IN
31 Riverside Theatre, Milwaukee, WI
November
1 Aragon Ballroom, Chicago, IL
2 Peoria Civic Center – Theatre, Peoria, IL
3 The Sylvee, Madison, WI
4 Stephens Auditorium, Ames, IA
6 Orpheum Theatre, Omaha, NE
8 Kiva Auditorium, Albuquerque, NM
9 Abraham Chavez Theatre, El Paso, TX
10 Comerica Theatre, Phoenix, AZ
12 Spreckels Theatre, San Diego, CA
13 Community Center Theatre, Sacramento, CA
15 City National Civic Center, San Jose, CA
16 The Forum, Los Angeles, CA
17 The Joint @ the Hard Rock Hotel, Las Vegas, NV
19 Wagner Noel Performing Arts Center, Midland, TX
20 Bass Concert Hall, Austin, TX
21 Orpheum Theatre, New Orleans, LA
23 Dr. Phillips Center for the Performing Arts – Walt Disney Theatre, Orlando, FL
24 The Fillmore at Jackie Gleason Theatre, Miami Beach, FL
25 Ruth Eckert Hall, Clearwater, FL
27 North Charleston Performing Arts Center, North Charleston, SC
29 Saenger Theatre, Mobile, AL
30 Roxy Theatre, Atlanta, GA
December
1 Florida Theatre, Jacksonville, FL
2 Ovens Auditorium, Charlotte, NC
4 Dominion Energy Center, Richmond, VA
5 F.M. Kirby Center for the Performing Arts, Wilkes-Barre, PA
7 Place Bell, Laval, QC Canada (Montreal)
8 Sony Centre for the Performing Arts, Toronto, ON
10 The Hippodrome, Baltimore, MD
11 Tower Theatre, Upper Darby, PA (Philly)
13 Palace Theater, Albany, NY
14 Wang Theatre, Boston, MA
15 Barclays Center, Brooklyn, NY