GEOFF TATE ANNOUNCES "OPERATION: MINDCRIME 30TH ANNIVERSARY" U.S. TOUR DATES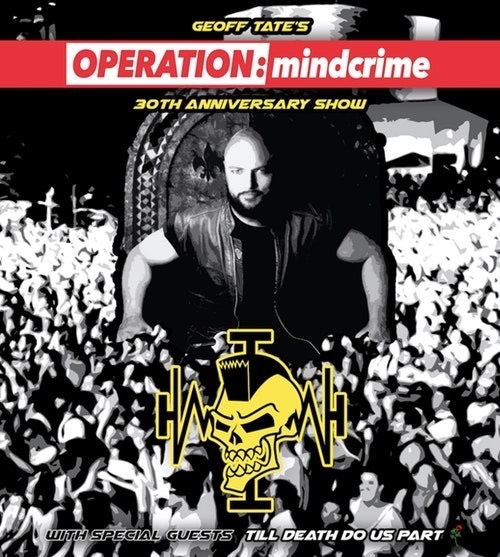 To celebrate the 30th anniversary of the landmark concept album Operation: Mindcrime, original Queensryche singer Geoff Tate and his band, Operation: Mindcrime, will perform the platinum-selling album (released May 3rd, 1988) from beginning to end in its entirety, along with a set full of greatest hits including Silent Lucidity and Jet City Woman.
The "Mindcrime" set will cover all fifteen songs from the album including such fan favorites as Revolution Calling, Operation: Mindcrime, I Don't Believe In Love and the closing track, Eyes Of A Stranger. As fans might remember, Geoff performed the album in its entirety on tour in 2013 to celebrate its 25th anniversary.
Operation: Mindcrime — one of the most iconic concept albums of all-time — was the album that thrust Geoff Tate's unique social consciousness, style and expertly crafted lyrics into the international spotlight.
Proving the music has stood the test of time, in 2006, Geoff and his Queensryche bandmates brought the theatrical interpretation of the "Mindcrime" saga to audiences all over the world. In October of that year, an epic performance was filmed and recorded, resulting in Mindcrime At The Moore, an album/DVD set released in July of 2007 that would debut at #1 on the Billboard Music DVD chart. It would mark the band's first #1 chart debut, quickly selling over 50,000 units, achieving gold status.
In all, Geoff Tate has sold more than 25 million albums at the helm of Queenryche, the band he fronted for 30 years from their inception through 2012, earning three Grammy nominations, five MTV Music Video Award nominations and one MTV Music Video Award along the way. One of those Grammy nominations was for I Don't Believe In Love (1990, in the new category of Best Metal Performance), a song that appears on the Operation: Mindcrime album.
As for Geoff's current musical endeavor, his band Operation: Mindcrime has released three albums in three years as part of a trilogy: The Key (September 2015), Resurrection (September 2016) and The New Reality (December 2017).
The band currently on tour features Kieran Robertson from Scotland on guitar, Bruno Sa from Brazil on keyboards, Jack Ross from Scotland on bass, Scott Moughton from Canada on guitar, Josh Watts from England on drums and Geoff Tate's daughter Emily, who will be singing the parts of Sister Mary. She's also in the band, Til Death Do Us Part, who are special guests on this tour.
The forthcoming U.S. tour comes hot on the heels of the band's European trek that began earlier this year, hitting venues in such countries as Austria, France, Germany, Hungary, Italy, Netherlands, Poland, Slovakia, Switzerland and the United Kingdom. Further 30th-anniversary tour dates in the United States to be announced.
U.S. tour dates:
Jun. 7 – Lancaster, PA – The Chameleon
Jun. 8 – Findlay, OH – All American Rock House
Jun. 9 – Fond du Lac, WI – Lakeside Park
Jun. 10 – Chicago, IL – House of Blues
Jun. 12 – Amityville, NY – Revolution Bar & Music Hall
Jun. 13 – Sellersville, PA – Sellersville Theater
Jun. 14 – Stroudsburg, PA – Sherman Theater
Jun. 15 – Washington, DC – City Winery
Jun. 16 – Sayreville, NJ – Starland Ballroom
Jun. 17 – Lynchburg, VA – Phase 2
Jun. 18 – Warrendale, PA – Jergel's Rhythm Grille
Jun. 19 – Baltimore, MD – Baltimore Soundstage
Jun. 20 – Poughkeepsie, NY – The Chance
Jun. 22 – Traverse City, MI – Ground Zero
Jun. 23 – Flint, MI – Machine Shop
Jun. 24 – Cincinnati, OH – The Venue
Jun. 25 – Atlanta, GA – Center Stage
Jun. 27 – Austin, TX – Antone's Nightclub
Jun. 28 – Houston, TX – House of Blues
Jun. 29 – San Antonio, TX – The Aztec Theater
Jun. 30 – Dallas, TX – House of Blues
Aug. 03 – Tempe, AZ – Marquee Theatre
Aug. 4 – Las Vegas, NV – Count's Vamp'd
Aug. 9 – Hermosa Beach, CA – Saint Rocke
Aug. 10 – San Juan Capistrano, CA – Coach House Concert Hall
Aug. 11 – Big Bear Lake, CA – The Cave
Aug. 15 – Sacramento, CA – Sofia Center
Aug. 17 – Agoura Hills, CA – The Canyon
Aug. 18 – Santa Clarita, CA – The Canyon
Aug. 19 – Pasadena, CA – The Rose
Aug. 24 – Portland, OR – Hawthorne Theatre