FRANK BELLO, CHARLIE BENANTE, AND SCOTT IAN OF ANTHRAX RETURN FOR THE LATEST EPISODE OF "THAT METAL SHOW" AIRING FEBRUARY 28TH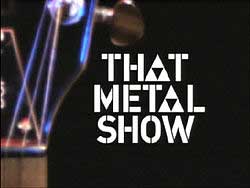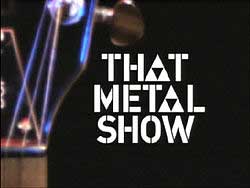 Following last week's highly successful return of That Metal Show featuring Rush's Geddy Lee and Dream Theater's John Petrucci (the Season 14 premiere was the second most watched Season Premiere in the history of the series) VH1 Classic's centerpiece in original programming returns with an all-new episode this Saturday at 9:00PM ET/PT, repeating at 11:00PM ET/PT. This week Frank Bello, Charlie Benante, and Scott Ian of Anthrax stop by the acclaimed hard rock/heavy metal talk show, hosted by Eddie Trunk, Don Jamieson, and Jim Florentine. The guys from Anthrax give us an update on their new album, their side projects, and share stories about their longtime relationship with Eddie. The hosts get the Anthrax guys to Rank their own albums, to Put It On The Table with answers to some serious questions, and engage in a passionate debate in the Throwdown when it's KISS Unmasked vs. KISS Dynasty. Anthrax singer Joey Belladonna checks-in from the recording studio in Los Angeles via the Metal Modem. Joey updates everyone on how the recording is going for Anthrax's new album while taking a break from tracking his vocals.
The episode also features Testament's ace shredder, Alex Skolnick, making his return to the show. The guitar wizard discusses his latest acoustic solo album Planetary Coalition. He also fills the hosts in on the upcoming Testament/Exodus tour, and how much he's looking forward to those shows. Alex even donates one of his ESP LTD signature guitars to the Box Of Junk for one very lucky and excited winner.
Stump The Trunk gets dramatic this week when Eddie melts down after he mishears a question. TMS Top 5 discusses the Top 5 Cover Songs, and this week's Take It Or Leave It has the guys discuss the increase of bands recording and releasing cover albums these days, which leads to another tirade from Eddie about the Grammys.
This week's That After Show consists of everyone discussing what music was important to them growing up. It makes for an interesting discussion and offers unique insights into the music that inspired the guys in Anthrax to make music. Fans can watch That After Show as well as previous episodes and other exclusive bonus clips at ThatMetalShow.VH1.com and the new VH1 app.
Audience tickets for upcoming tapings are now available via Gotham Casting at gothamcasting.com/gothamrsvp.