FOZZY DEBUTS NEW "PAINLESS" VIDEO; "JUDAS RISING TOUR" BEGINS FEBRUARY 28TH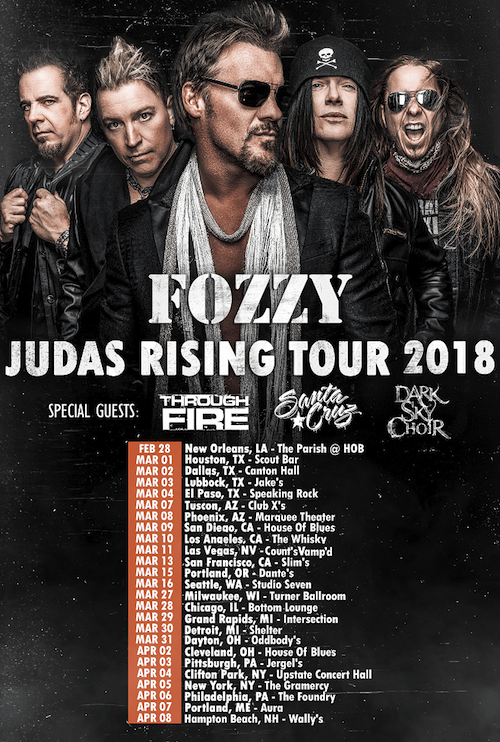 With Fozzy set to hit the road next month for their Judas Rising Tour, the active rock band led by Chris Jericho have released the music video for Painless, the latest single from their Judas album (Century Media). The video originally premiered via Loudwire.com yesterday and can be viewed below.
Click here to read Loudwire's interview with Jericho about the video. The song follows the band's Judas single, a top five hit at active rock radio with more than 14 million YouTube views. Watch the video for the song below.
"We are so excited to introduce the new video for Painless to the world…" Chris Jericho says. "In essence it's a sequel to the Judas video and continues the story of the two different dimensions converging. Plus it's got blazing fires, hot chicks and a pillow fight…what more could you ask for in a rock vid?? Check it out now."
Next up, Fozzy will launch their 25-date Judas Rising Tour February 28th in New Orleans, LA. The headlining trek will take the band (Jericho: vocals, Rich Ward: guitars, vocals, Frank Fontsere: drums, Billy Grey: guitars and Paul DiLeo: bass) from east to west, including stops in Los Angeles on March 10th and New York City on April 5th, before bringing them back across the country through the spring. Special guests Through Fire, Santa Cruz and Dark Sky Choir will round out the bill for the night of rock.
In their more than 20-year career, Fozzy has always been about hard work, dedication and delivering great rock 'n' roll to their devoted fans worldwide; reminding them that music is all about invoking dirty, sweaty jubilation and doing it loudly! However, calling them just "entertainers" would be abridging their talent as Ward is one of the most versatile, underrated riffers in rock 'n' roll and Jericho's vocal range and passion for music makes one wonder just how he is able to excel in pretty much everything he does. Throw in the powerhouse rock solid drumming of Fontsere, the blazing leads of Grey and the genius and energy of returning bassist DiLeo and it's no surprise that FOZZY has skyrocketed into becoming one of the hottest rock acts in years.
Judas Rising Headlining Tour dates:
February:
28 New Orleans, LA The Parish at House of Blues
March:
1 Houston, TX Scout Bar
2 Dallas, TX Canton Hall
3 Lubbock, TX Jake's
4 El Paso, TX Speaking Rock Casino
7 Tucson, AZ Club X's
8 Phoenix, AZ Marquee Theater
9 San Diego, CA House of Blues
10 Los Angeles, CA The Whisky
11 Las Vegas, NV Counts Vamp'd
13 San Francisco, CA Slim's
15 Portland, OR Dante's
16 Seattle, WA Studio Seven
27 Milwaukee, WI Turner Ballroom
28 Chicago, IL Bottom Lounge
29 Grand Rapids, MI Intersection
30 Detroit, MI Shelter
31 Dayton, OH Oddbody's
April:
2 Cleveland, OH House of Blues
3 Pittsburgh, PA Jergel's
4 Clifton Park, NY Upstate Concert Hall
5 New York, NY The Gramercy
6 Philadelphia, PA The Foundry
7 Portland, ME Aura
8 Hampton Beach, NH Wally's Pub
U.S. Festival Appearances:
April:
20 Tampa, FL 98Rockfest
21 Orlando, FL WJRR Earthday Birthday
22 Charleston, SC WYBB 98 Rockfest
Fozzy online: