FOZZY ANNOUNCES "FOZZY ACROSS AMERICA" FOR OCTOBER 14TH; PERFORMING THREE SHOWS, IN THREE DIFFERENT TIME ZONES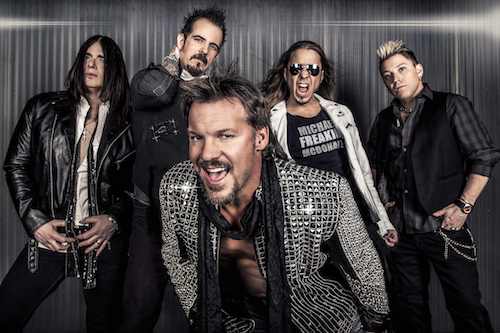 Fozzy once again have pushed through the boundaries of conventional hard rock as they are embarking on Fozzy Across America-three live performances, in three separate cities & three different time zones in just ONE DAY…a feat that has NEVER been attempted before by any other band.
And in a once in a lifetime opportunity, Fozzy are allowing fans a chance to buy a seat on the private jet that will fly Fozzy Across America on October 14th, via their new Judas Pledge Music Campaign.
Jericho states, "We are stoked to team up with Pledge Music for the release of our new record Judas, featuring the modern-rock classic title track, its follow-up sure to be smash Painless and the kick-ass banger Drinkin With Jesus.
Now, you have the option of simply buying the digital download of the new record OR exploring all sorts of exclusive offers only offered here- from exclusive colored Vinyl LP's, to original lyric sheets with handwritten studio notes, to private guitar lessons and Q&A's with the band, to a seat on the private jet flying Fozzy Across America on Oct 14th. Every pledge comes with a digital version of the record and gives you access to exclusive behind the scene tour updates as we hit the road September 26th-October 8th and again on October 14th.
Be sure to share this with all your friends and thank you for your support! Remember, Fozzy is BAND OWNED and FAN OPERATED and this is our gift to you. Let us know what you think, we look forward to rocking with you very soon."
Fozzy Across America stops on October 14th:
Ft Myers, FL – WRXK 96K-Rock
www.96krock.com– Tickets available for .96 starting Sep 18th
The Ranch – www.theranchfortmyers.com
9AM Showtime – All Ages
Post Show VIP Meet & Greet- www.rockeventsonline.com
El Paso, TX
KLAQ 95.5 – Tickets exclusively only from KLAQ
www.klaq.com
Star City Studios – starcitystudioproductions.com
3PM Showtime – All Ages
Las Vegas, NV
KOMP 92.3
www.komp.com
Hard Rock Cafe – hardrock.com/cafes/las-vegas/
11PM Showtime – 18+