FOURTH ANNUAL "RIDE FOR RONNIE" MOTORCYCLE RIDE AND CONCERT BENEFITTING THE DIO CANCER FUND ON MAY 6TH ANNOUNCES STEVEN ADLER'S ALL STAR BAND LINE UP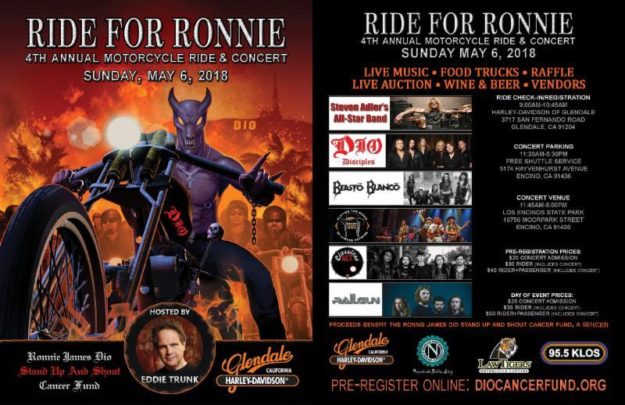 The Ronnie James Dio Stand Up and Shout Cancer Fund's fourth annual Ride For Ronnie Motorcycle Ride and Concert, is happening this coming Sunday, May 6th, 2018, will feature a performance from Steven Adler's All Star Band! The Ride For Ronnie is thrilled to announce that in addition to Adler performing on select songs, the rotating line-up will include Marten Andersson (Lizzy Borden, Steelheart), Ira Black (I Am Morbid, Metal Church, Lizzy Borden), Robert Crane (Black Star Riders), Mike Dupke (Dee Snider, W.A.S.P.), David "Rock" Feinstein (Elf), Constantine Maroulis (American Idol, Rock of Ages), Tanya O' Callahan (Dee Snider), Carl Restivo (Tom Morello's Nightwatchman, Street Sweeper Social Club, Perry Farrell's Satellite Party, Rihanna), Joe Retta (Dio Disciples, Heaven & Earth), Joey Scott (Lizzy Borden), Patrick Stone (Budderside), Michael Thomas (Faster Pussycat), and Ricky Warwick (Black Star Riders, Thin Lizzy, The Almighty).
In addition to the performance by Steven Adler's All Star Band, this year's event will also feature performances by Dio Disciples, Beastö Blancö (featuring Chuck Garric and Calico Cooper, daughter of rock icon Alice Cooper), Classless Act (featuring guitar god Slash's son, London Hudson), One More From the Road (Lynyrd Skynyrd tribute band) and Railgun.
Dio Cancer Fund founder/president Wendy Dio says, "We are so excited about the upcoming Ride For Ronnie, this time in its fourth year. We are looking forward to seeing all the wonderful musicians, motorcycle riders and fans who will be coming out to support us and our cause on Sunday."
As announced, the event will be hosted by renowned radio and television personality Eddie Trunk, and as just announced – will be co-hosted by KLOS radio host Melissa Maxx.
"It's a great honor to host the Dio Cancer Fund events. Ronnie was a dear friend, and I appreciate Wendy having me for this great and worthy cause," says Eddie Trunk. "She and her team have been doing some great work to help those battling this horrible disease. I hope everyone comes out and joins us for a great day in memory of a great man with some great music!"
The Ride For Ronnie will raise awareness and funds for cancer prevention and research for a cure. Participating motorcyclists will ride from Harley-Davidson of Glendale to Los Encinos Park in Encino for the afternoon concert. Last year's Ride raised over $40,000 for the Dio Cancer Fund.
Riders taking part in the Ride For Ronnie will assemble for a continental breakfast at Harley-Davidson of Glendale with kickstands up at 11:00 am. The Ride will take them around the northern edge of the San Fernando Valley to Los Encinos Park in Encino for an afternoon of live music, raffle, live auctions, food trucks and much more. A silent auction booth will have many items available to bid on throughout the afternoon, while live auctions, featuring one-of-a-kind rock collectibles, will be held from the stage between artist performances.
Beer, wine, sodas, and water will be available for sale, as well as delicious foods from food trucks including Slammin' Sliders, G's Taco Spot and the Grilled Cheese Truck. Sponsors lending their continued support to the RIDE FOR RONNIE include Harley-Davidson of Glendale, Law Tigers, Ninkasi Brewing Company, Graffiti Wines, Archie's Ice Cream, Solar Rain Water and LA's premier rock radio station, 95.5 KLOS.
For information and tickets, please visit diocancerfund.org/events.
Ticket Prices And Important Times:
Rider Check-In & On-Site Registration
(including Continental Breakfast) at Harley Davidson of Glendale
9:00am – 10:45am
Kickstands up at 11:00am
Rally and Live Concert
Los Encinos State Historic Park
11:45am – 5:00pm
Pre-Registration Prices:
$30/rider (includes concert admission)
$10/passenger (includes concert admission)
$20 concert admission only
Day of Event Prices:
$35/rider (includes concert admission)
$15/passenger (includes concert admission)
$25 concert admission only