FORMER WHITESNAKE GUITARIST BERNIE MARSDEN TO RELEASE FIRST SOLO ALBUM IN SEVEN YEARS, "KINGS"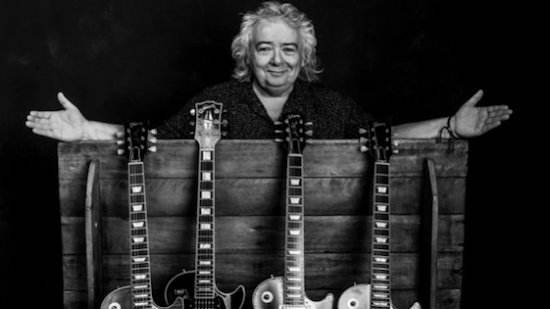 Guitar legend Bernie Marsden will release his brand-new album, Kings, on July 23rd through Conquest Music. All pre orders to Bernie's site will get a signed CD of Kings and a free limited-edition Bernie Marsden "Kings" plectrum. Only orders via Bernie's web site qualify for this, and offer ends on release day.
Kings is Bernie's first solo album in seven years and is sure to delight his fans and lovers of blues, rock and more.
Many will know Marsden as a founder member of Whitesnake — one of the biggest rock bands of all time. Since leaving Whitesnake, almost 40 years ago, Bernie has forged an impressive solo career. He is undeniably one of the premier British blues guitarists.
Most recently, Bernie partnered with Joe Bonamassa to co-write his hit album Royal Tea. "Underestimate Bernie Marsden at your peril," warns Joe Bonamassa, "because as a singer, he'll kick your ass; as a player, he'll kick your ass; and as a songwriter, he'll definitely kick your ass."
The Inspirations Series is being released as a new collaboration between Conquest Music and Bernie Marsden's Little House Music. The sequence of albums will be released by Conquest Music, wherein Bernie Marsden pays tribute to the songs and artists which helped shape his own hugely influential career as a composer and guitarist.
The inspiration for "Inspirations" comes from summer 2018. Bernie was invited to join Billy Gibbons of ZZ Top on stage with the Supersonic Blues Machine. After the soundcheck, Billy played Bernie an album by American blues singer and harmonica player Kim Wilson, and posed a question… "Bernie," Billy asked, "wouldn't it be great if we could all record the songs we grew up with as we learned to play the guitar?" His imagination fired, Bernie set about compiling a list, and the Inspirations Series was born.
Kings — the first of the sequence — is a stunning album that's going to wow blues lovers in particular. It features 10 classic blues songs, originally recorded by the legendary Albert, B.B.and Freddie King. These Bernie has recorded in a studio in Oxfordshire, aided and abetted by a talented band that just locked into a natural groove. Kings is chock-full of high-caliber blues and soul.
What's more, two Bernie Marsden-penned instrumentals — inspired by Kings — appear as bonus tracks on the album.
The next album in the Inspirations series — Chess — will be out later this year and stands as a homage to recordings released on the legendary Chicago-based label.
Bernie has recorded a special video message about his new album, which can be viewed below. You'll hear tempting tastes of blues excellence, while Bernie tells the tale behind the album and series, catch glimpses of Bernie on stage with Billy Gibbons, Joe Bonamassa and hear about some of the special perks for CD copies from Bernie Marsden's web site, where Kings is now available for pre-order.