FORMER VAN HALEN FRONTMAN SAMMY HAGAR DISCUSSES HOW HE DIFFERS FROM ORIGINAL SINGER DAVID LEE ROTH STATING, "HE'S NOT HONEST ABOUT HIS IMAGE AND HIS PERFORMANCE," SINGER ALSO ANNOUNCES LAS VEGAS RESIDENCY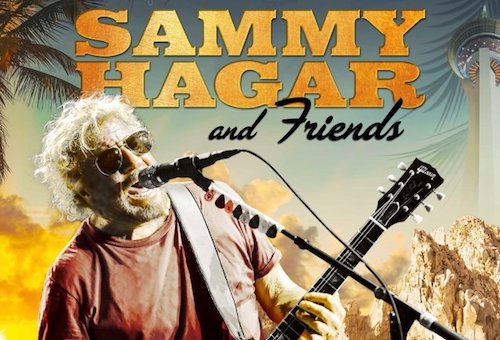 Sammy Hagar was a recent guest on Brazil's Inside With Paulo Baron online show where he discussed the differences between himself, and original Van Halen frontman, David Lee Roth. Hagar's comments appear below as transcribed by blabbermouth.net.
Hagar said, "[David is] a real character. He's a showman. He's all show. I enjoy him. But you talk about cringing. I can't imagine how he feels when he looks at some of them old videos, the way he was dancing and moving, and the way he was singing live sometimes. I don't know how he feels about all that, but I don't think he cares. The difference between him and I [is] I sincerely care — I care about everything I do and I care how it affects people and I care what they think. I care that it touches them and it makes them happy. And what is important to me is enlightening and elevating people spiritually and making them happy and making them have big dreams, making them want to be better themselves. And that's my goal with everything I do — is to bring that to people and change their life, if I can. I don't think he cares about anything like that. And that's the difference between our presence. He's very much into himself, very much into being a showman and doesn't really care. I don't know what he cares about; I really don't. I don't know him. I have no idea who that guy is; I don't think anyone does. But he entertains me. I enjoy watching him do stupid s–t."
When asked what he thinks when he sees the way Roth presents himself to the public, Hagar added, "Well, the first thing I'd say is I look at him and I think, 'Wow. He's a strange person. He's a strange character.' He's not what he's saying he is; he's pretending. He's totally bulls–t. Everything he does is thought up and it's an image. It's nothing to do with who he is; he's not exposing who and what he is. And I know this for a fact. I knew that the first time I saw him. I said, 'This guy, he's putting on an image, putting on a show.' He goes back home and goes in his house, and he's a whole different guy — nothing to do with that guy [you see on stage]. He's not honest about his image and his performance. That's what I see when I see him; that's how I feel. But I tried to be friends."
Referring to the time when he and Roth teamed up for the Song For Song, The Undisputed Heavyweight Champs Of Rock And Roll! co-headlining tour in 2002, Sammy continued, "When we did our together, I thought it was gonna be so much fun. I thought, 'If he's anything like he claims to be, we're gonna have a good time.' But he wasn't. He was the worst guy to be around. He wasn't ever around. He hides out. You never see him. He puts on this whole big front and comes out, 'I'm here. David Lee Roth is here,' and then he goes and hides again. I don't think he's happy. He's never been married; never had a relationship; never had children. It's, like, man, how do you live like that? I don't know. I'm a family man. And I love women — I love women and children… He hasn't aged well — his voice. [Laughs] I don't know. It's hard."
According to Hagar, he has tried a number of times to be respectful to Roth, particularly because of David's immeasaurable contribution to Van Halen's legacy.
"I used to not wanna cause trouble," he said. "First, in the old days, before I was in Van Halen, I ripped him through the f–king coals when I [did] the press, before I ever was in that band. And then when I joined the band, I tried to be nice. And then when I left the band, I tried to be nice about him. And then we did our together, and then I f–king said, 'F–k this guy. He's an a–hole. You can't get along with him. He's no fun. He's full of s–t.' And then now, after [Van Halen guitarist] Eddie's [Van Halen] death, I feel, once again, he's part of the Van Halen legacy and he's important. So I wouldn't wanna ruin anything to do with what he brought to that legacy. I want Van Halen to go down as one of the greatest rock bands of all time — but not just my [era]; Dave's era [as well]. I want Eddie to be the legend and get the respect that he deserves, and the only way to preserve that is by being kind about the past. And, like in my [2011's autobiography, Red: My Uncensored Life In Rock], like I said, that's the only thing I would probably [change in the book if I was writing it now is I would] soften it up [as it relates to Eddie]. But it's too late — it is what it is. And it's honest. So I'm not lying, I'm not backpedaling — nope, nope. It's all true. But God rest his soul. He brought a lot to this planet, to this business of rock and roll, Eddie Van Halen did. And Dave was a part of it. It's too bad what he's become. [Laughs] But that's different. It's not Van Halen anymore."
Listen to Hagar's entire interview, here.
In other Hagar news, he has announced a fall 2021 Las Vegas residency. The shows — dubbed Sammy Hagar and Friends — will take place at the STRAT Hotel, Casino & SkyPod (formerly known as the Stratosphere) and will feature him collaborating with a rotating circle of his legendary friends starting with shows on October 29th, October 30th, November 5th and November 6th.
Sammy says, "I've been searching the Las Vegas Strip trying to find the right room, ambience and partners to create a very special Cabo Wabo birthday-bash-type environment for my band members and musician friends to create the ultimate party residency. Ladies and gentlemen, welcome to Sammy And Friends. You all know the rules. There aren't any."
Hagar will bring together a legendary circle of friends and bandmates, past and present, to the intimate 800-capacity STRAT Theater, including 300 GA floor tickets for a party vibe in front of the stage. Michael Anthony, the legendary bassist who's played with Hagar for the past 30 years in bands including Van Halen, Chickenfoot and The Circle, and Vic Johnson, Hagar's longtime guitar virtuoso and bandmate in The Circle, are confirmed for the first four shows. Jason Bonham, the acclaimed Grammy-winning drummer and their bandmate in The Circle is confirmed for the first two shows, October 29th and October 30th, with surprise and special guests to be announced.
The theater will be designed to capture the beach vibe he's synonymous with, including elements of Hagar's famed Cabo Wabo Cantina in Cabo San Lucas, home to his epic annual birthday bash.
Show times will be 9 p.m., with doors opening at 8 p.m. Tickets will start at $100 and will be available first to Sammy's fan club starting at 10 a.m. PT on June 29th (password: REDHEAD) and members of True Rewards, The STRAT's free rewards program, starting at 10 a.m. PT on June 30th. Tickets will be on sale to the general public starting at 10 a.m. PT on July 1st at this location.
VIP packages for once-in-a-lifetime experiences will also be available that includes:
* One premium ticket located in Cantina Party Pit Section
* Meet-and-greet with Sammy Hagar
* One signed bottle of Sammy's Beach Bar Rum (Red Head)
* Photo with Sammy Hagar
* Early entry into the venue
* Sammy Hagar And Friends tour shirt
* Sammy Hagar And Friends VIP laminate
* Commemorative Sammy Hagar And Friends pin set
* Sammy @ The STRAT hat
* Select special offers and discounts
* On-site host
* Very limited availability
* VIP Package items/information subject to change
VIP package details will be sent to VIP guests prior to show date.
For questions regarding these shows, please contact The STRAT Box Office at 702-383-5210 or e-mail inquiries to stticketing@goldenent.com.
Additionally, the singer, and original Van Halen bassist Michael Anthony recently announced that they have teamed up to launch social media accounts dedicated to the Van Hagar years of Van Halen.