FORMER THIN LIZZY BAND, BLACK STAR RIDERS, TO RELEASE "ALL HELL BREAKS LOOSE" ON MAY 28TH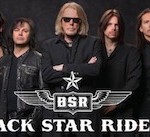 Black Star Riders — the new band formed by Thin Lizzy's Ricky Warwick (vocals), Scott Gorham (guitar), Damon Johnson (guitar), Marco Mendoza (bass) and drummer Jimmy DeGrasso— will release their debut album, All Hell Breaks Loose, through Nuclear Blast Entertainment on the following dates:
* May 21st – Japan
* May 22nd – Sweden
* May 24th – Germany, Austria, Switzerland, Finland, Norway
* May 27th – U.K., France, BeNeLux, Poland, Czech Republic, Denmark, Spain, Portugal, Hungary, Greece
* May 28th – U.S., Canada, Italy, South America
Discussing the title of the new album, Warwick states, "I was watching a documentary about World War II bombers and saw the name painted on the side of one of the aircraft. The name just resonated with me and it seem to encapsulate the turmoil that we, as a society, are currently experiencing. The past few years have been such a wild ride and now with the release of the album, it sounded like a bad-ass album title that summed up what BLACK STAR RIDERS is all about."
The album will be released as a standard CD and also as a special-edition digipak featuring a bonus track, Right To Be Wrong, and a "making-of" DVD.
All Hell Breaks Loose track listing:
1. All Hell Breaks Loose
2. Bound For Glory
3. Kingdom Of The Lost
4. Bloodshot
5. Kissin' The Ground
6. Hey Judas
7. Hoodoo Voodoo
8. Valley Of The Stones
9. Someday Salvation
10. Before The War
11. Blues Ain't So Bad
A Black Star Riders video report appears below.