FORMER SLAYER DRUMMER DAVE LOMBARDO DISCUSSES THE BAND, JEFF HANNEMAN AND THE MUSIC INDUSTRY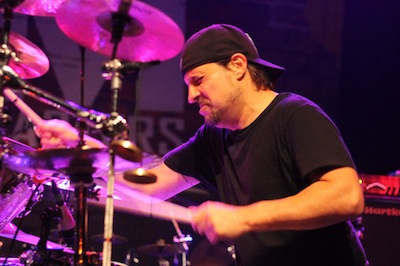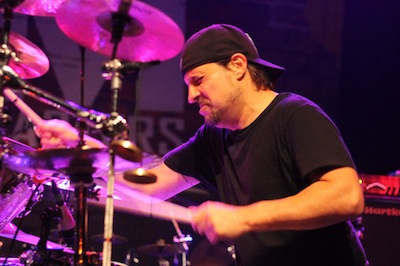 Former Slayer and current Philm drummer Dave Lombardo was interviewed on the March 16th edition of the Radio Screamer show. A couple of excerpts follow as transcribed by blabbermouth.net.
Discussing what it is that keeps him coming back to Slayer:
Lombardo: "Oh, well, I don't think that's ever gonna happen again. Well, the reason why… I mean, time passed. It was ten years. When I returned in 2001, it had been already ten years that I was out of the band, and it felt like it was the right time. It was water under the bridge, we didn't have any grudges, but apparently that really wasn't the case, because later I find out that, 'Oh, well, he left in '92, so just get him out again.'"
Talking about the importance of learning the ins and outs of the music business while pursuing a career as a musician:
Lombardo: "It's something that you learn as you go along. And it's a tough road, especially when you're told that everything's taken care of, you're well taken care of, and you trust these people and you don't think twice. But then, of course, like AC/DC says, the rock star, and the businessman gets rich. We need to make, I think, drummers aware of their position in the band and spread the word that musicians need to educate themselves not only in their music and their chops and their style and whatever, but they need to really learn the business, because it turns out that a band ends up being a business and each member becomes a quarter shareholder, or a COO [chief operating officer] of the band. So it's very important."
On his most recent split with Slayer:
Lombardo: "I really don't wanna get into the details, but I take this departure like any other change in life. You just go with it. I, luckily, had a band that I had put back together before this whole thing went down with Slayer. And you just move forward; you don't look back."
Speaking about late Slayer guitarist Jeff Hanneman:
Lombardo: "The arm, basically, they fixed it and they did everything they could do to help him [after he contracted necrotizing fasciitis, also known as flesh-eating disease, from a spider bite in his backyard in January 2011]. But I think the motor skill to play guitar just wasn't there. You know, we gave him a chance and maybe we could have put him a little low in the mix, but still, it just wasn't working right. 'Cause you have to have a certain ability to play this style of music. And it just wasn't there. It's unfortunate. Shortly after he died, I spent the afternoon with his wife and I just hung out with her. We went out to dinner. It's rough. But, unfortunately, it was a downward spiral for him. Obviously, it was depressing for him to have this situation happen to his arm, and him not being able to play, he resorted to drinking more than he was already doing. And, like I said, it was a downward spiral."
Discussing how the surviving members of Slayer have dealt with the loss of their childhood friend:
Lombardo: "I don't know how Kerry [King, guitar] and Tom [Araya, bass/vocals] responded. By how they responded at the memorial, it was pretty shallow. It was rough for me, because Jeff and I spent a lot of time on the tour bus. We'd get picked up at the hotel and show up at the venue by 4:30 and we would stay chilling on the bus until showtime. So there was a lot of interaction, there was a lot of chatting, a lot of talking, we'd watch TV, we'd listen to music. He loved my iPod, 'cause I had so many different styles of music. He'd say, 'Dude, throw your iPod on.' We'd laugh and joke around and sometimes I'd surprise him with some music that he'd never heard of before. So there was lot of memorable times that Jeff and I had. And it sucks, dude. It's terrible when a bandmate dies, because that magic is forever lost. That band had a certain chemistry when all four of us were on stage. And not taking anything away from Gary Holt [of EXODUS] — he took Jeff's place and he's done an amazing job — but still there's something [that is missing that simply cannot be replaced]."
Listen to interview below.