FORMER IRON MAIDEN VOCALIST BLAZE BAYLEY ANNOUNCES NORTH AMERICAN TOUR IN SUPPORT OF "ENDURE AND SURVIVE (INFINITE ENTANGLEMENT PART II)"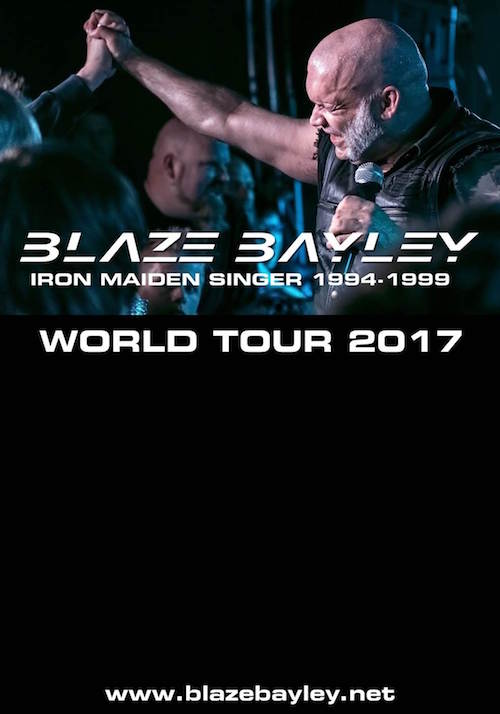 Over the years, a whole new appreciation has developed for the "Blaze Bayley era" of Iron Maiden – which resulted in such classic albums as 1995's X Factor and 1998's Virtual XI (and the singles Man on the Edge, Lord of the Flies, The Angel and the Gambler, Futureal, and an all-new track on 1996's Best of the Beast comp, Virus).
Recently, Bayley (who was also the singer for another highly-respected rock band, Wolfsbane) has released his latest solo effort (a second in a trilogy of release), entitled Endure and Survive (Infinite Entanglement Part II).
Check out the video of the new song, Escape Velocity, below.
With the album's release, comes the announcement of an extensive North American tour, which starts August 9th on the east coast, and will run to September 9th on the west coast.
"I'm so excited about coming to USA and Canada for the Endure and Survive part of my Infinite Entanglement tour," explains Blaze. "I have great memories of touring there with Wolfsbane and Iron Maiden. I'll be doing a few songs from those days and some songs from my new albums. As a thank you to my fans for waiting so long for this tour, I will be doing a free meet and greet after every show, signing any CDs and albums that I'm featured on. I'm fitting in as many towns and cities as I can on this tour and I'm hoping it will be possible to tour USA and Canada every year if fans want me to return."
Soon, North American fans will be able to hear Iron Maiden classics and solo material performed on stage by one of the great rock singers of recent times, Blaze Bayley,
Tour Dates:
August:
9 Sellersville, PA Sellersville, Theater
10 Brooklyn, NY Saint Vitus
11 Poughkeepsie, NY The Chance
13 Baltimore, MD Fish Head Cantina
15 Syracuse, NY Sharkey's
16 Montreal, Quebec Piranha Bar
17 Ottawa,Ontario Brass Monkey
18 Quebec City, Quebec L'Anti
19 Toronto, Ontario Rockpile
20 London,Ontario East Side Bar and Grill
21 Detroit, MI Token Lounge
23 Newport, KY Southgate House Revival
25 Janesville, WI Backbar
26 Bolingbrook, IL Tailgators
27 St. Louis, MO Fubar
30 Ft. Worth, TX Rail Club
31 Austin, TX Come and Get it Live
September:
1 Houston, TX Concert Pub North
2 San Antonio, TX Rockbox
4 Hollywood, CA Whisky A Go Go
5 San Diego, CA Brick By Brick
7 Eugene, OR Old Nick's
8 Portland, OR Bossanova Ballroom
9 Seattle, WA El Corazon
For more information, please visit, blazebayley.net.