FORMER DIO GUITARIST CRAIG GOLDY DISCUSSES THE SINGER, LIST OF EVENTS FOR DIO'S 5TH YEAR REMEMBRANCE CELEBRATION ALSO POSTED BELOW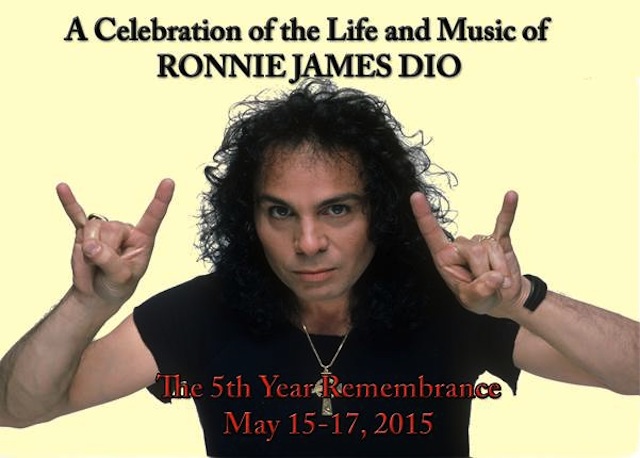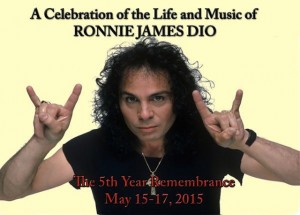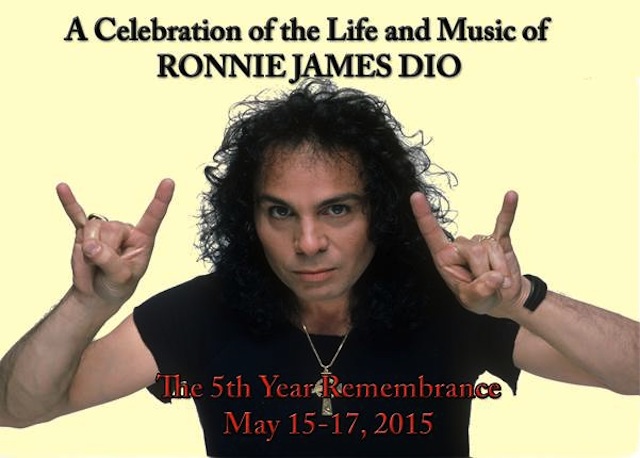 In honoring the passing of iconic singer Ronnie James five years ago, former Dio guitarist Craig Goldy reminisces with Rock Scene Magazine. Watch the video below, he discusses Dio starting at the 2:42 mark.
In related news, as previously reported, celebrities and musicians are honoring Dio's 5th year remembrance celebration in Los Angeles, California this weekend (May 15th-17th). Please find a list of events below.
May 15th: Bowl For Ronnie Celebrity Bowling Tournament
Pinz Bowling Center
12655 Ventura Boulevard
Studio City, CA 91604
Ticket Information: http://www.diocancerfund.org/bowlforronnie
Hosted by Eddie Trunk of VH1's That Metal Show, this will be an evening of fun, food, entertainment and, of course, bowling with rock stars and celebrities competing for trophies in the name of raising funds and awareness for the Ronnie James Dio SUAS Cancer Fund. A silent auction will include collectible bowling pins autographed by artists such as Tenacious D, Aerosmith, Fleetwood Mac, YES, Anthrax and Metallica and in addition to many more major items. Music will be provided by KNAC.com's DJ Will.
May 16th: Ronnie James Dio 5th Year Memorial Service and Celebration of Ronnie's Music
Forest Lawn Hollywood Hills
6300 Forest Lawn Drive
Los Angeles, CA 90068
More info: http://www.diocancerfund.org/events/
A FREE public Memorial Service will take place at Forest Lawn Hollywood Hills on Saturday, May 16th to celebrate the 5th Anniversary of Ronnie's passing. Several former band members and friends who worked with Ronnie over his illustrious career will be speaking and performing his music. As seating for this event is limited, if you are interested in attending, please send an email, along with your name, phone number and the number of seats to: [email protected]
Riders will check-in at Harley-Davidson of Glendale, where they can enjoy a continental breakfast with entertainment and prizes provided by The Sound 100.3. The first 200 registered riders will receive a limited edition Ride For Ronnie challenge coin. Participants will depart from Glendale, traveling the freeways of North San Fernando Valley down to the 405 to a BBQ at Los Encinos Historical Park in Encino. The BBQ will feature great food and beverages, live music by Ronnie's former band mates and friends, raffle prizes, live auction and more (BBQ-only tickets are available to non-riders.)
MAY 17th: Ride For Ronnie Motorcycle Ride and BBQ
Harley-Davidson of Glendale
3717 San Fernando Rd
Glendale, CA 91204
Pre-Registered Rider Check-In/ On-Site Registration
9:00AM – 10:45AM
Continental Breakfast
9:00AM – 10:30AM
Kickstands Up at 11:00AM
arriving at:
12:00pm to 5:00pm
Los Encinos State Historic Park
16756 Moorpark Street
Encino, CA 91436BBQ
with Live Music
Rider registration & BBQ Admission:
Rider $75
Rider & Passenger $120
BBQ General Admission $55
http://www.diocancerfund.org/rideforronnie
BBQ included for registered riders & passengers. BBQ-only tickets for non-riders are available for advance purchase.