FORMER ANTHRAX GUITARIST JOINS VOLBEAT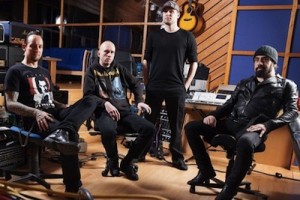 Just weeks after announcing he was leaving Anthrax after nearly a decade as their guitarist, producer Rob Caggiano has joined Volbeat. The Danish band will release its new album Outlaw Gentleman & Shady Ladies on April 9th, with Caggiano as a full fledged member of the band.
Caggiano produced the album alongside long-time production partner Jacob Hansen, who produced and mixed the band's prior four albums.
Singer and guitarist Michael Poulsen said, "The band is very proud and happy to announce that [Caggiano] will also be the new guitar player in Volbeat. The collaboration with Rob in the studio was so inspiring and in good spirit that we the decided to keep him. Basically we went into the studio as a three piece and came out as a whole band!"
Caggiano himself explained how things transpired in lengthy detail, saying, "Wow! I have to say I'm completely blown away by the turn of events over the last few weeks here in Denmark and at this point an update is definitely in order.
To start with, I came to Denmark about a month ago to produce the new Volbeat record which in and of itself has been an incredibly exciting adventure from a producer's perspective thus far. However, I'm extremely happy to say my relationship with these guys will not end there as it turns out……it's just beginning!
…When the guys asked me if I was interested in joining Volbeat the other day, my jaw just about hit the floor! It actually didn't even register in my brain properly until the next morning but I gotta say, it also didn't take me long to decide. It really isn't the way I envisioned the rest of my year to play out but at the same time, THIS feels more "right" to me than anything I could have possibly imagined and I'm going for it! To all my fans, family, friends and overall supporters that have reached out to me over this last month wondering if I'm ever gonna play guitar again or what I'm up to in general etc……..See you all soon my friends and get ready for a wild ride!!!"
Read more at Noisecreep.