DELUXE EDITION OF MAD SEASON'S "ABOVE" TO BE RELEASED ON APRIL 2ND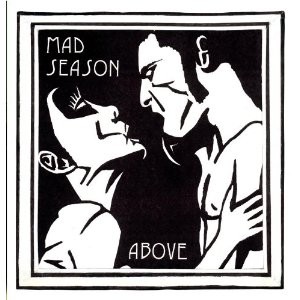 Legacy Recordings will release a newly expanded Deluxe Edition of Above, the first and only album to be completed by Seattle-based rock supergroup Mad Season. Formed in 1994, Mad Season is vocalist Layne Staley (Alice In Chains), guitarist Mike McCready (Pearl Jam), drummer/percussionist Barrett Martin (Screaming Trees) and bassist John Baker Saunders (The Walkabouts, Lamont Cranston Band).
The Deluxe Edition of Mad Season's Above is a three-disc set comprised of two CDs and one DVD. It includes the original studio album and a host of extras such as previously unreleased tracks from the band's unfinished second album with new lyrics and vocals by Mark Lanegan (Screaming Trees), full audio plus the first official DVD release of Mad Season's last show ever performed – Live At The Moore, an unreleased full concert video of the band's New Year's Eve performance from now-defunct Seattle club RKCNDY, a full-color collector's booklet and more (full details below).
Preorders for the Above Deluxe Edition begin on January 7th, 2013 at select retailers. The Deluxe Edition, and a separate digital configuration, will be available Tuesday, April 2nd, 2013. In addition, there will be a 12″ 2LP expanded edition vinyl available on Record Store Day, April 20th 2013.
Content featured in the Above Deluxe Edition will be available through iTunes with audio mastered for iTunes and a separate standalone longplay video.
In 1994, four Seattle-based musicians decided to embark on a side-project that took them into new and different musical territory. Formed by Mike McCready, Layne Staley, Barrett Martin, and bluesman John Baker Saunders, the group went on to form Mad Season, which made one seminal album in the history of Seattle rock. That album, Above was released in 1995 and immediately struck a resonate chord with the public that sent the album into gold status within a few weeks. It is the only complete album of Layne Staley's introspective and mystical lyrics, which were highlighted by additional vocals from Screaming Trees vocalist Mark Lanegan and Seattle-based saxophonist/percussionist Skerik.
Mad Season was essentially Seattle's version of an extremely heavy blues band, anchored by the deep swinging rhythm section of Barrett's drums and Baker's bass lines, with Layne's haunting melodies and Mike's stadium-size guitar riffs soaring over the top. This unusual chemistry made the band absolutely unique in an era of post-grunge. In the almost 20 years since the original release of Above, new generations of music listeners have discovered the dark and lasting beauty of Mad Season.
In 1996, work began on a second Mad Season album with Mike, Barrett and Baker writing and recording the basic tracks for 15 new songs. Unfortunately, because of declining health, Layne wasn't able to make any of the recording sessions and the album was shelved. Fate subsequently took each musician in a different direction: Mike back to Pearl Jam and Barrett back to Screaming Trees. Tragically, both Baker (1999) and Layne (2002) passed away.
In 2012, the two remaining band members, Mike and Barrett, along with Above's original producer Brett Eliason, convened in Seattle to sift through the original magnetic tapes from that second album's sessions to revisit the unfinished songs. They called on Mark Lanegan to pen lyrics and sing on 3 of the best of those songs, including one co-written by Peter Buck of REM, which will be featured on the forthcoming reissue honoring the legacy of Layne and Baker.
Tracklisting for 3-disc Mad Season Above Deluxe Edition
CD1
– Wake Up
– X-Ray Mind
– River of Deceit
– I'm Above
– Artificial Red
– Lifeless Dead
– I Don't Know Anything
– Long Gone Day
– November Hotel
– All Alone
bonus tracks:
– Interlude (previously unreleased)
– Locomotive (Lyrics/vocals by Mark Lanegan)
– Black Book Of Fear (Lyrics/vocals by Mark Lanegan)
– Slip Away (Lyrics/vocals by Mark Lanegan)
– I Don't Wanna Be A Soldier (remix)
CD2 – Live at The Moore:
– Previously unreleased full audio set of Live at The Moore performance from Seattle, WA, April 29, 1995.
– Includes Wake Up, Artificial Red, I Don't Wanna Be A Soldier, I'm Above (featuring Mark Lanegan).
DVD – Live at The Moore + Bonus Footage
– Full video set of the Live at The Moore performance from Seattle, WA performance, April 29, 1995. Remixed and remastered for 5.1 sound, and newly edited by director Duncan Sharp.
– Plus, more bonus footage, including a full concert of the band's performance from New Years Eve 1995 at RKCNDY in Seattle, and both performances from the Seattle-based Self-Pollution Radio specials, one newly edited.
This recording is available for purchase at Amazon.