FIVE FINGER DEATH PUNCH AND BREAKING BENJAMIN TO CO-HEADLINE SUMMER TOUR, TICKETS ON SALE MARCH 16TH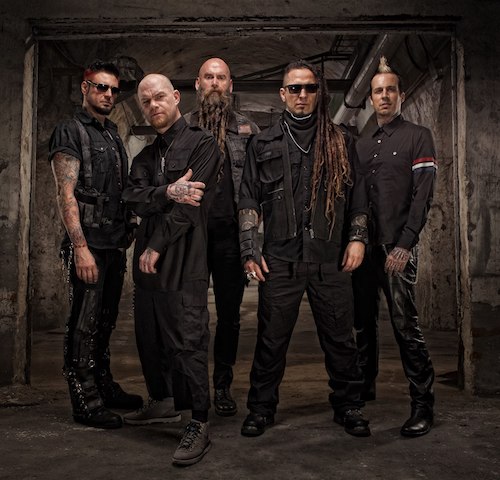 Multi-platinum hard rock band, Five Finger Death Punch, will be hitting the road this summer for a series of co-headlining dates with Breaking Benjamin. Select tour dates have been announced via Live Nation's Ticket to Rock program and additional dates will be announced on March 13th. Tickets will go on sale on March 16th.
Yesterday, Live Nation announced the highly popular Ticket to Rock program would return for the third year with exclusive ticket bundles to some of the hottest rock tours this summer including Five Finger Death Punch & Breaking Benjamin, Avenged Sevenfold with Prophets of Rage, Godsmack & Shinedown and Rob Zombie & Marilyn Manson. Ticket to Rock offers fans a low-cost way to see many of their favorite rock artists live in their area all summer long. The bundles will start at $59 and are on sale at LiveNation.com.
The successful multi-ticket bundle offerings will nearly double from 10 cities last year to 18 cities this year including Boston, Chicago, Dallas, Irvine, and more. Ticket to Rock bundles will include tickets to either three or four shows depending on the city (see details below) and will offer two tiers of tickets – lawn or reserved in the upper pavilion. Lawn ticket bundles for 3 shows will cost $59 and 4 shows will be $69. Reserved ticket bundles for 3 shows will cost $79 and 4 shows will be $89. Ticket bundles will be available to purchase in limited quantities, while supplies last. Full list of participating cities and tours can be found below.
Summer 2018 Ticket to Rock bundles:
Albuquerque, NM – Isleta Amphitheater
Avenged Sevenfold with Prophets of Rage – August 19th
Five Finger Death Punch & Breaking Benjamin – July 29th
Godsmack & Shinedown – August 6th
Boston, MA – Xfinity Center:
Avenged Sevenfold with Prophets of Rage – July 22nd
Five Finger Death Punch & Breaking Benjamin – August 18th
Godsmack & Shinedown – August 25th
Rob Zombie & Marilyn Manson – August 8th
Bristow, VA – Jiffy Lube Live:
Avenged Sevenfold with Prophets of Rage – August 1st
Five Finger Death Punch & Breaking Benjamin – August 24th
Godsmack & Shinedown – August 19th
Rob Zombie & Marilyn Manson – July 21st
Burgettstown, PA – KeyBank Pavilion:
Avenged Sevenfold with Prophets of Rage – August 3rd
Five Finger Death Punch & Breaking Benjamin – August 14th
Godsmack & Shinedown – August 28th
Rob Zombie & Marilyn Manson – July 25th
Camden, NJ – BB&T Pavilion:
Five Finger Death Punch & Breaking Benjamin – August 15th
Godsmack & Shinedown – August 26th
MMR*B*Q 2018 – May 19th
Rob Zombie & Marilyn Manson – August 9th
Chicago, IL – Hollywood Casino Amphitheatre:
Avenged Sevenfold with Prophets of Rage – August 11th
Five Finger Death Punch & Breaking Benjamin – August 29th
Godsmack & Shinedown – July 27th
Rob Zombie & Marilyn Manson – July 15th
Cleveland, OH – Blossom Music Center:
Avenged Sevenfold with Prophets of Rage – August 6th
Five Finger Death Punch & Breaking Benjamin – September 9th
Rob Zombie & Marilyn Manson – July 17th
Dallas, TX – Starplex Pavilion:
Avenged Sevenfold with Prophets of Rage – September 1st
Five Finger Death Punch & Breaking Benjamin – August 4th
Godsmack & Shinedown – August 12th
Rob Zombie & Marilyn Manson – August 16th
Detroit, MI – DTE Energy Music Theatre:
Avenged Sevenfold with Prophets of Rage – August 7th
Five Finger Death Punch & Breaking Benjamin – September 1st
Godsmack & Shinedown – July 22nd
Rob Zombie & Marilyn Manson – July 11th
Hartford, CT – XFINITY Theatre:
Avenged Sevenfold with Prophets of Rage – July 26th
Five Finger Death Punch & Breaking Benjamin – September 7th
Godsmack & Shinedown – August 24th
Rob Zombie & Marilyn Manson – August 11th
Holmdel, NJ – PNC Bank Arts Center:
Avenged Sevenfold with Prophets of Rage – July 31st
Five Finger Death Punch & Breaking Benjamin – August 25th
Godsmack & Shinedown – September 1st
Rob Zombie & Marilyn Manson – July 24th
Houston, TX – The Cynthia Woods Mitchell Pavilion presented by Huntsman:
Avenged Sevenfold with Prophets of Rage – September 2nd
Five Finger Death Punch & Breaking Benjamin – August 3rd
Godsmack & Shinedown – August 11th
Rob Zombie & Marilyn Manson – August 18th
Indianapolis, IN – Ruoff Home Mortgage Music Center:
Avenged Sevenfold with Prophets of Rage – August 12th
Five Finger Death Punch & Breaking Benjamin – August 31st
Godsmack & Shinedown – July 28th
Rob Zombie & Marilyn Manson – July 18th
Irvine, CA – FivePoint Amphitheatre:
Five Finger Death Punch & Breaking Benjamin – July 27th
Godsmack & Shinedown – August 4th
Rob Zombie & Marilyn Manson – August 29th
Salt Lake City, UT – USANA Amphitheatre:
Avenged Sevenfold with Prophets of Rage – August 28th
Five Finger Death Punch & Breaking Benjamin – July 21st
Godsmack & Shinedown – August 2nd
Rob Zombie & Marilyn Manson – August 22nd
San Diego, CA – Mattress Firm Amphitheatre:
Avenged Sevenfold with Prophets of Rage – August 21st
Five Finger Death Punch & Breaking Benjamin – July 25th
Rob Zombie & Marilyn Manson – August 24th
Scranton, PA – The Pavilion at Montage Mountain:
Godsmack & Shinedown – August 31st
Five Finger Death Punch & Breaking Benjamin – August 17th
Slayer – July 31st
Wantagh, NY – Northwell Health at Jones Beach Theater:
Avenged Sevenfold with Prophets of Rage – July 25th
Five Finger Death Punch & Breaking Benjamin – September 6th
Godsmack & Shinedown – September 2nd
Rob Zombie & Marilyn Manson – August 7th
Follow Five Finger Death Punch online: