FILM "LONG LIVE ROCK… CELEBRATE THE CHAOS" VIRTUAL GLOBAL PREMIERE SCREENING MARCH 11TH FOLLOWED BY A Q&A HOSTED BY EDDIE TRUNK, WORLDWIDE RELEASE MARCH 12TH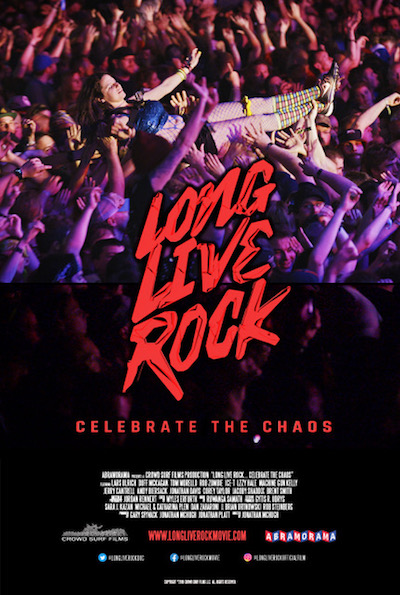 Abramorama announced today an unprecedented global release of the highly-anticipated film, Long Live Rock…Celebrate The Chaos,  not only virtually in theaters nationwide but also with well over 100 radio stations/syndicated networks involved. The film will launch with a red carpet global virtual screening event, March 11th and release worldwide March 12 as a Watch Now @ Home Cinema Release via theatrical distributor, Abramorama.
Anexclusive Q&A will follow the premiere screening hosted by Eddie Trunk of SiriusXM, with director Jonathan McHugh, producer Gary Spivack, and artists appearing in the film, including Jacoby Shaddix (Papa Roach), Lzzy Hale (Halestorm), and Myles Kennedy (Slash/Alter Bridge). To purchase tickets to the premiere and for the virtual theatrical rollout visit LongLiveRockMovie.com. While there's no replacing the live concert experience, "Long Live Rock…Celebrate the Chaos is the next best thing to being there."
Long Live Rock… Celebrate the Chaos is a deep dive into the culture of hard rock music. This genre, beloved by its millions of fans, is often misunderstood and maligned by the media and the music industry. In intimate interviews, the leading titans of rock discuss the genre and the special relationship they have with their audience. Featuring members of Metallica, Guns N' Roses, Slipknot, Yoshiki, Korn, Avenged Sevenfold, Rob Zombie, Five Finger Death Punch, Rage Against the Machine, Greta Van Fleet, Halestorm, and many more.
Viewers will get a front-row seat of what makes hard rock fans want to crowd surf, mix it up in the mosh pit or just throw all caution to the wind by participating in the ultimate community mayhem of the "Wall of Death." We follow some of these passionate fans as they drop everything to "commune" with their "rockfamily" at music festivals across the U.S. – or wherever the road takes them to celebrate the chaos…that is rock 'n roll.
Abramorama CEO Richard Abramowitz said, " Working in concert with the producers, we are remaking the rules of marketing and distributing movies direct to fans in the digital realm. We're thrilled to forge new paths with this team and believe this new model will become the standard even when cinemas around the world reopen, which we all hope will be very soon."