FIFTH ANNUAL "RIDE FOR RONNIE" BRINGS IN $46K FOR DIO CANCER FUND, SURPRISE PERFORMANCE BY FOO FIGHTERS' DAVE GROHL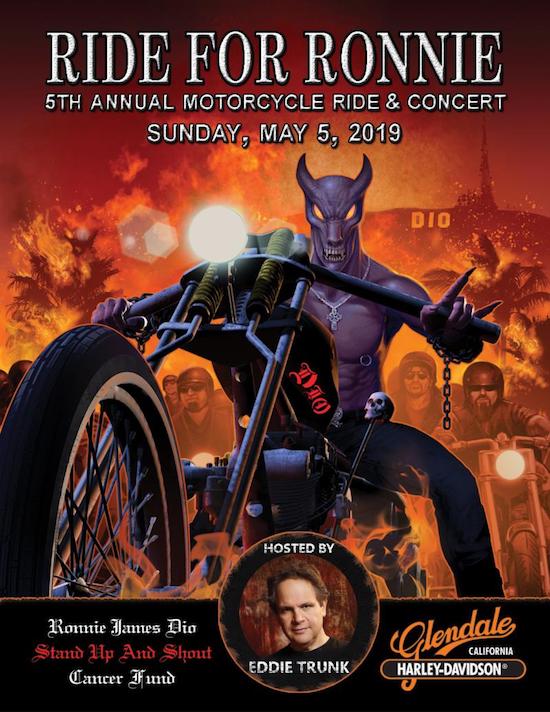 ust enough cloud cover on Sunday, May 5 made for a gorgeous Southern California day for the 5th Annual RIDE FOR RONNIE Motorcycle Ride and Concert, benefiting the Ronnie James Dio Stand Up and Shout Cancer Fund. Some 300 motorcycle riders joined the Ride at Harley-Davidson of Glendale, culminating with a concert at Los Encinos Park in Encino where a surprise performance by the Foo Fighters' Dave Grohl added to an exciting afternoon of rock music. This year's Ride For Ronnie brought in $46,000 for the Fund's mission of cancer prevention, research and education for a cure for this dreaded disease that has touched all of us in some fashion.
Several stellar rock musicians played under the banner of Eddie Trunk's All Star Band closed out the afternoon of live music with a set of rock classics. Foo Fighters' drummer Dave Grohl surprised the crowd by joining Black Star Riders' Ricky Warwick and Robbie Crane and Keith Nelson (Buckcherry) on performances of Thin Lizzy's "ailbreak and Motörhead's Bomber.
Said Grohl, who was accompanied by his daughters at the event, "I am here on this beautiful day in Encino because everybody loves Ronnie James Dio. He was my neighbor actually; we lived down the street from each other. I encourage everybody to come out and support the cause because it's a beautiful day with a bunch of beautiful people, and we hope to see you next year."

Among the other participants in Eddie Trunk's All Star Band were Dewey Bragg (Kill Devil Hill, Day of Errors); Jimmy Burkard (West Bound, Billy Idol); Mike Dupke (Dee Snider, WASP); Dicki Fliszar (Jack Russell's Great White); Abby Gennet (Slunt, The Riot Brides); Ace Von Johnson (Faster Pussycat, LA Guns); Sam Bam Koltun (Budderside, Knee High Fox); Johnny Martin (LA Guns, Adler's Appetite); actor/musician Sean McNabb (Lynch Mob, Dokken); Jerry Montano (Hellyeah, Danzig), Michael Oliveri (Leatherwolf); Joey Scott (Lizzy Borden); Neil Turbin (Bleed the Hunger, Anthrax); Chris Turbis (Boys of Summer, Mr. Crowley); Scott Warren (Dio); Chas West (West Bound, Bonham, Lynch Mob); Simon Wright (Dio, AC/DC, UFO), and Randy Rhoads' brother singer Kelle Rhoads who performed with his band members Nikki Lane Taylor and Gregory Alan Coates.
Watch Rolling Stone.com's coverage of Dave Grohl as part of Eddie Trunk's All Star Band at the 2019 Ride For Ronnie, below.
Dr. David Wong from the UCLA School of Dentistry reported to the crowd that his team's simple, non-invasive saliva test for the early detection of cancer, known as EFIRM (electric field-induced release and measurement) technology, has just received regulatory approval, in part due to financial support from the Dio Cancer Fund. Staff from Kapoor Medical along with members Dr. Wong's team were on hand to field questions about the latest innovations in cancer prevention and screening and distributed complimentary sunscreen.
Ronnie James Dio Stand Up and Shout Cancer Fund was formed in memory of the legendary rock singer Ronnie James Dio, who lost his life to gastric cancer in 2010. A privately funded 501(c)(3) public charity, the Ronnie James Dio Stand Up and Shout Cancer Fund has already raised over $2 million since its inception. Monies raised have been committed to the cancer research work of the T. J. Martell Foundation for Cancer, AIDS and Leukemia Research, the gastric cancer research unit of the M.D. Anderson Cancer Center in Houston, where Ronnie was treated for gastric cancer during the last six months of his life, and other cancer research projects. Over the past four years, the Dio Cancer Fund has committed funds to support the research of Dr. David Wong and his team at the UCLA School of Dentistry in developing a simple, non-invasive saliva test for the early detection of cancer. This technology has been in research and testing phases over the last three years and recently received regulatory approval. This cutting-edge research, which is in keeping with the organization's mission of cancer prevention, research and education. will enable thousands of people to get screened for previously hard to detect cancers. Early detection saves lives.