FAN FILMED VIDEOS OF ACE FREHLEY, PETER CRISS, BRUCE KULICK AND VINNIE VINCENT PERFORMING AT "CREATURES FEST" POSTED ONLLINE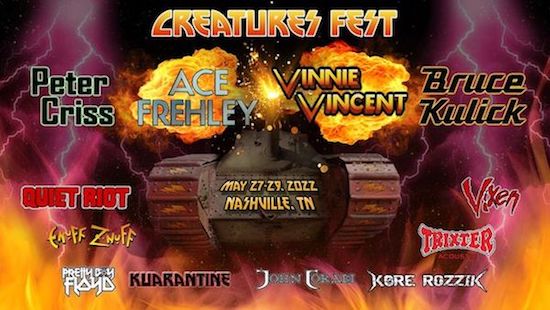 As previously reported, Creatures Fest, which features former members of KISS (Ace Frehley, Peter Criss, Bruce Kulick and Vinnie Vincent) is taking place this weekend in Nashville, TN.
Some fan filmed videos of the performances have been posted online and can be seen below.
Drummer Criss sings on KISS songs Hard Luck Woman, and Strange Ways, both featuring Frehley on lead guitar.
Additional performances, featuring Vinnie Vincent, Ace Frehley and Bruce Kulick, can be seen below.