EXTREME TEAM WITH EARMUSIC TO SHARE NEW VIDEO AND INITIATIVE KEEPING ROCK ALIVE "RISE: GENERATIONS ON A MISSION"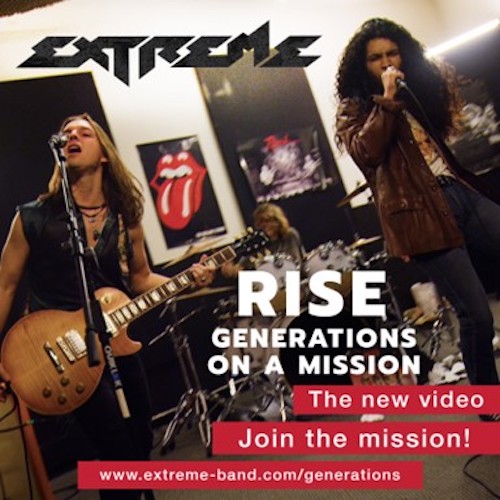 Multi-platinum hard rock icons Extreme—Gary Cherone (vocals), Nuno Bettencourt (guitar), Pat Badger (bass), and Kevin Figueiredo (drums)— have decided to give back to the generations of rock fans who have continuously supported them and kept rock alive. Following the overwhelming response to Rise (see it here), the first single and video from their current album SIX through earMUSIC, the band have released an alternate version of the single's music video, Rise: Generations On A Misson.
Directed by Bettencourt, Rise: Generations On A Misson tells the story of two young musicians living the same dream which generations of rock fans and Extreme fans have lived and breathed for decades… creating music, playing music and sharing that passion on stage or in the audience. As a part of this, Extreme and earMUSIC have created a space where fans, bands and musician friends of Extreme spanning the years can come together and share their covers of Rise. The mission is to share fans' covers using their platforms to spread the word, reach the world and unite all generations on the journey to keep rock'n'roll alive. "It is not a contest and it is not a competition, but the winner is rock 'n' roll," says Bettencourt.
Read a mission statement from Bettencourt here.
Watch the video for Rise: Generations On A Misson below.
Extreme are currently gearing up August 2nd to perform for audiences across the globe on their headlining Thicker Than Blood world tour which includes appearances in the U.S., Australia, Japan, UK and Europe including specials guests Living Colour (U.S., Australia & UK only) and The Last Internationale (EU only). Find full dates and tickets at extreme-band.com.
Follow Extreme online on: Website,  Instagram, Facebook,  Twitter and Youtube.