EDDIE TRUNK DISCUSSES HIS NEW SEASON OF "TRUNKFEST," AND HIS THOUGHTS ON A POSSIBLE VAN HALEN REUNION AND THE DIO HOLOGRAM TOUR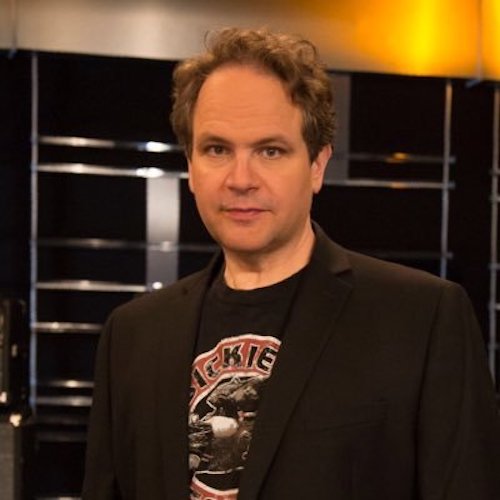 go.Jimmy.go spoke with our very own Eddie Trunk, about the new season of his show, Trunkfest, on AXS. Highlights from the interview appear below.
go.Jimmy.go: What can fans expect from the new season of TrunkFest on AXS TV?
Eddie: It picks up where first season left off. It's the same format of me going to various music festivals and events. The difference this season is the diversity. We're getting a little wider in what we cover. There's one episode in Las Vegas at a Rock & Roll Fantasy Camp. Then there's another where I'm at NAMM, which is the biggest gathering of music merchandisers in the country. Then there's one from The Monsters of Rock Cruise. So in addition to the regular traditional festivals, this season also features a wider variety with a trade show, cruise and a rock camp.
go.Jimmy.go: What were some of the things you did this season that took you out of your comfort zone?
Eddie: Skiing in Vail, Colorado was pretty cool. I'd only ever skied once and to get out in one of the most beautiful locations in the world and get a lesson was a lot of fun. I also went to Gulf Shores, Alabama and a festival called Hangout. It's not something I'd normally go to as a fan but it exposed me to a completely different world. That's what the show is really about. Me going into the festival and having that first time experience right along with the audience.
go.Jimmy.go: You've interviewed some of the all-time greats in the world of hard rock and heavy metal. Is there one person you haven't interviewed that you'd like to?
Eddie: After so many years in the industry I've checked off a lot of boxes as far as that's concerned. Jimmy Page would certainly be one along with Howard Stern (who's not really music}. I interviewed Eddie Van-Halen briefly over the phone once, but I'd also love to do an in depth interview with him.
go.Jimmy.go: Speaking of Van Halen, there's been a lot of rumors circulating again about a reunion. Do you think one will ever happen?
Eddie: It's funny you mention that because [original Van Halen bassist] Michael [Anthony] was on my radio show recently and told me he wasn't doing anything at this time because they [Van Halen] were supposed to be rehearsing for shows this year. The plan to go out was real, but it was aborted. Michael's technically not in the band and doesn't know why. It just kind of went away. I think they just have a hard time getting everything in line and deciding what they want to do with who and how. They're very quiet and no one really talks. It's a band I'm asked about daily and the reality is no one really knows, but them.
go.Jimmy.go: You're a big Dio fan so I wanted to get your thoughts on the Dio Returns show with the hologram. Have you had a chance to see it?
Eddie: I haven't had a chance due to scheduling, but many of the people who go, say that they enjoyed it. Others aren't so sure. Something that people may not realize is that the guy [who] produce[s] the show, Jeff Pezzuti, is a huge Dio fan. People think this is being done…a[s] [a] cash grab, but that's not the case at all. Jeff built his business around his love of Dio and trying to keep his music and legacy alive. I think that's important for fans to understand.
Read more at go.Jimmy.go.