EDDIE TRUNK DISCUSSES HIS CAREER AND SOME OF HIS FAVORITE INTERVIEWS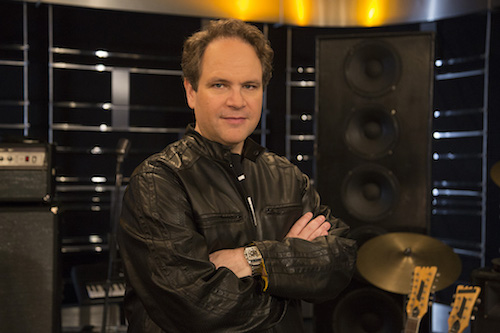 Anylouder spoke with our very own Eddie Trunk, highlights from the interview appear below.
Anylouder: Tell us about your stint with Mega Force Records . You are credited with reviving Ace Frehley's career by signing him to Mega force Records. How did it all happen ?
Eddie: I was always a huge KISS fan. I became VP of Megaforce in 1987 at 23 years old. I loved much of the heavy music the label was doing, but I said to Jon Z who owned it "we need to get some hard rock to get on radio and MTV". He asked what I suggested and as a KISS fan I said "let's find Ace". There was great risk because Ace wasn't in great shape then. But we tracked him down and he was the first act I signed. To this day we are still great friends. Jon wasn't a Kiss fan, but he knew people loved Ace. My first concert was Kiss in NYC in 1977, I had no idea 10 years later I would be signing their lead guitarist! There's a signing photo in my first book.
Anylouder: Was being associated with the radio always a big priority ? Were you ever attracted to the glamour side of things like taking the stage as a musician for example or being in a band ?
Eddie: I regret not ever learning to play an instrument. Maybe one day when I retire. No time now. The attraction was anything I could do to support the bands I loved. Radio came very early because I had an idea for a metal show. Something not common in 1983. The idea got me on, then I had to learn radio. It was never about promoting me, but through all the things I've done I've been lucky to become known as much as some of the bands. And I appreciate that. But it's always been about giving the music a platform. I never stopped doing radio through everything I've ever done. I still love it because I get to do what I want. If I was playing the same 100 songs every day I probably wouldn't love it. I love being able to share and talk to people on the radio. It's very rare to have the freedom I have but I worked for it, and thankfully have an audience that supports it.
Anylouder: Being an interviewer , a music historian and a talk show show host amongst other , what advice would you give to young people interested in the said fields like how to conduct an interview , approach an artist ?
Eddie: Be unique and be prepared. The problem in media today is there are tons of people running around saying they are media because they have a Facebook page. Anyone can claim to be media, but do they have an audience? So you have to stand out and build a following. And that's harder than ever today with the oversaturation. As far as dealing with artists; it's okay to be a fan, but don't act like one. It will take you much further.
Anylouder: Take us [through] some of your favorite and most insightful and fun interviews that you have taken ?
Eddie: Going to the UK and sitting with Sabbath one day and Robert Plant the next was amazing for TV. I did incredible interviews…for VH1, Not that many people saw them because the channel wasn't that popular yet. My favorite interviews are with artists that aren't so sensitive and will have fun and mix it up. Sammy Hagar and Michael Anthony are great like that. I've been lucky to have really interviewed just about anyone, and still do every day on my current radio shows. Everyone always asks me about Axl Rose, who did my radio show, then years later [That Metal Show]. Those were big just because he talks to nobody.
Anylouder: Talking about everyone that you have interviewed over the years , one name that always pops up is Vito Bratta . You being a close friend , what really happened back in the day to such a promising career and what is he doing now ?
Eddie: Vito is still a friend and still lives in NYC. It's really hard for fans to understand some artists, as talented as they are, are not in music for life. They just don't want to deal with the ups and downs and business and touring. Look at Chris Degarmo, same thing. He flies planes. Great writer and player. But not a lifer for rock and touring playing. Vito made a huge mark and then just decided he didn't want to be out there doing it anymore. Family commitments happen, peoples priorities change. Sometimes they just don't want to put the work in. Where is John Sykes? He's a guitar hero of mine and I have tried to get him to do stuff. Everyone is just not in it for life. To me that's Vito. I'm asked about him all the time. He came to a book signing for my second book. It was great seeing him, but he just isn't interested in being in the spotlight and playing. It happens.
Read more at Anylouder.
source: anylouder.com