DRUMMER VINNY APPICE DISCUSSES THE RIFT BETWEEN RONNIE JAMES DIO AND VIVIAN CAMPBELL, SAYS "WE ALL FELT THE SAME WAY [AS VIVIAN]"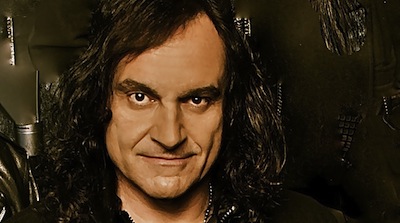 Drummer Vinny Appice recently spoke with Canada's The Metal Voice, where he discussed the strained relationship between singer Ronnie James Dio and guitarist Vivian Campbell. Campbell, Appice and Ronnie James Dio worked together on the first three Dio albums — 1983's Holy Diver, 1984's The Last in Line and 1985's Sacred Heart. Highlights from the interview appear below (as transcribed by blabbermouth.net).
Appice explains, "There were some business problems within the band. We were promised to be sharing in things, and we gave it up for the first album and tour, because, okay, it costs a lot of money to launch the thing and Ronnie is putting in his money and whatever. But then it never happened. We were doing tours in arenas. Back then, one of the tours grossed eight million dollars — that was in those dollars; that's probably eighty million dollars [in today's money]. But we got nothing out of it — [we only got] salaries and stuff — so what was promised never happened. And Vivian really… he called [Ronnie] on it and the management, so that kind of became bad blood with Ronnie. But we all felt the same way — that we're not getting what we were promised and we should be doing better than we're doing. Somebody's making a lot of money here, and it wasn't us. So that's what happened with Viv. And then Ronnie and Viv didn't see eye to eye, and then finally Ronnie said to me, 'I'm gonna fire Viv.' I'm, like, 'What?' I just was in shock. And I kind of mentioned [to Ronnie] that that's not a great idea, 'cause it's the sound of his band. And [Ronnie] decided that he can go on without [Vivian]. So that's what happened."
According to Appice, Dio lost part of its musical identity once Vivian was removed from the group's lineup. "Whenever you've got something that works with a band that's magical with the people in it, you don't do that. It's part of the sound…The magic's within certain people in bands, and it really works, and then you change them around and it's not the same. Nowadays it's different — there's all these bands out with one original member or no members that were original; they just own the… somebody owns the name and it's a commercial enterprise and they go out and play. But they're good. Now it's a different music business. But back in the day, when you're writing the stuff that's becoming classic rock or is in the history books, then that's where it's important to not make the changes."
When asked for his opinion of 1987's Dream Evil, the first full-length album to be recorded without Campbell. "You know, but it's a good album, but it just lost the rawness of the band. And that's because of two things. One of 'em is more keyboards got into the music. We weren't really a keyboard band. On Holy Diver, [then-DIO bassist] Jimmy Bain played the Rainbow In The Dark thing, and sometimes Ronnie played some backing chords on a couple of songs, and that was it; we were a guitar band. So as the tours went on, we got a keyboard player, which was Claude Schnell, and Claude's a great keyboard player and a great person, [and] the keyboards worked their way into the music more. So that kind of smoothed it out; it didn't have that rawness. And then [Vivian's replacement] Craig Goldy played a little bit of a different style than Viv. So I think the direction of the band just changed. And also, on top of all that, Ronnie started taking more control over everything, as in being a producer. Before, we did what we wanted to do and everybody's ideas were counted in, and that's what made it a great band. Then it became less of that and more of Ronnie driving the ship. All those things combined kind of made the band a little less vicious, I would say… [Ronnie] just became more [in] control of things. And the rawness… The stuff wasn't raw anymore; it was smoothed out, I think, with the keyboards and stuff. So the music just changed to not being as mean as it was and heavy."
In related news, the Appice brothers released their new album, Sinister, on October 27th. Listen to audio samples from the album, here.