DRUMMER TOMMY LEE MOCKS LARS ULRICH'S DRUMMING ABILITIES BY TWEETING "STRAIGHT OUTTA TEMPO"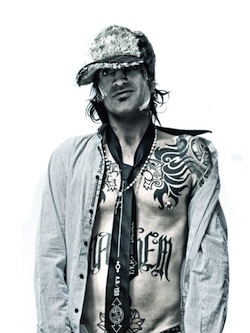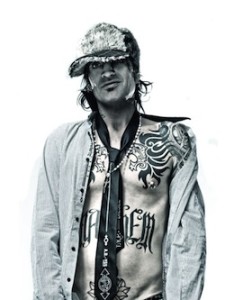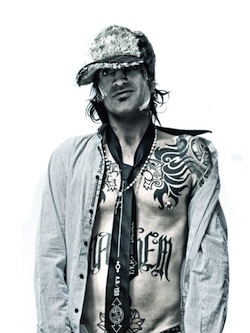 Motley Crue drummer Tommy Lee sent out a tweet over the weekend making fun of Metallica drummer Lars Ulrich's notorious inability to keep time during the band's live performances. The tweet was a parody of the Straight Outta Compton film's title logo with the space originally occupied by "Compton" replaced with "Tempo" and a photo backdrop of Lars playing the drums.
Just a few hours before Tommy sent out his tweet, Metallica and Motley Crue shared the stage at the Rock In Rio festival in Rio De Janeiro, Brazil.
According to Blabbermouth.net, The feud between the bands stems back to an incident nearly two decades ago when Ulrich accused Motley Crue of performing to a tape at the American Music Awards in January 1997. After learning of Ulrich's allegations, M.C. bassist Nikki Sixx posted an "open letter" to the Metallica drummer on an American Online message board, writing: "Dear, Sweet, Fat, Balding, Larz (love the make-up, babe!) Taking your ever-moronic soapbox position on a subject that's NONE of your f–king business has made you out to be an a–hole as usual. Considering that me and Tommy know that your live tapes have been re-recorded. And ALL your instruments were repaired in Pro Tools (and had the balls to lie to your fans an call it a 'live' album)… People in glass houses should NOT throw rocks!! Considering your bulls–t to the press, we feel it's only fair to return the punch!!…Your [sic] such a poseur…Thanks for releasing that 'load' of s–t CD of yours…you made more room for us!!"
In a 2012 interview with DRUM! magazine, Ulrich stated about his playing ability: "I usually feel like I've regressed. [laughs] I'm like, 'Why can't I do that anymore?'"
He continued: "I can't say that I necessarily sit down to practice, like, 'I'm going to play and practice so I can get better.' What happens is that I just sit down and kind of play to just more stay in shape."