DEBUT ALBUM FROM METAL ALLEGIANCE AVAILABLE NOW, VIDEO FOR "GIFT OF PAIN" RELEASED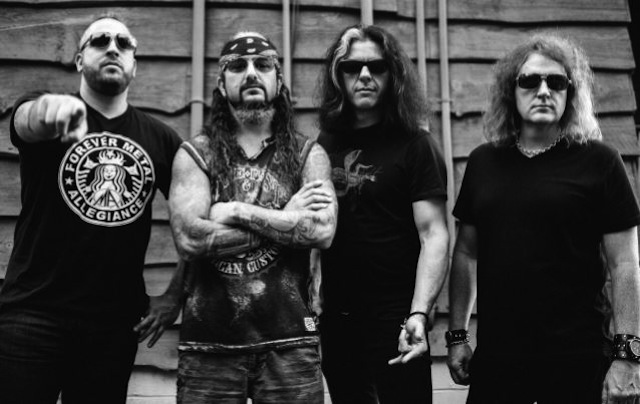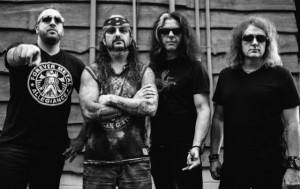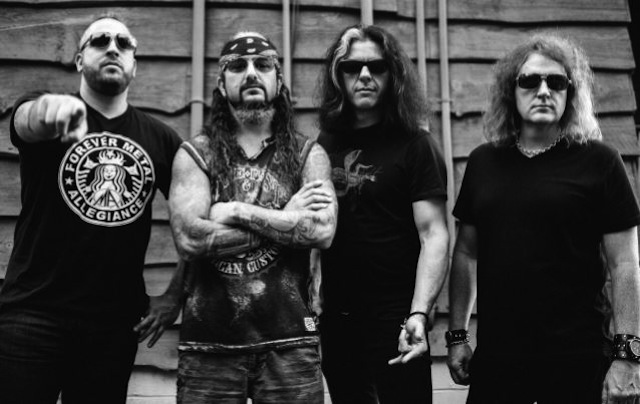 The long-awaited debut from Metal Allegiance is now available through Nuclear Blast Entertainment.
The album has been in the Top 10 of the Amazon Metal charts since it was announced and shot up to the top of the iTunes charts. Metal Allegiance has been receiving rave reviews with Revolver declaring in a 4-star review "…Metal Allegiance towers above other albums of its ilk. Metal Allegiance is equal parts reverence and reference. While the songs are solid with remarkable performances and solos (performed by a host of guests), the real star here is the metal genre itself and the bands that influenced these eclectic tracks." Wicked Channel recently praised the album in a 10 out of 10 review by stating, "The sales pitch is easy, this is our Bible." The self-titled album contains appearances by Philip H. Anselmo, Charlie Benante, Chuck Billy, D. Randall Blythe, Rex Brown, Ron "Bumblefoot" Thal, Phil Demmel, David Ellefson, Alissa White-Gluz, Matthew K. Heafy, Gary Holt, Jamey Jasta, Chris Jericho, Andreas Kisser, Misha Mansoor, Mark Osegueda, Tim "Ripper" Owens, dUg Pinnick, Mike Portnoy, Troy Sanders, Cristina Scabbia, Alex Skolnick, Steve "Zetro" Souza and Ben Weinman. The standard edition CD of Metal Allegiance features nine original songs. A digipak edition is available that features an all-star tribute to Ronnie James Dio with a cover of his classic song We Rock (which can be viewed here), as well as a 45 minute behind-the-scenes documentary on the making of the album. A double vinyl version is available that features all 10 songs. Physical CD bundles are available at the Nuclear Blast store.
"Words cannot convey how proud I am of this release. It's been an honor to work with so many talented folks, from the master rhythm section of Ellefson/Portnoy to our songwriting team with Menghi to the many experts from the studio and business side of things and of course, our stellar lineup of special guests," states Alex Skolnick. "As a guitarist, this project feels like a career milestone – some of my best work as a soloist (including fun tradeoffs with several esteemed colleagues) as well as the first metal recording to feature my own rhythm playing and guitar tone as its core foundation. I'm grateful for the opportunity and believe this is an album that will shatter all preconceptions."
Metal Allegiance just released their latest video for the album opener Gift Of Pain. The song features vocals by D. Randall Blythe, lead & rhythm guitars by Alex Skolnick, bass by David Ellefson, drums by Mike Portnoy and additional lead guitar by Gary Holt. The video is a compilation of the song performers playing the song and is the first time any Metal Allegiance members are seen performing in a video. The video can be seen below.
The Gift Of Pain video comes on the heels of the official music video for the debut single Dying Song, which appears below.
Stemming from an initial idea in 2011, Metal Allegiance was born as a way to unite a collection of hard rock and heavy metal's most notable musicians in a setting born under one ideal- a love of music and performing. In 2015, that ideal still holds true and has become the foundation for everything Metal Allegiance; furthered with the release of the upcoming debut album. While the lineup may change, the passion, the energy and the emotion all remain the same. Metal Allegiance is more than just a record or a concert; it's an experience and a lifestyle.
Metal Allegiance on the web: