DRUMMER RIKKI ROCKETT DISCUSSES DEVIL CITY ANGELS AND POISON. REGARDING THE LATTER, HE SAYS, "IF WE'RE GOING TO CONTINUE WITH POISON, WE HAVE TO LOOK AT OTHER WAYS THAT WE CAN DO [IT]."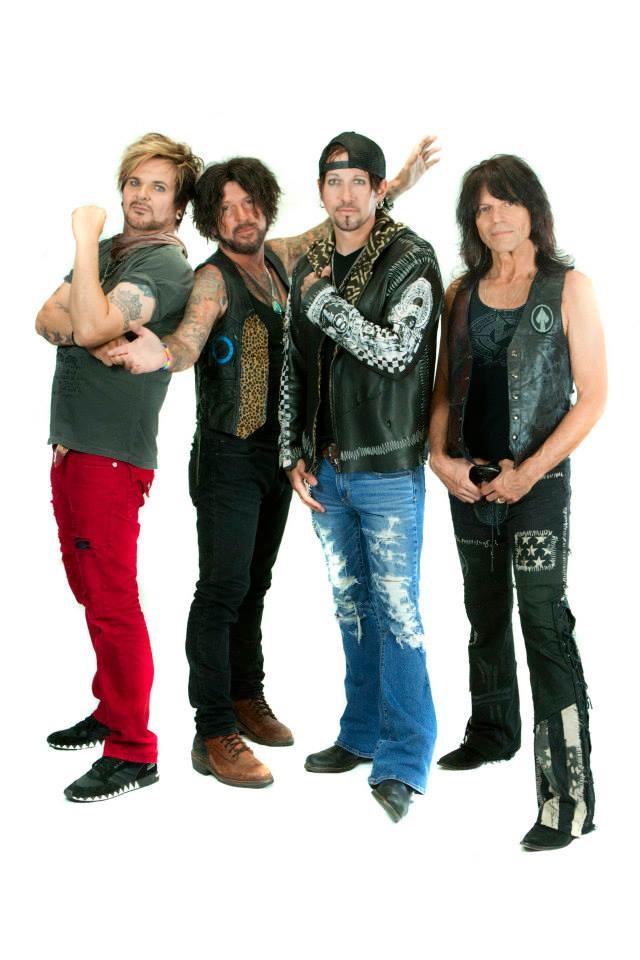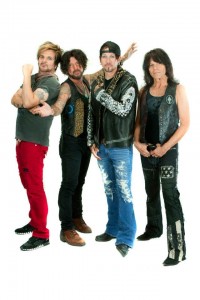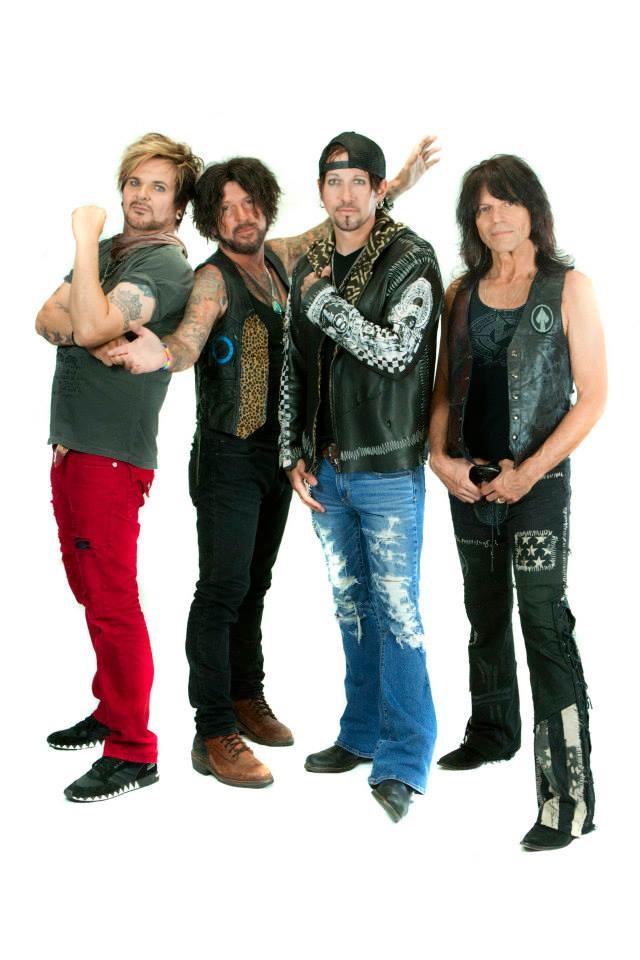 Ruben Mosqueda of Sleaze Roxx spoke with Poison drummer Rikki Rockett about his other band, Devil City Angels, which also includes guitarist Tracii Guns, Singer Brandon Gibbs and newly added bassist, Rudy Sarzo, who took over for former bassist Eric Brittingham. Excerpts from the interview appear below.
Sleaze Roxx: You're part of this supergroup Devil City Angels. You're about to release your self-titled debut album. How did this band come to be? This is a "band" and not a "project" correct?
Rikki Rockett: It's absolutely a band for as long as we can take it. It's difficult at this stage in our careers; we have kids, we have bills, we have priorities. You have to make whatever musical venture you do a profitable one. So, it's a little tricky at times to get to where everyone is comfortable. The older you get, the harder it becomes to pull that off. You're not 25 and living in an apartment. We're a little bit older and we have responsibilities. Right now, that's the only thing that would sidetrack this.
Sleaze Roxx: When you launched the band, you had Eric Brittingham on bass who we all know from his work with Cinderella. He's no longer in the band, but he did play on the record. At some point after the recording of the album was completed, he left. What's the story behind his departure?
Rikki Rockett: Eric's departure goes back to what I was talking about. It's a struggle in the beginning when you start a new band. In the early stages, things don't pay off right from the get go. Some people aren't as patient as others. Eric also had some other personal things going on so he needed to make some money now and we respect that. I think he did a fantastic job on the album and I always consider Eric a brother.
Sleaze Roxx: How would you describe the band's sound? I'll tell you what I think and you can tell me if I'm completely off the mark. Devil City Angels sounds like a modern day Bad Company.
Rikki Rockett: Absolutely! The thing about Brandon (Gibbs) is that he's a young guy but he sounds like he's from the '70s. That's what is so appealing for guys like us. That's the reason that I really wanted Brandon involved with us. When Tracii heard he said "Yeah, you're absolutely right!" Brandon doesn't have any baggage which is good and he has a lot of experience. He's got a great pedigree; his brother is phenomenal too.
Sleaze Roxx: I'd be completely insane if I didn't ask you some Poison related stuff. You and the rest of the Poison guys did an appearance earlier this year with Brandon fronting the band. How did that get put together?
Rikki Rockett: When I was out touring with Devil City Angels, Bobby Dall came to one of the shows we played in Florida and jammed with us. He got the chance to get to know Brandon a little bit. We got offered some shows that Bret either really wasn't interested in doing or if he had shows of his own scheduled — I can't recall exactly. In any event, Bobby and I looked at each other and said "Why don't we just get Brandon to do them?" Now we'd never call it Poison but we did think it was good to offer the promoters a chance to work with the three of us with Brandon fronting the band. They took it — we did it and the response was amazing. It makes you really think. Is this something that we could do moving forward? I think we could.
Sleaze Roxx: It's got to be frustrating for you, Bobby and C.C. to continue waiting for Bret. It seems like Bret is always playing around the country. I get that he's 'the voice' of the band and the face of the band but Poison is a band.
Rikki Rockett: (Pause) It's very frustrating and that is the main reason that I started Devil City Angels. I like to play and record music. That's become a little bit of a problem recently (laughs)!
Sleaze Roxx: Are there any hard feelings there? Or is it as simple as one guy isn't on the same page as the rest of the band?
Rikki Rockett: I just think… I don't know for sure actually. I haven't spoken with Bret in months and months. I just think that at this point in time, he just prefers to do his own thing. Bret has his own way of doing things and I'm getting the feeling that he'd prefer not to deal with the three of us if he can avoid it. Look, I'm making that up in my head. I can't think of any other reason.
Sleaze Roxx: Do you think there's some damage being done to the Poison name with Bret going out performing 'watered down' versions of Poison?
Rikki Rockett: The number one complaint that I've heard about Bret's show is that he doesn't play 'Bret material' and he plays 'Poison material.' I've heard that over and over from fans. I haven't stepped out of Poison until Devil City Angels — because I believe that a band is more potent when you keep it together. I'm very loyal like that. I've been practicing Jiu Jitsu for 16 years now and I'm driving to Santa Monica which is 42 miles from me each way because I'm that loyal to my team. That's the kind of person I am. Having said that, there isn't a whole lot you can do when everyone don't feel that way. I think we are kind of at that point — if we're going to continue with Poison, we have to look at other ways that we can do this. Brandon isn't a bad choice. It's all I can say.
Sleaze Roxx: Would you be opposed to record new Poison music? Do you think there's a need for new Poison music? A lot of your contemporaries have given up on recording new music.
Rikki Rockett: I think we should absolutely record new stuff! Take the Rolling Stones for example; they haven't had an Angie"\ in a while or a Tumbling Dice but what they are doing is really viable. I really enjoyed their last record. I think in order to remain valid, you have to do that. Bon Jovi has done that and he's done pretty well with it. I can't give up on writing — I think I have better stories to tell now than I did when I was 22. The whole idea that only the youth have something to say is a passé idea. Why should it be over because you hit a certain age? It doesn't make sense to me — it never has.
Sleaze Roxx: What's your take on Native Tongue in 2015?
Rikki Rockett: I think that's a great record! It's funny you should mention that because I just listened to a couple of songs from that record today actually. I felt like listening to that record and I downloaded my own record! (laughs) I didn't want to rip it off a CD I just wanted to hear it right then and there. It's really a great record, it really, really is. Richie (Kotzen)…I don't hold anything against him anymore. I'm over it. As far as I'm concerned, he did me a favor. It's all good. He's a great musician and songwriter. I loved working with (producer) Richie Zito. Unfortunately, we didn't have much success working with Richie but I think he's a phenomenal producer. I know we talk about 'Native Tongue' not being a commercial success but it's gone on to sell a million and a half copies over the years.
Read more at Sleaze Roxx.
View Devil City Angels' video for Boneyard below.
source: sleazeroxx.com