DRUMMER JASON BONHAM ON GRETA VAN FLEET, "I'D HAVE BEEN ANNOYED IF THEY SAID THAT HE SOUNDED LIKE ROBERT [PLANT], ROBERT DID NOT SOUND LIKE THAT"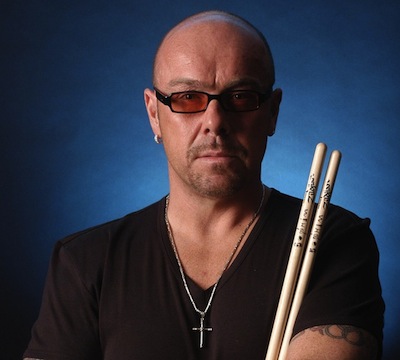 Drummer Jason Bonham (Bonham, The Circle, Black Country Communion, Jason Bonham's Led Zeppelin Evening) was recently interviewed by Tigman of the Albany, New York-based radio station Q103. The full conversation can be streamed below. A few excerpts follow (as transcribed by Blabbermouth.net).
Discussing being a member of multiple active bands:
Jason: "I'm one of these guys now where I never like to say no, so when people ask me to come and play with them, I try my utmost. I never in my wildest dreams imagined working on the Superman soundtrack with Hans Zimmer. I'm very, very fortunate. Sammy's a great person to be around, and Mikey, and I get to play some great Van Halen catalog stuff with them, some great Montrose stuff. And then to do [Led Zeppelin Evening], things couldn't be better for me right now. Well, they could in one [way], but that ain't going to happen. [Laughs]"
On playing with Led Zeppelin at their reunion show in London:
Jason: "I've had a few chances to play with them, and I always say I was disappointed in different versions when we did it. I always felt I hadn't worked enough at it; it didn't sound right. The planets aligned for that event, and for me, not only the event, for me it was the six weeks prior, being around them for that time. That was the greatest moments of my life, just being one of the guys with them. Hanging out with them, just talking about music. One of the highlights just for me — there was nobody else in the room — I said, 'Why don't you guys do an acoustic bit in the O2 show?' They said, 'No, no.' I said, 'I'd love to hear you guys do Tangerine or Going To California. They went and grabbed the acoustics, sat on the couch and did Tangerine and Going To California. It was surreal."
Would he ever consider revisiting Bonham material or making original music?:
Jason: "I have my other bands that I play in which [perform] original stuff — Black Country Communion. The Circle, we're just finishing now a new album that's going to be coming out in the future of originals. I'm really looking forward to that. I'm still very much in touch with Ian Hatton, the guitarist from Bonham, and [bassist] John Smithson, and we always said, 'Before we get too old' [and] 'Before we get any older'… sadly, it would never be the same without [late Bonham vocalist] Daniel [MacMaster], but yeah, I'd love to do one more album with the boys and to do some original stuff."
Speaking about whether there will be another Black Country Communion album:
Jason: "Yes, I believe there's talk of that as well. We did IV, so yeah — we're going to be on to the ones where we have to call them names now. It's scheduled roughly for January, but we'll see."
On Michigan rockers Greta Van Fleet, who often draw comparisons to Led Zeppelin:
Jason: "I got an alert, because it had all this Led Zeppelin thing about it. I'd have been annoyed if I'd been Robert [Plant]. I'd have been annoyed if they said that he sounded like Robert. Robert did not sound like that. Robert was amazing, and still is, but when he was in his young days, his voice was miles [better], just in a different league. Just because he sings high and he does his hand-on-the-hip thing, I just worry the hype that the band are getting, it will ruin them. I wish them all the very best. People should just love them for what they are, and not try and keep comparing them to Zeppelin, because it will kill them in the end. It will sometimes hurt them. Trust me — I know that, because for me, it takes a hell of a lot when you play drums and your dad's John Bonham, the comparisons sometimes can be the hardest things to get past. I wish them all the very best, but I thought [they sounded] more [like] Black Crowes than Zeppelin myself."
Jason Bonham's Led Zeppelin Evening will support Foreigner on a 30-date summer tour that kicks off in Bangor, Maine on June 15th.
Watch the entire interview, below.