DRUMMER DAVE LOMBARDO AND GUITARIST JOHN 5 ON THIS WEEK'S "THAT METAL SHOW"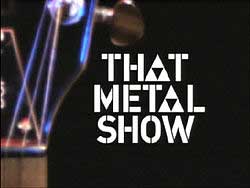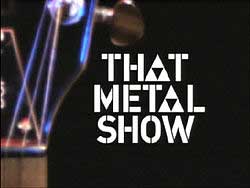 With Season 14 of That Metal Show already making history (the Season 14 premiere was the second most watched Season Premiere in the history of the series) VH1 Classic's centerpiece in original programming returns with an all-new episode this Saturday at 9:00PM ET/PT, repeating at 11:00PM ET/PT. This week Philm drummer and "the godfather of double bass drumming" Dave Lombardo stops by the acclaimed hard rock/heavy metal talk show, hosted by Eddie Trunk, Don Jamieson, and Jim Florentine. The ex-Slayer drum maestro discusses his musical influences, how he never warms up before he performs, and that he feels better than ever now that he's 50. The hosts ask Dave about his much publicized departure from Slayer and if he'd ever consider a possible reunion, to which Dave replies, "Let's just say if you see me on stage with Slayer again, then all of the issues have been resolved."
The episode also features guitar hero, John 5, making his return and doing double duty both as an interviewed guest and as the guest musician. John 5 updates the hosts on the latest developments with his trio, John 5 & The Creatures recording with Rob Zombie and later hitting the road him, and about his long friendship with David Lee Roth and the album they recorded together that's yet to be released. Or, "that's only been heard by two people. Dave and John."
Dave Lombardo and John 5 both get candid when they Put It On The Table this week and they both even have the same answer for one of the questions. Eddie regains his dominance with Stump The Trunk and Take It Or Leave It has the guys discussing the latest trend of musicians having multiple side projects. The TMS Top 5 discusses the hosts' Top 5 Best Side Projects, and it's Marilyn Manson vs. Rob Zombie for the battle of the better showman in the Throwdown.
Motörhead checks-in from the recording studio via the Metal Modem. Lemmy, Phil Campbell, and MIkkey Dee update us on the new album the band is currently recording. They also tease an upcoming US tour in August that will end with the second voyage of Motörhead's Motörboat at the end of September.
Fans can watch previous episodes and other exclusive bonus clips at ThatMetalShow.VH1.com and the new VH1 app.
Audience tickets for upcoming tapings are now available via Gotham Casting at gothamcasting.com/gothamrsvp.