DRUMMER CARMINE APPICE TO LAUNCH NEW RECORD LABEL CALLED "ROCKER RECORDS"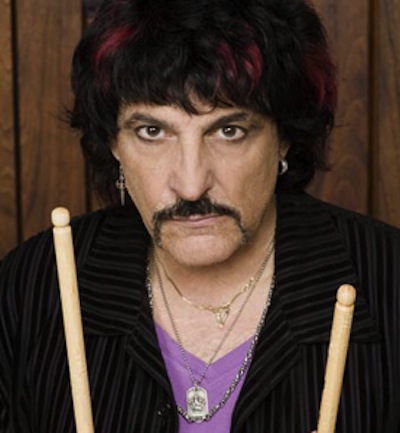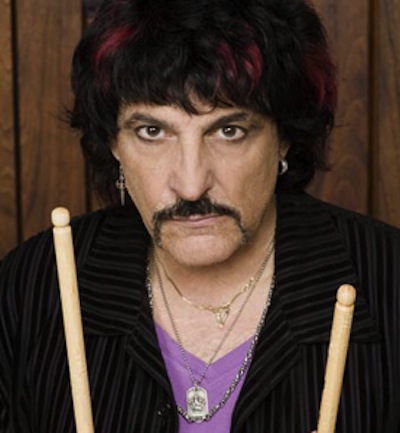 Carmine Appice's new label, Rocker Records, is set to launch.
Revered by legions of high-profile musicians, including Led Zeppelin's John Bonham, as one of the most innovative and powerful drummers that rock and roll
has ever seen, the legendary Carmine Appice needs no introduction.
Now, the man whose soulful pounding powered the uniquely heavy psychedelia of Vanilla Fudge's mesmerizing late 1960s remake of You Keep Me Hangin' On up thecharts and later co-wrote Rod Stewart's smash hits Da Ya Think I'm Sexy and Young Turks is launching an exciting new record label, Rocker Records.
The first four releases are due out November 19th as digital offerings include: Bogert, Appice & Friends, TNA (featuring Appice and guitar master Pat Travers) Live in Europe, and two concert recordings from his highly influential post Vanilla Fudge group Cactus, Live in Japan and Live in the USA. Expect a bonanza of Appice-related material to flow from this new pipeline.
Information regarding these and other upcoming releases can be found at www.rocker-records.com and http://www.facebook.com/carminerockerrecords.
It was a meeting with Mike Cusanelli, from the record label and management company World Sound, that provided the impetus for the new venture. Wondering
out loud, Cusanelli suggested an idea to Appice that sounded very appealing.
"Mike, being a records kind of guy, says, 'You know, if you have product laying around, you should probably start a record label that would be able to get your product out, and then you could sell other people's product – from friends of yours who have product that maybe want to release it," explained Appice. "So I said, 'Really, that's interesting.' So then he had a talk with the head of eOne, which is our distributor, and he was totally into the idea. So I thought, 'Okay, let's give it a try.' And these first releases are things that I've had basically in the can, with really nothing to do to them. They're from my personal collection. So he says, 'Let's get it out to the fans!"
That's just what Appice and Rocker Records plan on doing.
"It's going to be a lot of digital stuff," said Appice. "So maybe we'll have a digital online store, but there are enough of those already. We have a web site now, rocker-records.com, which will keep news of what's coming out and what's available and all that, and maybe provide some links to things you can buy from iTunes or something. We may do that, but we're too new. We're really taking it as it comes."
Appice discussed each of the four initial recording:
Cactus: Live in the USA:
Recorded in 2006 at B.B. King's in New York City, this heaping plateful of hot and heavy boogie-rock documents the rebirth of the original Cactus lineup, minus singer Rusty Day, who died in the '80s. "Actually, that was the first show we'd done since we broke up in the '70s," said Appice. "So that's one cool thing about it. It was the warm-up show we did for the Sweden Rock Festival, which was the next show we did after that a couple days later before 10,000 people." This record has an interesting story behind it. "We had a DVD years ago – 2006 – that came out on MVD," said Appice. "Somebody in Europe took the soundtrack off the DVD and released it, unbeknownst to us. So, when we found it, we went, 'Huh?'And it was selling well, so we worked out a deal with the guy and he paid us royalties, and when I listened to it, I said, 'Wow, this sounds really good.' And it has Tim Bogert on it. So you've got Cactus with Tim Bogert."
Track listing:
1. Long Tall Sally
2. Swim
3. One Way or Another
4. Cactus Music
5. Brother Bill
6. Muscle & Soul
7. OLEO (Bass solo)
8. Part of the Game
9. Evil
10. Cactus Boogie
11. Parchman Farm
12. Rock & Roll Children
Cactus: Live in Japan:
The current version of Cactus went over to Japan in 2012 to record two shows,one audio and one video, "which will come out next year," according to Appice. He describes that first performance as a "kick-ass show," and it is an absolute barnburner, with Cactus rolling through classics such as their versions of Mose Allison's Parchman Farm and Willie Dixon's You Can't Judge a Book (By Lookin' at the Cover)," plus Rock & Roll Children and That's Evil. Appice said, "Live in Japan is the first night. It's not complete. It's a single-disc. But it was the first night we played in Tokyo, and it was great. It was a kick-ass show. I mean, we'd never been to Japan before, and the crowd was great. It was sold-out, and (guitarist) Jim McCarty was on fire, and the band just sounded great." Pete Bremy is the bassist for this occasion.
Track listing:
1. Swim
2. One Way or Another
3. Brother Bill
4. Can't Judge a Book (By Lookin' at the Cover)
5. Alaska
6. Electric Blue
7. Muscle & Soul
8. Evil
9. Parchman Farm
10. Rock & Roll Children
TNA (Travers & Appice): Live in Europe:
Take two sublime musical talents like Pat Travers and Carmine Appice. Let them go at it, and the results will be magical, like they were for their
album, It Takes a lot of Balls. As Appice recalls, "It was the best album I'd done in years." In 2004, they toured together and brought the house down everywhere they went, playing 30 shows in Europe. This night was no different. "That was the first night Tony Franklin played with us," said Appice. "We had T.M. Stevens playing with us for two weeks before that, and then Tony joined us, and we did another two weeks. Somebody sent me that CD, a live gig. I don't even know where it came from, but when I got it in the mail in my office in L.A., I played it in the car, and I said, 'Wow! This sounds great.' And I had it in my computer, and I would listen to it on my iTunes for my enjoyment, and it was really good." The versions of Da Ya Think I'm Sexy and the Travers classic Boom Boom are full of vim and vigor, and there is one bonus item, an unreleased studio track that Appice finished with keyboardist Alessandro Del Vecchio.
Track listing:
1. Taken
2. Better from a Distance
3. I Don't Care
4. Crash and Burn
5. Livin' Alone
6. Tony Solo
7. Gotta Have Ya
8. Keep on Rockin'
9. Snortin' Whiskey
10. Can't Escape the Fire
11. Evil
12. Da Ya Think I'm Sexy
13. Boom Boom
14. Stand Up
15. Funkified
Bogert, Appice & Friends:
Made up of studio recordings Carmine Appice and Tim Bogert did in the early 2000s, this six-song EP has the feel and spirit of Vanilla Fudge's finest work. "We mastered it, and it's an EP, and it really sounds good. I'm really happy with it. The arrangements are awesome, and the arrangements will sound very Vanilla Fudge-y," said Appice. "We did Falling' and Bye Bye Love, and Star-Spangled Banner, and two original numbers, and then we have Falling again with Brian Auger playing organ, which is really, really cool. He plays thehell out of it. So it's really interesting."
Track listing:
1. Bye Bye Love
2. Falling
3. Black Box
4. Eternity
5. Star-Spangled Banner
6. Falling (bonus cut)