DOCUMENTARY "ARMORED SAINT-A BAND OF BROTHERS" SET TO PREMEIRE IN HOLLYWOOD ON MAY 23RD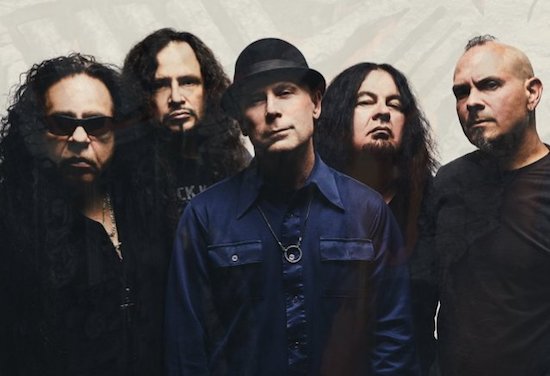 Armored Saint – A Band of Brothers will have its world premiere in the band's hometown of Hollywood on Tuesday 23rd of May at the Harmony Gold Theatre in Hollywood, CA. Director Russell Cherrington will attend to introduce the film and hold a Q&A after the film with members of the band. The film celebrates the 40 year career of Armored Saint and the 50 year friendship the band have shared from school in El Sereno, a Los Angeles suburb.

Many friends of the band have given interviews, James Hetfield and Lars Ulrich from Metallica tell tales of their early days touring, Scott Ian of Anthrax talks about seeing Armored Saint in 1985, Queensrÿche members Eddie Jackson and Todd LaTorre talk about the shared history. Key music industry figures and producers, A&R men, roadies, record label executives and family share thoughts and stories about the band's 40 year history.

Tickets are on sale now for fans and include a commemorative ticket and an exclusive A3 Poster. Get your tickets here.
In other Armored Saint news; the band has just been announced as a part of the lineup for The Monsters of Rock Cruise. The cruise will take place March 2-7, 2024 and will travel through Miami, Jamaica, and the Bahamas.
"We are sailing on the Monsters Of Rock Cruise 2024!! Stay tuned for on sale info coming soon"
Fans can join The Monsters of Rock mailing list here.
And don't forget to catch the heavy metal icons Armored Saint as they return to the stage this August as direct support to W.A.S.P.! The 40th Never Stops World Tour 2023 begins August 4th at Fremont Theater in San Luis Obispo, California and winds its way through nearly three dozen cities, coming to a close September 16th in Los Angeles, California. Click here to see dates, and purchase tickets, here.
Armored Saint released their Symbol Of Salvation Live CD/DVD in 2021 through Metal Blade Records. The release came in celebration of the seminal album's 30th anniversary. A record vocalist John Bush refers to as the band's "cornerstone record," Symbol Of Salvation Live is a combination live album and video of the band playing the album in its entirety at New York City's famed Gramercy Theatre during their 2018 tour. It captures the power, diversity, and peerless songwriting contained within. "I felt like showing Symbol… in another light was a great homage to the record itself," states bassist Joey Vera. "Also, having all the fans be there and part of that event is a way for us to say, 'Thank you!' For, without them, we can't do any of this in the first place."
Preview and purchase Symbol Of Salvation Live at this location.
Armored Saint:
John Bush – vocals
Jeff Duncan – guitars
Phil Sandoval – guitars
Joey Vera – bass
Gonzo Sandoval – drums
Follow Armored Saint online at: armoredsaint.com, facebook.com/thearmoredsaint, twitter.com/thearmoredsaint and instagram.com/thearmoredsaint.